Congratulations – you've just passed your driving test! Now that you're a fully-fledged driver, you'll want to kit out your ride with some fun car accessories to help you on your journeys.
From safety essentials and tech to car interior accessories, we're breaking down everything you need to keep in your car.
Safety equipment
First things first, you'll need to keep your car well-stocked with some safety essentials. While this doesn't sound too exciting, a big part of staying safe on the roads is being prepared, so you'll want to have the right gear with you when you need it.
Warning triangle
If you're unfortunate enough to break down, then it's important to stay safe at the roadside while you wait for help. A warning triangle sits at the back of your vehicle to alert other road users that you're there, and that you're stationary. They're so important, in fact, that warning triangles are a legal requirement in most European countries.
A hi-vis jacket and a first aid kit are also good ideas to keep handy in the car. In our travel safety bundle, you'll find a warning triangle, hi-vis jacket, tow rope, fire extinguisher, and a first aid kit, so you'll have everything you need to stay safe on the roads in one handy kit.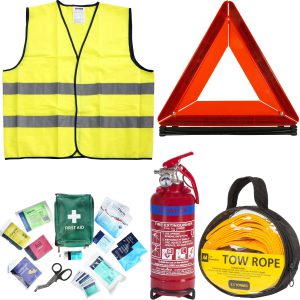 Tyre inflator
Now that you've passed your test and are heading out on journeys on your own, you'll need to be able to carry out some easy routine maintenance. Keeping your tyres well inflated is important for avoiding punctures and reducing your rolling resistance.
Topping up your tyres may sound intimidating, but it's quick, easy, and can even save you money! Underinflated tyres are less fuel-efficient, so the longer you drive on low tyres, the more often you'll have to fill your tank.
So, a tyre inflator is a useful tool to have to hand. Keep it in your boot for a quick top-up when you need it, to avoid any deflating ends to your adventures!
Ice scraper
If you pass your test in the warmer months, it can be easy to forget about preparing for the winter until it's too late. However, keeping your car stocked with some cold-weather essentials means that you'll be fully prepared for the winter whenever it hits.
No one wants to be scraping their windscreen with a credit card (and you should never pour boiling water over the glass!), so picking up an ice scraper will save you time on those frosty mornings. Having one to hand in the glove compartment or side door can be a real lifesaver when you're running late.
Other handy bits of winter kit include a Chamois demister pad to clear interior condensation, a car cover to fend off any particularly strong snow and ice, and some extra screenwash formulated for lower temperatures.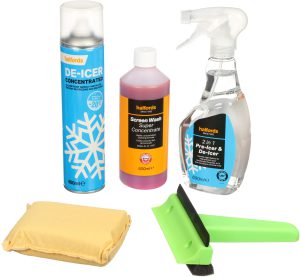 In-Car Tech
Modern technology is a wonderful thing, and there are plenty of gadgets you can get your hands on to help you navigate your journeys as a new driver.
Sat nav
When you're getting to grips with finding your own way around, a sat nav can be an invaluable tool. And since most new drivers aren't likely to have an expensive car with built-in navigation, having a sat nav you can fit to your car is the perfect accessory.
Depending on the model you go for, you can get speed camera and traffic alerts, parking availability, alternate scenic routes, and even local fuel prices, so you'll have a wealth of handy information right on your dash!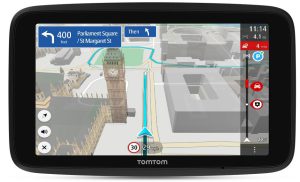 Dash cam
We all know that new driver car insurance can be more expensive, so anything you can do to lower your premium is worth considering. Many insurers will offer you a lower price if you have a dash cam since you'll have evidence of any accidents or claims.
Plus, it can be difficult to prove where the blame lies in an incident, meaning lengthy insurance claims and the possibility of losing your insurance payout and no claims bonus. So, not only does a dash cam give you an independent witness for peace of mind on the roads, but it can also save you money and unnecessary nuisance.
We can even install it for you at your local store or right on your driveway, so you can keep any wires neatly tucked away and free up your 12v socket for other gadgets!
Speed camera detector
To help you stay safe on the roads (and avoid breaking the law), sticking to the speed limit is important. A speed camera detector is a handy device that alerts you to any speed cameras and keeps you aware of both your current speed and the speed limit, so you can drive in a safe and considered way.
The Saphe Drive Pro is a great choice – it's compact, easy to use with clear, colourful icons, and even comes with a 12-month subscription to Saphe Drive Pro traffic alarm, which lets you know of any traffic incidents or build-ups so you can better navigate your journeys.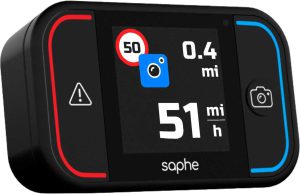 Reversing camera
One of the biggest struggles for learners and new drivers – and even more experienced drivers! – is parking. So, a gadget that can help you master your reverse park is sure to be a hit.
If your car doesn't already have one, then adding a reversing camera can give you that extra reassurance during your manoeuvrer, and help you squeeze into those tight spots that you might otherwise avoid.
Plus, with Halfords' fitting service, we can handle all the wiring and installation for you! Find out more here.
New driver gifts and car accessories
With safety and tech sorted, it's time to kit out your new ride! There are plenty of ways to make your car feel more 'you', and to help you settle into driving!
P Plates
When you pass your test, you may be nervous about heading out on the roads for the first few times – it can be intimidating to start driving alone, which is why a new driver sticker can be such a good idea.
These 'P' plate stickers alert other road users that you've only just passed your test, so they know to be mindful of you and allow you more space and time. This can be really reassuring for new drivers and help to alleviate any worry that you might be inconveniencing other drivers.
It's also a way to celebrate your big achievement!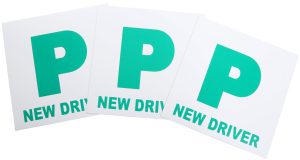 Phone holder
Whether you're using your phone's navigation, playing music, or taking calls, having somewhere secure to mount your phone can be handy. You can find models that slot securely into your air vents or suction to your dashboard or windscreen, so you'll always have somewhere to safely access your device.
Car air freshener
From fresh and fruity to strong and sweet, there really is a car air freshener for everyone. Now that you're hitting the road in your own car, you'll want a scent that makes a statement!
We've got a host of car air fresheners in fun scents, colours, and styles from big brands like Little Tree, Jelly Belly, and even Lynx! You find our picks for the best car air fresheners in our blog here.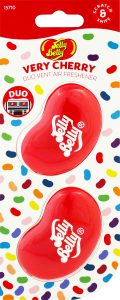 Backseat and boot organisers
With all these must-have car accessories, you're going to need somewhere to store them all!
A backseat organiser hangs over the back of the front seat and is perfect for storing snacks, sunglasses, devices, and anything else you might need, without cluttering the backseats or the glove box.
A boot organiser will keep all your safety equipment and anything you don't need inside the cabin neat and tidy – think jump leads, blankets, a tyre inflator, and more. Heading out for a picnic? You can even find a boot organiser with a removable cooler bag, so you'll have somewhere to keep your food and drinks fresh!
---
So, those are our picks for the best car accessories and equipment for new drivers, to help you stay safe and enjoy your new license! To explore more Halfords car accessories, head over to halfords.com, or pop into your nearest store.