Carrera have been around for over 30 years, and in that time, they've become one of the biggest and most popular bike and e-bike brands in the UK.
Now, Carrera have funnelled all their expertise into an e-scooter range. First came the Carrera impel is-1, and now the Carrera impel is-1 2.0 and the Carrera impel is-2 2.0  are building on its success. Bringing market-leading technology to suit a variety of price points, there's a lot to like. Here's what you can expect from Carrera's new electric scooter range:
The ultimate e-scooter solution
Carrera's impel range brings a whole new dimension to the electric scooter market – it's the ultimate e-scooter solution, designed for more! With market-leading designs to suit any need or budget, the models boast high-level technology only found on the best-performance e-scooters.
Carrera e-scooters are also designed to stand the test of time and are protected by a lifetime guarantee on the main frame.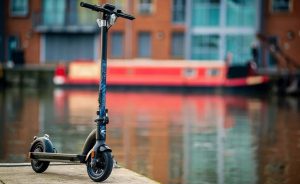 All-weather e-scooters
Few things are certain in life, but one thing we can always rely on is the British weather. Whatever the time of year, a sudden downpour is never too far away – so water resistance matters!
For some e-scooters, this spells the end of the ride. Not for the Carrera range! With an IPX5 waterproof rating, they're both rain and puddle proof, making them some of the most water-resistant e-scooters on the market.
That means you can enjoy two-wheeled adventures whatever the weather.
E-scooter with no limits
Capable of tackling a range of surfaces and helping you reach new surroundings, the impel range offers e-scooters with no limits!
You can choose between four speed levels and one walking mode, available on both models. Just select the best level for the job and then let the impel do the hard work for you. And even the steepest hills are no match for these e-scooters, with each having a powerful 350w motor to provide superior hill climbing ability.
Throughout your ride, you can monitor key riding data at a glance with the help of the multi-functional display. It'll provide all the information you need, including speed, power mode and battery.
The Carrera impel range has something for everyone, no matter how far you plan to ride. The is-1 2.0 delivers a maximum range of up to 18.6 miles*, while the is-2 2.0 offers a huge maximum range of up to 22 miles to keep you riding for longer on a single charge. Both scooters also have a maximum speed of 15.5mph, so there are no limits to the adventures you can enjoy.
Perfect ride quality
Whatever terrain you choose to ride on, you'll always ride in comfort.
The is-1 2.0 arrives with 8.5" air-filled pneumatic tyres that easily absorb any uneven surfaces. Not only does this increase comfort, but it also creates a steadier ride and greater handling.
The is-2 2.0 goes even further, with 10" air-filled pneumatic tyres – the increased size offers an even smoother riding experience since the larger surface area helps to better distribute the impact of any bumps. This, when combined with the pneumatic tyres, softens the journey.
Both Generation 2 Carrera models also have anti-puncture tyres, reducing the risk of punctures and giving you the confidence to ride freely. Building on this, both models have an oversized frame and footplate that further improves the balance of the scooter, so you'll always feel planted when riding and cornering.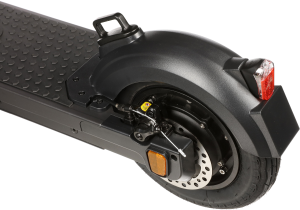 An everyday solution
Not every ride has to be an adventure, and Carrera's models make e-scooters a convenient option.
For those moments when you need to store your scooter away or hop on public transport, you can fold each scooter down in seconds using the quick-folding mechanism. Unlike other e-scooters, the Carrera models are also easy to carry as each has been cleverly designed for even weight distribution.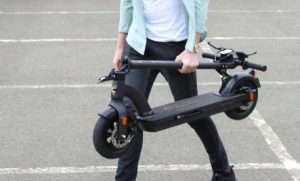 Complete safety package
Just like their bikes, Carrera has put rider safety at the forefront of their scooter designs.
This starts with a powerful dual disc braking system. These discs provide reliable braking power in both wet and dry conditions so the rider will always feel in control, and you can be confident that you'll come to a smooth and safe stop.
The safety package doesn't end there, and the scooters are equipped with bright front, rear, and brake lights plus reflectors for greater visibility.
Rider safety isn't the only thing taken into consideration, and the impel models have an in-built electronic alarm system and a cable lock to help deter opportunistic thieves. It's a clever addition that you won't find on other e-scooters.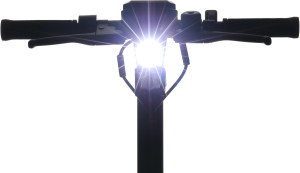 Easy maintenance
When designing the Carrera range, every aspect of the design was meticulously thought out.
They're even designed to be easy to maintain. How? For a start, the scooters benefit from split rims, making it much easier to fix a puncture. The cable disc brakes are also designed to be easily adjustable.
It's these finer details that separate the impels from other e-scooters – making them two of the best on the market!
E-scooter aftercare
When you buy an e-scooter through Halfords, the service doesn't end once you walk out the door.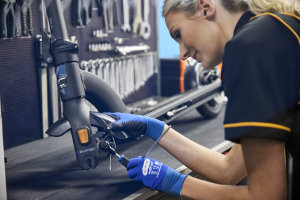 For a start, we can help you look after your scooter with our E-ScooterCare package, to help keep your new electric scooter in tip-top condition. It includes:
Puncture protection service
Innertube replacement fitting service
Unlimited brake adjustments
10% off e-scooter parts and accessories
Free accessory and parts fitting
Unlimited free safety checks
Tyre inflation and pressure checks
Not only that, we're on hand to keep you on two wheels long after your purchase with our individual e-scooter services, including a Free E-scooter Health Assessment, tyre/tube replacement, brake servicing, and brake pad replacement.
We also stock original Carrera spare parts and accessories including the Carrera impel charger, tyre and inner tube – making Halfords the go-to place for all your servicing needs.
---
There's a lot to like about the new Carrera Electric Scooter range, and you can discover more here. Want to learn more about the Carrera brand? Head over to Halfords.com where you'll also find a wide range of e-scooter accessories.
You want the best e-scooters. You want Halfords.
* Actual range may vary depending upon rider weight, temperature, amount of acceleration, speed, and inclines.
Legal warning:
It's currently illegal to ride a privately owned e-scooter on a public road, pavement, cycle lane or bridleway. Privately owned e-scooters can only be ridden on private land with the permission of the landowner.
Customers should be aware that if they use a private e-scooter illegally, they could face a fine and penalty points on their licence, and the e-scooter could be impounded.