Spring is well known as the season of cleaning, so what better time to treat your vehicles and your outdoor spaces to some extra TLC?
To help you make the most of your spring clean, we're breaking down some of our top tips for getting your bike, car, and patio squeaky clean.
Cleaning your car
When you're kicking off your spring clean, your car is a good place to start. For a thorough result, you'll want to clean both the inside and outside of your car.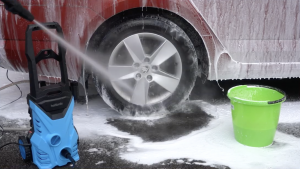 Interior clean
You won't be able to clean without removing any mess, so be sure to start by removing all the tissues, old receipts, sweet wrappers and any other rubbish that has taken up residence in your car, and give everything a good vacuum to get the smaller dirt and dust under control – don't forget to vac off your car mats!
With the mess under control, revitalising your plastic surfaces can make a huge difference to how your car looks. A dedicated plastic dash and trim restorer will have your plastics looking brand new again, and looking cleaner for longer.
Finally, smell can make a big impact on how fresh your car feels, so be sure to pick up an air freshener to keep bad odours at bay and make the most of your clean. For a full checklist and step-by-step routine, check out our guide on how to clean a car interior, which shows you how to get the best out of the process.
Exterior clean
Now that the inside of your car is spick and span, it's time to move on to the outside. We have a full step-by-step guide to washing your car here, but here are a few key tips.
For your kit, you'll need a few basic pieces – a bucket and sponge, some cloths, a wheel brush, soapy water, and a pressure washer if you have one. Always start with a pre-clean to get the bulk of the dirt off, then tackle your wheels first. This is because your wheels are usually the grimiest part of your car, so it's best to get these done first to avoid splashing dirt back onto your clean paintwork.
When washing the main body of your car, don't forget the lower paintwork as this can attract a lot of built-up grime. Once you've rinsed it off, the best way to get a sparkling and streak-free finish is to dry the car by hand before finishing off with a wax and polish.
Cleaning your patio
Spring bank holidays might mean you have a little more time to spare, but that doesn't mean you want to work harder – if you have a pressure washer, it can make difficult jobs like cleaning your patio much easier. They also use less water than a standard hose so you're doing your bit for the environment too.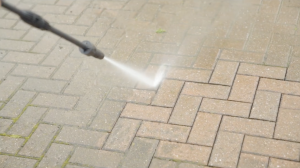 Different washers have different pressures, so make sure you choose one with the right level for what you need. Washing your car requires a lower pressure than cleaning a heavily soiled patio, for example. Attachments such as a patio scrubber or a foam nozzle make all the difference too, making tricky jobs quicker and easier.
Cleaning your motorcycle
A gleaming motorbike not only looks fantastic, but is also more likely to stay in good working order. As well as washing your bike, using a degreaser to remove build-up on any metal components can make a real difference too.
The brake disks and pads can take a good scrub, and don't forget to give the chain some attention. Once the bike is clean of all dirt, it's really important to use some lubricant to keep parts moving freely and prevent any further wear and tear.
You can check out our full guide on how to clean a motorcycle here for a step-by-step guide.
Cleaning your bike
Cleaning your bicycle follows pretty much the same principles, in that you want to make sure all of the different components are reached and well-cleaned.
It's good to start with the drivetrain as it's often the grimiest component, using a degreaser or cleaning solution. With that done, you can move on to the rest of the bike. Use some soapy water to clean the handlebars and frame, rinse, dry and finish off with lubricant to help keep everything moving freely.
You can check out our full bike cleaning guide here.
---
So, you're now ready to get your cars, bikes, and patios spick and span, ready for a spring and summer of fun. Need anything else? Halfords is here to help!
Whether you're embarking on a road trip, staycation, or getaway, we're on hand to keep everything running smoothly. Head over to Halfords.com, or pop into your local store where one of our colleagues will be happy to help.