For many of us, a staycation is one of the most anticipated events in the calendar – a chance to get away from it all and enjoy a well-earned break. However, worrying about whether your home is secure while you're gone and if your vehicle is safe in an unfamiliar area can often put a downer on your holiday.
Luckily, here at Halfords we've got plenty of safety and security solutions to give you the peace of mind that everything is looked after, both back home and while you're away. With the summer months approaching, we thought it was the perfect time to walk you through our top picks:
Car Security
If you're staying on a campsite, or perhaps somewhere without a drive or garage, then you might be concerned about leaving your car unattended – even just parking up for the day to explore can be nerve-wracking in an unfamiliar place.
Thankfully, there a number of ways to ward off opportunistic thieves and reassure you that your vehicle is safe.
Steering wheel locks
Wheel locks are a favourite car security method, and for good reason. Combining brute force with a clear visual deterrent, this locking system prevents the steering wheel from turning, meaning that if any thieves do manage to get into your car, they aren't going to get far.
There are two main types of steering wheel lock: a metal bar and locking system, the typical steering lock method, or a disc lock, which covers the entirety of the wheel. Both styles will offer you both added security and peace of mind, and here at Halfords, we have a selection of both.
For bar locks, you can't do much better than the Halfords T-Bar Steering Wheel Lock. It takes seconds to fit and can be easily stored in your car for convenient protection away from home. The head of the lock has a foam lining to prevent any scratching or damage to your steering wheel, and the vibrant yellow colour is designed to deter any thieves from attempting to break into your vehicle.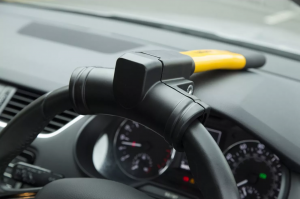 Our disc lock choice is the Disklok Steering Wheel Lock, which comes with a gold rating from Sold Secure. Disklok are renowned for their high-quality, award-winning locks, which guard against various theft techniques. With an anti-drill and anti-pick lock, the Disklok is extremely hard to remove, even with the help of power tools and cutting equipment, and the striking full-coverage design is a great visual deterrent.
As well as preventing the steering wheel from moving, the Disklok also helps to guard against modern theft techniques like keyless entry workarounds and car key cloning, as well as preventing air bag theft. Even better, you could get an insurance discount depending on your provider.
Key signal blockers
While modern car key fobs are handy, they can also leave you at risk. Thieves can clone the signal your key fob gives out and then use it to unlock your vehicle – this is known as RFID theft. You can protect yourself and your car from this by using a Car Key Signal Blocker to store your keys. It's a protective pouch also known as a Faraday Wallet that you can get in grey, blue, red, or black.
When your key is placed fully inside the pouch, the specialised lining isolates the key fob radio frequency signal away from devices commonly used by thieves to amplify your key fob ID, preventing them from cloning it. You can also use the wallet to store contactless cards, security access fobs, smart watches, USB sticks, Wi-Fi cards, garage remotes and other small electronic devices to keep them safe and secure.
Window etching
Another way to safeguard your vehicle is with Window Etching. Carried out by one of our experts, this service not only deters theft, but it also aids recovery. We'll visibly etch all the windows of your vehicle with the logo of the International Security Register (the ISR) and a unique code, which is linked to a fully certified and secure database used by all Police Forces in the UK.
Having your car etched is a great theft deterrent, since etched vehicles are 45% less likely to be stolen. But, if the worst does happen, they're also 50% more likely to be recovered versus a non-etched vehicle, so it's well worth doing – you can book online now, or find your local Halfords store here.
GPS trackers
If your car is stolen in an unfamiliar area, it can be near-impossible for you or the police to know where to look for it. A GPS Tracker is a great way to ensure a speedy recovery if your car is stolen, sending a signal via GPS to your smartphone of the live location of your vehicle. This can then be relayed to the police so they can recover your vehicle for you.
GPS trackers are also handy as peace of mind that your car is still where you left it, whether that's parked up while you enjoy some sight-seeing, or back home on your drive.
Wheel clamps
Another great visual deterrent with the strength to back it up is a wheel clamp – fitting around your wheel to prevent the car from moving, most passing thieves won't want the hassle of trying to remove it and will look for an easier target. Even if someone does try their luck, strengthened steel and pick-proof locks make them extremely difficult to remove, even with power tools.
One of our favourites is the Bulldog Euroclamp Security Wheel Clamp – it's lightweight and easy to transport, fitted with protective tips to eliminate damage to alloy wheels, but there's no compromise on security. Gold rated by Sold Secure, the locking arms are made of strengthened steel with reinforcing strips, and the lock is both drill and pick-resistant. You don't need keys to lock it, simply snap the lock shut and you're good to go.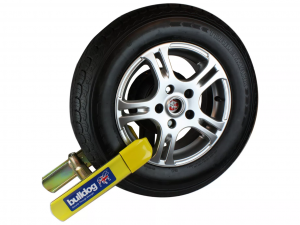 Motorcycle security
When it comes to keeping your motorcycle safe while you're away, there are plenty of locks on the market to keep your bike secure and to act as a deterrent. We recommend using multiple locks, as this little bit of extra time and effort can save you a whole world of trouble if it stops a passer-by from trying to take your bike – double the lock equals double the deterrent.
Magnum Plus locks provide the ultimate protection for motorcyclists, giving you unbeatable security and reassurance. Their products come with lifetime warranties, and the majority also include cover on your insurance excess should your motorbike be stolen – that's how confident they are in their products protecting your bike.
The Titan Alarm Disc Lock is perfect for convenient, travel-sized protection, fitting easily into a pocket or tank bag. This pin-type model immobilizes the bike by fitting through the brake disc and locking the wheel, and is constructed from a single piece of solid stainless steel. With shock and movement sensors triggering a 120dB alarm, any potential thieves are sure to be noticed.
The MagnumPlus Gigantes Shackle Lock is another great choice, with a gold rating from Sold Secure, a lifetime warranty and £300 insurance excess cover. It's comprised of a 16.8mm hardened steel TriRadius shackle, and the design has been carefully considered to resist all forms of cutting or jacking, with a rounded design and centred keyway to eliminate pry points.
For the ultimate motorcycle security system, team one of these locks with the MagnumPlus Colossus Chain. As the name suggests, the chain is a huge 12mm with titanium reinforced hexagonal links that render hacksaws and bolt cutters virtually useless, while its tight inside link dimensions make prying it open impossible. As well as a lifetime warranty and Sold Secure gold rating, the Colossus Chain comes with £500 insurance excess cover, reassuring you not only of the quality of the lock, but that you'll be covered if the worst happens, too.
Home Security
As well as protecting the vehicles you take with you on your holiday, you may also be concerned about any you leave behind. Even with a garage or drive to store your car or motorbike, it's well worth putting some thought into additional security measures for extra reassurance.
Parking posts
To keep our vehicle safe on a driveway or parking space, especially when you're not there to check on it, a Parking Post is a great investment. Comprised of heavy-duty steel, this post stops thieves from pulling straight off a drive or parking space but is easy for you to drive over when it's folded down. The durable locking base is secured with 3 bolts, and the distinctive black and yellow colouring is impossible to miss, deterring any passing thieves.
Security lights
Security lights are a great deterrent, warding off any trespassers with the threat of exposure. The Smartwares LED Twinspot Security Light gives you double the protection, with two LED lights emitting a powerful 1600 lumens.
The lights only use 22W and have an A energy rating, so there's no need to worry about having them on long-term – a perfect solution for while you're on holiday. The motion sensor automatically turns on the light when anyone enters the detection area, and with an IP44 protection rating, they're safe for outdoor use to light your driveway or parking area.
The Smartwares 50W LED Security Light is another great option for powerful floodlighting – the 50W LED light produces up to 4150 lumens, perfect for deterring intruders or thieves. It's easy to fit to your garage, carport, or driveway, and has an A+ energy label to keep you secure without burning through too much electricity.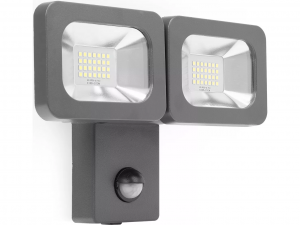 ---
With all these security solutions to ease your worries, you'll be free to enjoy your holiday knowing that everything is well looked after. If you need anything else before you set off on your staycation this year, head over to Halfords.com to find all the ways we can get you road trip ready.
You want staycation security, you want Halfords.