Love cycling? Then you won't want to fall behind the pack when it comes to cycle tech and equipment.
Including things to make you look more stylish, ride safer and add a new gear to your cycling exploits, here are some of the best items available to buy from Halfords now.
Stay safe
Do you consider a bike helmet as a piece of cycling equipment? Think again.
Livall MTL Bluetooth Enabled Smart Helmet
The Livall MTL has taken an important piece of safety equipment and revolutionised it.
With innovative indicator lighting, you can simply press the remote on your handlebars and the bright, high-vis LED indicator lights on your helmet will indicate to the traffic behind you which way you will be turning.  Perfect for use during the day in addition to arm gestures and great at night for high visibility in dark conditions.
The Livall MTL bike helmet also has an SOS alert feature which instantly sends an SMS to your emergency contact if the G-sensors notice any unusual movements or a sudden lack of movement.
Exclusive to Halfords, this helmet is one of the smartest and safest pieces of cycling tech on the market.
Explore
If you're keen to get out and explore on your bike a Cycle GPS from Garmin is an essential piece of kit. As the market leaders, they have two types of navigation, breadcrumb mapping and full bike specific turn by turn navigation.
Garmin Edge 130 GPS Cycling Computer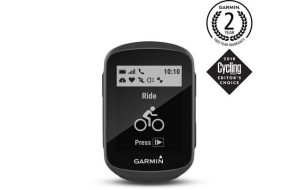 The Garmin Edge 130 is a fantastic mini smart GPS for every cyclist. Saving you handlebar space, it still comes with a durable, splash-proof case and a clear 1.8inch anti-glare touch screen display. It has a 15 hour rechargeable lithium-ion battery and a simple 5 button interface, suitable for every rider.
Using downloadable maps and routes, the built-in GPS can work out routes and provide you with turn prompts and is fully compatible with Bluetooth and ANT+ whilst the Edge 130 can track your movements using both satellites and the built-in altimeter giving you your key performance stats at the end of your ride.
Garmin Edge Explore Cycling Computer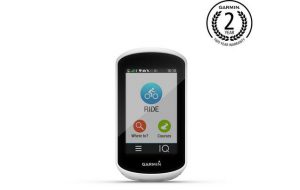 The Garmin Edge Explore cycling computer is easy to use and has a water-resistant 3″ touch display along with an impressive 12 hour battery life.
Featuring built-in GPS to track all your rides, the Garmin Edge Explore Cycling Computer will take your cycling to the next level and with the preloaded Garmin Cycle Map using Trendline™ you can see all of the on- and off-road routes cyclists like to ride, providing you with simple navigation along the way.
Simply attach the Garmin Edge to your bike handlebars and off you go!
Fitness and performance
Looking to go the extra mile in your fitness regime? Pushing your body to the next level often requires an in-depth analysis of your performance. That's where these pieces of cycling technology come in.
Garmin Vivoactive 3 GPS Smartwatch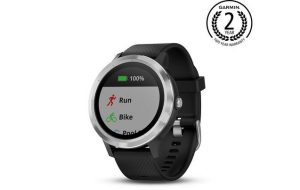 This piece of cycling equipment blows most other pieces of tech out of the water. From tracking workouts to monitoring your heart rate, fitness age and personal goals, it's the best way to keep tabs on your progress while on the go.
What's more, you can even make simple mobile payments via GarminPay, so there's no need to bring your wallet when you stop off for a mid-ride spot of breakfast at the café.
The Side Swipe interface allows you to quickly scroll through the menu – even in the pouring rain.
If you need to let your mates know that you're running behind, you can send automated text messages on it as well.
Polar H0 Bluetooth Heart Rate Sensor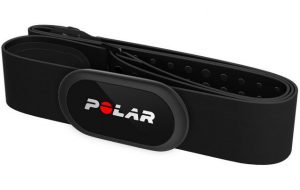 This handy piece of cycling technology offers you an accurate measurement of your heart rate during exercise.
You can then broadcast the results to fitness apps on your phone to see your heart rate in real time.
Training for a triathlon? You can even wear this chest strap in the water too!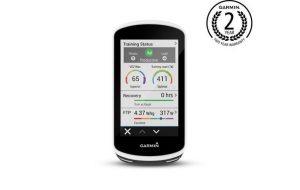 Preparing for a race or time trial? Or simply want to take your fitness to a new level? The Edge 1030 is Garmin's premium piece of kit, featuring a raft of advanced performance metrics like a detailed power analysis of your ride.
You can also connect it to the TrainingPeaks app to bring your workouts from your coach directly to this piece of cycling equipment.
The Strava Live Segments feature allows you to challenge yourself and push your body further, while the LiveTrack and GroupTrack function mean your loved ones can monitor your progress in races.
And if that wasn't enough, it will also send a direct message to an emergency contact via incident detection if you're ever in an accident.
Relive your ride
Embarking on an epic ride with beautiful landscapes and rugged terrain? Then make sure you're able to relive it again with a GoPro.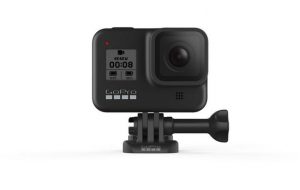 Packed with features, the Hero8 Black is a great choice for a multitude of uses. A streamlined design makes it more handy than ever, and swapping mounts is an easy quick job, due to built-in folding fingers. Night lapse video, live streaming in 1080p, time lapse video and voice control with 14 commands in 11 languages, not to mention the 3 microphones with advanced wind-noise reduction means that when you capture the action you will be able to relive those moments in top quality.
Added to that the optional Media Mod, you can have ultimate expandability to add more lighting, pro audio and even another screen. There's also amazing HyperSmooth 2.0 stabilization with jaw-dropping slo-mo.
Not sure if you need to replace your current cycling equipment or tech? Then take a look at our step by step guide here.