You've got the bike. You've got the helmet. You've got the lights to help you stay safe on the road and the lock to help your bike stay safe when you're off it.
You're raring and ready to go… but where?
Planning a cycling route can seem a bit daunting at first, particularly if you're just starting out on your bike and aren't that familiar with your local area. In this article, we'll be covering some tips to bear in mind when you're deciding where to cycle, which should help you to get the most out of your ride.
Think about your destination
Are you planning to head down to the shops to pick up some goodies? Do you want to explore the sights of your local area from the saddle? Or are you just swapping your car for a bike and heading out on your normal morning commute to work?
Your destination will have a big impact on your route planning as it'll help to define your start and end points, as well as any key highlights along the way.
Decide on your goals
Another factor to bear in mind is the main aim for your route. If you're commuting, then you'll probably want a route that gets you from A to B as quickly as possible (while trying to avoid major roads and all the busy traffic they bring).
If you're heading down to town then the shortest route might be the best option for you. And if you're planning to take in the sights, then you'll likely want a route that's quiet, with less traffic, that you can enjoy at your leisure.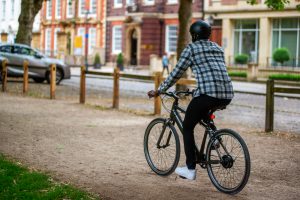 Start small and be realistic
Whatever your destination and goals, it's important to be realistic about your abilities and experience. If you're a relative newcomer to cycling, we'd suggest starting out small and giving yourself time to adjust to being in the saddle – your legs will appreciate it, we promise!
While you can start to challenge yourself as you grow in experience, always remain honest in your self-assessment of your skills and don't try too much too fast. You'll get much more out of a route that you can enjoy than one where you're huffing and puffing and just wishing it would end!
Consider non-road routes
You'll probably want to avoid busy main roads where possible on your initial journeys as they can be tricky to navigate and a bit intimidating too. Off-road options like cycle lanes, canal paths and off-road paths provide safe havens that tend to be more peaceful and transport-free, giving you a more relaxing ride (and potentially prettier scenery to enjoy!)
Beware hills!
It's tempting to only think of cycling routes in terms of length, distance and speed, but the truth is that elevation plays a huge part. Forget to take hills into account and you can end up with some nasty surprises along your route, as well as a much longer riding time.
Wondering how to find out if your proposed route has any hills in store? Check out the following section for a helping hand.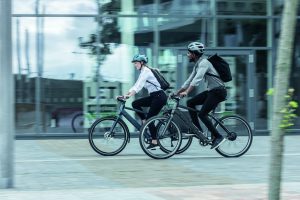 Get some help
Unless your route is particularly short or you've got a photographic memory, you might need some app-based support on your journey. There are loads of cycling apps to choose from and we've just pulled out a couple that lend themselves to planning the perfect cycling route.
Komoot is a dedicated route planning and navigation app that's quickly become one of the most popular ways for cyclists to plan their next adventure. The Komoot system lets you plan routes on your smartphone or computer based on criteria like riding type, fitness level, route type and points of interest.
You'll be provided with the time, distance, elevation levels, surface types and more relating to your route – and can tweak the route as you require. Then all you need to do is fire up the app when you're on your bike and Komoot will help you to navigate to your destination in an offline mode that'll save your battery.
OS Maps is another good option as it taps into the world-renowned Ordnance Survey mapping system, which shows things like the elevation levels directly on the map. You can choose to plan a route of your own or find a route in your local area if you're looking to do some exploring.
Finally, there's Google Maps. Simple, easy to use and free, Google Maps allows you to plan bike routes in the same way that you can plan car journeys. Just enter your starting point and destination, and it'll give you a clear route to follow. You can even switch to Street View to check for any unexpected hills along the route!
---
Best of luck on those first cycling routes! Check out our recent article on 5 ways to prepare your bike for winter cycling for some top advice on how to stay safe on your bike during the colder months.
And remember, if you want cycling essentials this winter then you want Halfords.