Winter has arrived, but that doesn't mean you have to stop riding. With the right preparation, you can still enjoy lots of rides throughout the chillier months ahead.
That doesn't just mean getting yourself wrapped up in weatherproof clothing, but also preparing your bike. Here are 5 ways to get your bike ready for winter.
Winter-ready tyres
They may not be the first thing you think about, but your tyres are important.
Firstly, they're the only point of contact between you and the road. So, you need a pair that will provide plenty of grip. During winter, rain washes lots of dirt and debris onto roads, making punctures more likely too. And, trust us, there's nothing worse than repairing a puncture in the middle of winter with cold hands.
That's why you should change your regular tyres for a set more suitable for winter. They'll be optimised with better grip in wet conditions and, just as importantly, come with added puncture protection.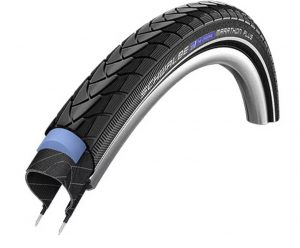 One of the best options is the Schwalbe Marathon tyre. Popular among commuters for its reliability and puncture resistance, it's available in a multitude of wheel sizes.
Go tubeless
If you want to go a step further, why not go tubeless?
Tubeless tyres look similar to standard tube-type clinchers but dispense with inner tubes. Instead, the tyre forms an airtight seal with the wheel rim, so it can be inflated without a tube. But why should you go tubeless?
For a start, they can be run at lower pressures. Many riders suffer pinch punctures in winter – these happen when you hit a sharp edge (usually a pothole) and the tube gets pinched between the tyre and the rim. It's more likely to happen when running lower tyre pressures. As tubeless tyres don't have tubes, you can run lower pressures without having to worry about this, which also boosts comfort.
Most riders also add tyre sealant to tubeless tyres. This liquid coats the inside of the tyre and helps to seal any punctures. It doesn't make a tyre 100% puncture-proof, but it plugs most smaller holes that would usually leave you stuck on the side of the road.
If you want to go tubeless, you'll need tubeless-compatible wheels and tyres. You can find a full guide on how to go tubeless here.
Light up your ride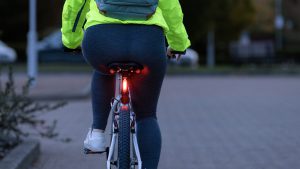 Winter means darker nights and days. To stay safe out on rides, you need to make yourself visible by adding bright front and rear lights to your bike.
The key thing to look out for when buying lights is lumens. Lumens indicate how bright a light is – the higher the lumens, the brighter it'll be. Front lights are usually brighter and can go up to thousands of lumens. If you ride on especially dark routes, you'll need a brighter light that will also illuminate the road so you can see where you're riding.
The Halfords Advanced 1800 Lumens Front Bike Light is a great option, producing 600 lumens more than a standard car headlight. If you're cycling on more adventurous routes, it comes with an additional fixed handlebar mount for greater stability over bumps and rifts.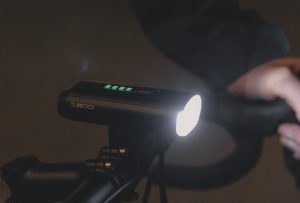 Rear lights are typically less powerful and go up to around 100 lumens. If you're ever unsure, always go as bright as possible – after all, you want to be seen!
Many helmets also have lights built in for an added layer of protection like the Lazer Compact DLX MIPS Helmet.
Keep your bike clean
Let's be honest, no one loves cleaning their bike. However, grime and dirt can wear down the components, so it's important to clean your bike regularly throughout the winter.
The easiest way to do this is with the Muc-Off 8-in-1 Bike Cleaning Kit. It contains Muc-Off's famous Nano Tech Cleaner which is specially designed for bikes. There's also a range of brushes that'll conquer any dirt or grime.
Ideally, you want your bike in top condition ready for winter. That's why it's worth booking our Free Bike Health Check: our expert bike mechanics will conduct a thorough 32-point check to spot any problems, and if there are any issues, they'll recommend the best service for your bike.
For winter, we usually recommend our Silver Bike Service. Learn more about our bike services here.
Securing your bike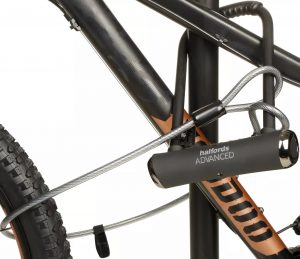 Bike security is important year-round. However, thieves like acting under the cover of darkness – and winter's darker days and nights are the perfect opportunity.
That's why you need to safely secure your bike whenever leaving it alone. Here are some top bike security tips:
Use two locks: thieves look for easy options, so using two locks acts as a great visual deterrent.
Weave the lock around your frame: many cyclists make the mistake of putting the lock around a wheel – however, this is easily removed. Ideally, you should weave any lock around the frame and the wheel together. This will keep everything secure and make the lock tauter so it's harder to cut.
Lock to an immovable object: it's an easy mistake to make, especially when in a rush. However, you should check carefully that the object you lock your bike to is secure and the lock can't simply be lifted over it.
Check for cameras: if there's one thing thieves hate, it's cameras. So, try to find a spot under the watchful eye of a camera. Also, check around to see if it looks like any other bikes have been stolen from there before. People tend to leave the lock behind if it's been cut and their bike has been stolen.
Sold Secure ratings: when buying a lock, make sure it's Sold Secure approved. This independent security product certification agency tests the reliability of locks, and awards Diamond, Gold, Silver, or Bronze Approval depending on the level of resistance. You can learn more about Sold Secure ratings here.
---
Ready for winter? Head over to Halfords.com where you'll find our full range of must-have cycling essentials.
You want to safely ride through winter, you want Halfords.