Inflatable tents, also known as air tents, have been growing in popularity over the last few years. And while their name might bring to mind those classic bouncy castles that we all loved as kids, the truth is that inflatable tents contain some of the latest camping technology on the market. 
In this article, we're going to take a closer look at inflatable tents and just why they're beginning to dominate the camping landscape.  
What are inflatable tents?
On the surface, inflatable tents look very much like standard tents. However, there's one key difference: rather than having metal or fibreglass poles, air tents have inflatable beams that are pumped up to support the shell of the tent.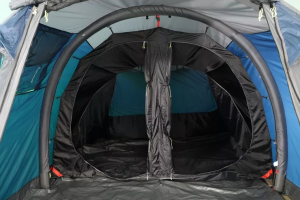 What are the advantages of inflatable tents?
The main advantage of inflatable tents is that they can be pitched and taken down much more quickly than tents with poles. This is not only because the poles are inflatable, but also because they're integrated into the body of the tent itself. 
Having inflatable and inbuilt poles helps to eliminate many of the difficulties that come with erecting standard tents. There's no need to unfold and connect unwieldy poles that are often many metres in length. There's no more struggling to thread those poles through the tent and fighting to secure them into the necessary shape.  
While you may have to pay a little more for an inflatable tent, the cost is offset by the undeniable convenience.  
Are inflatable tents strong and reliable?
Inflatable tents might be filled with air, but they're just as sturdy and reliable as standard tents. They can withstand strong winds and come with the usual guy ropes and pegs to keep them safely secured to the ground. 
Punctures are rare and most inflatable tents will come with a puncture repair kit to help you out in emergencies. You can also pick up replacement air tubes for some models if needed.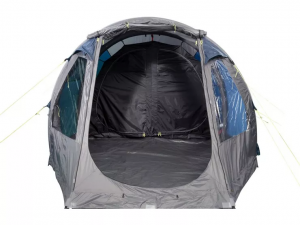 How do you pitch an inflatable tent?
Pitching an inflatable tent couldn't be easier. Simply attach the pump and then it should only take a couple of minutes to inflate each air beam. Once the tent is fully inflated, double-check that all of the air valves are firmly closed and then secure your tent to the ground with the guy ropes and pegs. 
One thing to bear in mind is that you'll probably need to use the pump that was provided along with your tent, as different manufacturers use different valve systems. So, if you've got more than one inflatable tent, just make sure you've got the correct pump to hand.  
What inflatable tents are available?
Choosing an inflatable tent is very much like choosing a standard tent and the same kinds of considerations apply. How many people will be using the tent? Do you want to be able to stand up inside? How many bedrooms do you want? Would additional inside space be useful? 
Here at Halfords, our Halfords 4 Person Air Tent and Halfords 6 Person Air Tent combine a quick pitching time with plenty of inside space, making them a great choice when you're off on a camping trip or staycation.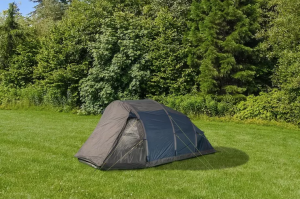 The 4-Person Air Tent comes with two double bedrooms and a full walk-in height of 195mm at its maximum point, while the 6-Person Air Tent boasts three double bedrooms and a walk-in height of 200mm.  
Both are suitable for use in heavy rain (making them ideal for the British weather), include a double skin to help prevent condensation, come in an oversized bag for easier storage and come with a two-year guarantee.  
We also stock a range of inflatable awnings for caravans and campervans, so make sure to check them out if you're looking to create more space when you're out on the road.
---
So if you want to make your next camping trip as easy as possible, and you want to spend less time putting up the tent and more time doing the things you love, then pick up an inflatable tent today. Check out our full range of tents here, along with all your camping essentials.