Autumn and winter can be a tough time for our cars, with rain, snow, road grit and low temperatures all causing problems.
When the temperature falls below zero, it's easier for your battery to lose its charge as cold temperatures slow down the chemical reactions needed to generate and sustain power. The cold weather can also cause damage to your wiper blades, making the rubber brittle and more susceptible to breaking or splitting, while on the road, unexpected potholes caused by harsh weather can damage your tyres and throw out your wheel alignment.
With the coldest weather now behind us and spring right around the corner, there's no better time to treat your car to some much-needed TLC in preparation for spring and summer driving. Thankfully, here at Halfords, we have plenty of car checks and services to help you stay on top of car maintenance for the warmer months ahead.
Free 5-Point Car Check
If you don't have a specific issue in mind, and instead just want the reassurance that your car is in good health, then the Free 5-Point Car Check is ideal. Carried out in any of our stores or garages, it covers five key areas of your car to look out for any potential problems.
One of our experienced technicians will check your headlights and brake lights, the condition of your wiper blades, your battery health, the condition of your windscreen and your MOT due date, so you know you're ready for anything.
If we do find any issues, we'll talk you through our recommendations and next steps, with no obligations.
Free 10-Point Car Check with the Halfords Motoring Club
Fancy a more in-depth assessment? Our 10-Point Car Check covers everything in the 5-Point Car Check as well as these additional inspections:
Tyre depth check
Tyre inflation check and top up
 Oil level check
Screen wash top up
AdBlue and coolant level check
Even better, our 10-Point Car Check is completely free when you sign up for the Halfords Motoring Club's free membership tier, so you can save money and have the peace of mind that your car is working as it should. Or upgrade to our Premium membership to unlock over £100 worth of exclusive benefits, including 5% off member pricing. Sign up for the Halfords Motoring Club today at www.halfords.com/motoring-club.
Free Tyre Check
We all know how important our tyres are – they're our only point of contact with the road, and the winter months can be tough on them! You're likely to be heading further afield now that the warmer weather is here, whether you're exploring the countryside, heading for the coast, or even embarking on a European road trip. So, you'll want to make sure that your tyres are still in good working order before you set off.
As part of our Free Tyre Check, one of our trained technicians will assess your tyre pressure and tread depth, and complete a visual inspection to ensure your tyres are safe and legal.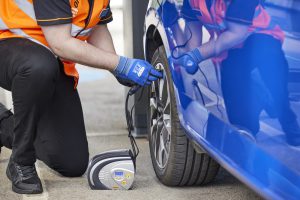 If they need replacing, we also stock an extensive range of tyres from both premium and budget brands, so we've got something for everyone. We can fit your new tyres at your local Halfords garage, or let our Mobile Experts come to you at your home or workplace!
As well as your tyres, it's also worth getting your wheel alignment checked over. Poorly aligned tyres – which can be knocked out of alignment by unexpected potholes – can lead to uneven wear of your tyres and make handling your vehicle more difficult.
Getting everything realigned should help to keep your vehicle more stable, and your tyres lasting longer, so why not book in at your nearest Halfords Autocentre in time for spring adventures.
Free Battery Health Check
Extreme temperatures can play havoc with your battery, gradually draining the charge and eventually leading to your car not starting.
Now that the coldest months have passed, it's the perfect time to get the health of your battery checked, for the peace of mind that it'll work when you need it to during your spring adventures.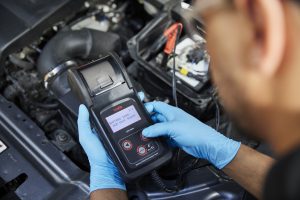 Our Free Battery Health Check can be carried out at our garages, and there's no easier way to make sure that everything is working properly. Our technicians will assess your battery's key health indicators, including its charging and cranking capabilities, to make sure that it can hold a charge and perform as it should.
Free Air Con Check
Road trips in warm weather are always great fun, but less so without working air con! Your air conditioning system likely isn't something you've had to use over autumn and winter, so it's worth getting it checked out to make sure you've got it when you need it.
One of our friendly technicians at your local store can carry out a Free Air Con Check to help you to avoid any unexpected fails. They'll check the pressure and gas quantity, make sure there are no leaks in the system and check your refrigerant levels to see if they need topping up, all at no cost.
Tow Bar Fitting
Warmer spring weather means plenty of opportunities for family bike rides in the sun, or the perfect time to head out on a caravanning holiday! Wherever your spring break takes you, a tow bar can make the journey a whole lot easier.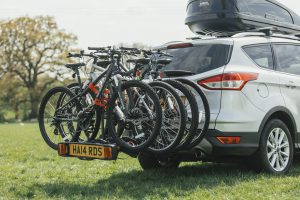 So, why not book a tow bar fitting with our Halfords Mobile Experts? Our mobile service means that we can fit your tow bar right on your driveway or at your workplace – whatever works best for you. Our fitting service includes full wiring and programming to your vehicle's onboard computer if necessary, so you'll be ready to use your new tow bar the same day.
It's worth noting that tow bar fitting is an in-depth process, and your technician will need access to your car for a few hours. So, put your feet up and let us do the hard work for you! You can read more about our fitting process here, and you can book in with our Halfords Mobile Experts here.
---
With Halfords here to keep your car working at its best, you can enjoy your spring motoring adventures worry-free.
You can find all our free car checks – including suspension, steering, catalytic converter, and more – over at Halfords.com, or head to your local Halfords store to shop all of our travel accessories.