Whether you ride a bike for leisure or commuting purposes, it's important to make sure that it's in full working order and safe to use. Booking a Free Bike Health Check with Halfords can ensure that your bike is in top condition to help extend its lifetime and increase safety when out on your rides.
Why get your bike checked?
If you didn't have your bike professionally built, then there's a chance that it may not have been set up correctly and there could be some safety concerns.
Here at Halfords, you can bring your bike in for a Free Bike Health Check and one of our experienced bike mechanics will give it a thorough inspection. They'll make sure it's been built correctly, spot any potential problems or safety concerns before they develop, and give you peace of mind that your bike will be one you can rely on.
Best of all, you don't even have to have bought the bike from Halfords in the first place! We want to make sure that everyonr is safe when they ride their bike, so we're happy to check over any bike, regardless of where or when it was purchased.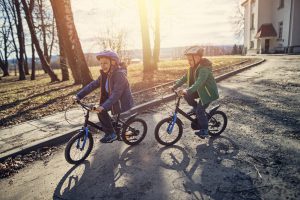 What does the Free Bike Health Check involve?
Our Free Bike Health Check takes up to 30 minutes and covers 32 key points across your bike, including the following:
Frame, saddle and handlebars
Wheels: Tyres, rims, spokes and hubs
Brake system: Levers, calipers, pads and cables
Drivetrain: Gears, levers, chain, bottom bracket, cranks and cables
This will take the form of what we call an 'M-check', where our mechanic will work their way around your bike from top to bottom, assessing all 32 elements for signs of wear, damage or adjustment requirements.
If they spot any problems that require a service, they'll get the bike booked in at the first available opportunity.
How can you book a Free Bike Health Check?
The easiest way to book a Free Bike Health Check is online, by following these steps:
Visit the Free Bike Health Check page.
Enter your postcode to find your local store.
Choose a date that suits you and then choose a time.
Click 'Book Selected Slot' to confirm your choice. Your appointment will then be automatically added to your basket.
Click on your basket and then 'Go To Checkout'.
Complete the checkout process to confirm your appointment.
You can also pop into your local Halfords store and speak to one of our colleagues to book an appointment in person. Find your local Halfords here.
When should you make an appointment?
Where your new bike wasn't professionally built, we'd suggest booking a bike health check at your earliest convenience. Don't wait too long or you may find that the appointment slot you wanted isn't available!
Even if your bike was built by an expert, it's still worth getting it checked out after around six weeks. This will help ensure that everything's working as it should and it will allow any adjustments to be made that may have come to your attention after you've ridden the bike for a while.
For kids' bikes and adult bikes
The good news is that our Free Bike Health Check covers both kids' bikes and adult bikes so everyone can stay safe on their cycling journeys. Our check covers all sizes and disciplines too.