If you haven't ridden a gravel bike or adventure bike, you're missing out. Gravel bikes and adventure bikes are a range of rugged rides that you can use off-road, on gravel, tracks or paths – hence the name.
They're the perfect combination of a road bike and mountain bike, and are increasingly popular among riders looking for the next challenge!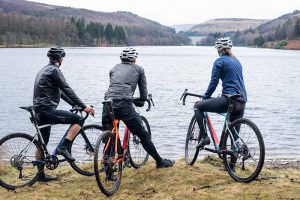 If you're interested in buying a gravel bike or just want to learn a little more about adventure bikes, then our Gravel and Adventure Bikes Buyers Guide is for you.
What are gravel and adventure bikes? 
Gravel bikes and adventure are designed to tackle mixed terrain. They're not as rugged and hardwearing as mountain bikes, but can be used on off-road paths and tracks without fear of damaging the bike, or yourself. They're built for smiles not speed.
While a gravel bike may look very similar to a road bike, but there are some key differences that affect how they handle and perform.
Built for comfort – Gravel and adventure bikes prioritise rider comfort over outright speed. The riding position on a gravel bike is more upright, making it more comfortable for riding longer distances and for tackling tricky and technical off-road conditions.
Long wheelbases –Gravel and adventure bikes have longer wheelbases, which essentially means the front and rear axle are further away than on a normal road bike. This spreads the weight of the rider weight over a longer distance, making the bike more stable and easier to handle.
Wider tyres– Gravel and adventure bikes usually come fitted with much wider tyres than your traditional road bike. To accommodate these, the gaps between the wheels and the frame (called the tyre clearances) are bigger. This gives you a more extensive choice of tyre size. You can go narrow like a road bike or wide and knobbly like a mountain bike.
Disc brakes– Gravel and adventure bikes are fitted with disc brakes as standard. Disc brakes are more efficient, providing greater stopping power. They are also easier to clean than calliper brakes you find on most road bikes, which is good news as you're going to get muddy!
Why should I buy a gravel bike?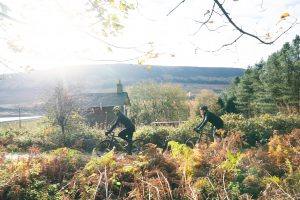 Gravel and adventure bikes are the perfect go-anywhere, ride anything bike choice. It's about smiles, not speed.
If you're a road cyclist, having a gravel bike in the garage or shed will open up a whole new range of riding possibilities. Sure you can ride your favourite road routes, but if the urge takes you, then you can safely hit bridleways, paths and trails that would have damaged your fragile road bike.
Adventure bikes are, as the name suggests, built for adventures! They're the perfect touring companion or long-range rider. They can be modified with a pannier rack and a set of mudguards make travelling more comfortable.
Both gravel and adventure bikes also make the perfect commuter bike or winter hack, with the disc brakes, wider tyres and improved handling making cycling through traffic more pleasant.
What's the difference between a gravel bike and an adventure bike?
Gravel bikes and adventure bikes are two terms used to describe a bike that can be ridden both on-road and off it.
Some people class adventure bikes as being more like mountain bikes and gravel bikes being more similar to road bikes, but there's no definitive answer and they both offer the same opportunities to venture further afield and have some fun.
What about cyclocross bikes?
Gravel bikes and adventure bikes can be often confused with cyclocross bikes, but there are actually substantial differences between them.
Cyclocross bike frames have an aggressive geometry that stretches the rider out. It's the perfect position for racing, but not for the comfortable all-day rides most people want a gravel bike for.
What size gravel bike do I need?
Choosing the right frame size is a combination of maths and personal preference.
Instead of frame sizes in inches or centimetres, manufacturers usually offer gravel bikes and adventure bikes in sizes (small, medium, large and extra-large).
If you currently ride a road bike or mountain bike, you should be able to use the size charts supplied on every gravel or adventure bike listing to identify the right size bike for you.
Sizing for gravel and adventure bikes is a little less precise than on a road bike. You will often find yourself in and out of the saddle, and moving around the bike more than you would while riding a road bike (conventionally, at least!), so choose what feels comfortable.
Gravel and Adventure bike features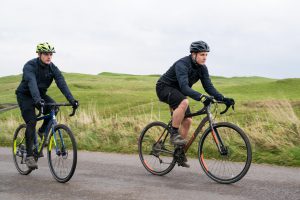 We're about to delve into the details and explain some of the key features of gravel bikes.
This section answers some of the technical questions you may have about gravel bikes. If you want some impartial advice on gravel bikes, then we recommend visiting a local Halfords where you can chat with one of our bike experts.
You can also see and sit on some gravel bikes to get a feel for what's right for you.
Frame and Forks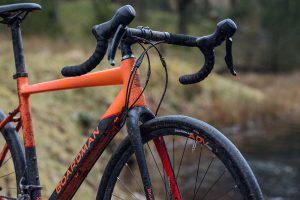 Gravel and adventure bikes come in a variety of frame designs, with each manufacturer having their own preferences. Some gravel bikes look very similar to road bikes and cyclocross bikes whereas others look a lot like a mountain bike that's been fitted with a set of road handlebars.
Gravel and adventure bikes are designed to be light and manoeuvrable, which makes riding on and off-road and awful lot of fun. The frame shape (geometry) will differ from a traditional road bike, with a sloping top tube inspiring more confidence when riding on technical tracks and uneven surfaces.
The choice of which frame suits you depends on your own personal preferences and how you are going to use your new bike.
If you're a road-rider who wants the option to go off-road, then a gravel bike that's close to a road bike – such as the Boardman ADV 8.9 Men's Adventure Bike – is a great choice.
Here are some specific frame features to look out for:
Suspension –Most gravel bikes include some form of absorbing materials or elastomers in the frame to absorb the bumps. Some even come with suspension forks at the front.
Dropper post– Some gravel bikes come fitted with dropper posts that enable you to adjust the height of your saddle while riding.
Frame mounts – Look out for bottle cage mounts and frame mounts if you're looking to take your bike touring.
What size wheels are best for me?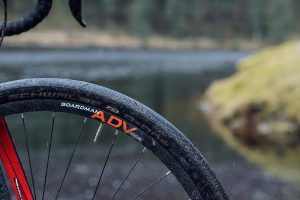 Gravel and adventure bikes roll on standard 700c road wheels that you find on most road bikes and 650b (27.5") wheels you will find on mountain bikes. You can also find gravel bikes with 29" wheels too.
As a rule of thumb, if you're wanting to spend more time off-road than on it, go for a bike with 650b wheels. If tarmac is more to your taste, then we recommend you choose a bike with 700c wheels.
Some gravel bikes are compatible with both wheel sizes, which means you have the option to swap wheels as often as you like.
Here are some other standard features of wheels to look out for:
Thru-axles – The majority of gravel bikes uses thick and stable thru-axles instead of thinner quick-release skewers. This is to improve safety as thru-axles are less likely to come loose while riding.
Tyre clearance – Adventure bikes and gravel bikes come with a maximum tyre clearance limit, this will tell you what size tyres you can safely fit on your new bike. The bigger the tyre, the higher the tyre clearance you will need.
Tubeless tyres – Tubeless tyres offer puncture protection, which is why they're increasingly popular among riders. If you want to go tubeless (or are interested in trying it out), then choose a gravel bike with tubeless compatible wheels and tyres.
Disc brakes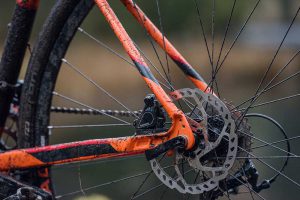 Gravel and adventure bikes will use disc brakes as standard. If you're riding through muddy terrain, slowing on a steep descent, or pulling up short of an obstacle disc brakes will perform much better than calliper brakes.
Entry-level gravel bikes will come fitted with mechanically (cable) operated brakes that will do the job. More expensive bikes are equipped with hydraulic disc brakes that use fluid to apply braking pressure, like the brakes in your car.
Mechanical disc brakes don't offer the best braking feel (modulation) but are much easier to repair at home or when you're out riding. Hydraulic disc brakes perform better and require less maintenance, but can be more expensive.
Gearing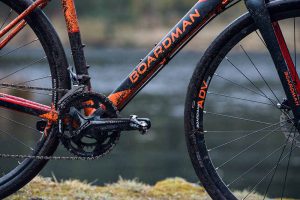 Gravel bikes can come with one a variety of different gearing combinations. Up front, your gravel bike may come with a single chainring or a double – no triples here!
At the back, you'll find between 10 – 12 cogs (sprockets) on the rear cassette, which is pretty standard. You'll find all the big names such as Shimano and SRAM building groupsets for gravel bikes.
On a road bike, you'll find that the gears are grouped tightly together. The smallest cog on the rear cassette could be as low as 10, the highest to 34. Gravel bikes will typically have a much wider range of gears are the rear. A typical rear cassette pattern for a gravel bike will have gears between 11-42.
The larger rear cog makes riding up hills easier, but when you need to put the power down, an 11 cog sprocket should be enough to get up some speed.
Entry-level and mid-level bikes will come with standard cable-operated mechanical gears. At the top-end, you can find gravel bikes with Shimano's Di2 and SRAM's AXS battery-powered groupsets. These offer precision shifting but come at a premium.
Handlebars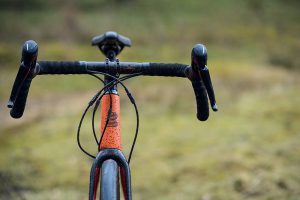 Gravel bikes come fitted with dropped handlebars you will typically associate with a road bike. They give you a whole range of different positions to choose from.
Some gravel bikes come with flared handlebars. The flare here refers to the way the curve of the handlebar moves outwards as well as around in that inverted C shape.
Some riders find that flared handlebars improve handling on rough terrain.
As with all things bike-related, go with what feels best for you.
Can I get an electric gravel bike?
Yes! The e-bike revolution doesn't stop on the road. Leading bike builders such as Boardman have created a range of electric gravel bikes that are based around their tried and tested bike designs.
The Boardman ADV 8.9E Men's Adventure Electric Bike comes with a German engineered Fazua Evation drive system that will produce 250W of power. The rechargeable battery will provide a 60-mile range, which is long for some on-road and off-road adventures.
Where can I buy a gravel bike?
At Halfords, we carry a range of gravel bikes from Boardman, VooDoo and Raleigh.
Perfect for on-road and off-road riding, gravel bikes are perhaps that most versatile bike you can buy today. Drop in your nearest Halfords store or view our entire range of gravel bikes online.