Conditions in winter can be challenging, making driving tricky.
In fact, one in seven (14%) of drivers are speeding without even realising it according to new research from Halfords and the Director of the Centre for Automotive Industry Research at Cardiff University, for Tyre Safety Month
But don't worry, we've got all the information you need to help guide you and your tyres safely through the cold months ahead.
Use the correct type of tyre
It's easy to consider ways of maintaining our tyres while overlooking the most important factor of all: do you have the correct tyres for the job?
Our tyres are the only point of contact between our vehicles and the road. They're vital for braking, turning, accelerating and creating a smooth ride quality. Despite this, most motorists in the UK drive throughout winter with summer tyres that aren't suitable for the conditions.
In the UK we have three types of tyres, all with different strengths:
Summer tyres
The tyre type that most drivers in the UK use, even in winter. However, the tyre is designed to perform well in the dry and rain, but the performance levels drop after the temperatures begin to plummet.
Winter tyres
Although named winter tyres, these are more of an extreme weather tyre, suitable for drivers who experience frequent icy and snowy conditions. They're not suitable for driving in the summer months.
All season tyres
An all-rounder that is designed to perform in both summer and winter conditions. Unlike the other two options, these can be used year-round and don't need to be changed as the weather changes. If you're looking for a tyre that suits all weather, then choose the all-season tyre.
For UK drivers, an all-season tyre is usually the best choice as our winters tend to be mild and a winter tyre should be used in more extreme conditions.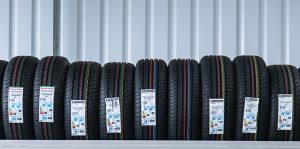 Change all four tyres at once
Maintaining a car can be expensive business. Only changing two tyres may seem like an easy cost-cutting measure.
However, if you own a four-wheel drive vehicle, it's best to change all four tyres at once. Only changing two can cause issues with the drive system, which can cause excessive wear on tyres.
For rear or front-wheel drive vehicles, most manufacturers advise that tyres are changed in axle pairs. However, it's advisable to change all four tyres at once for optimum tyre performance and degradation.
Keep an eye on tyre pressure
Cold temperatures have a surprisingly big impact on tyre pressure. Over the course of a winter, your tyres could deflate by a significant amount. Not good for you or your tyres as tyres with low pressure are more likely to suffer sudden deflation.
To avoid this, regularly check the pressures. We'd advise doing so monthly. There are lots of tyre pressure gauges that you can use to help.
All cars made after 2014 have a built-in tyre pressure monitoring system that will notify you when the tyre pressure is too low. However, it's best to still manually check your tyres to be sure.
Wash your tyres
Keeping your car clean throughout winter is frustrating stuff. You get it shining only for it to get dirty as soon as you go for your next drive.
Don't be deterred by this, as cleaning your car is important for getting rid of dirt, salts and other muck that could cause damage and corrosion. For your tyres, dirt may also conceal major issues that could cause problems out on the road.
Check tyre tread depth
Which leads us neatly on to our final point: regularly check your tyre tread depth.
You need grippy tyres more than ever in the winter, so avoid using tyres with worn down tread. By law, you must have a tread depth of at least 1.6mm, but for winter we'd advise changing your tyres long before they reach this stage. Try to check yours tyres monthly – you can use the Halfords Digital Tyre Pressure and Tread Gauge to help.
Also take every opportunity to examine for any damage such as bulges, splits or punctures. It may be the last thing you want to do after arriving home in the dark and cold, but it's definitely worth it.
Are your tyres road legal? Find out with the help of our guide to tread depths.
Let Halfords help
Here at Halfords, we like to make life as easy as possible. That's why we offer a safe and contactless Free Tyre Check. In it, one of our trained technicians will check both the pressure and tread depth of the tyres, making sure they are safe for winter driving.
If any issues are found, you can use one of our many autocentres to help replace them. Alternatively, one of our mobile experts can come to you. It's that simple!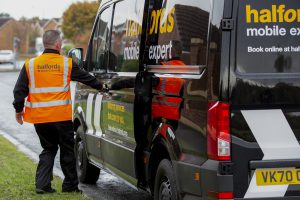 To make sure your car is winter ready, why not also use our 10-Point Car Check. In it, a technician will check your vehicle's tyres, headlights and brake lights, battery, windscreen, oil level, screen wash level and AdBlue and coolant level.
Same day tyre fitting
Did you know that we now offer same day tyre fitting across our garages nationwide? Simply book online before 1pm and we can replace your tyres the same day to help you get you back on the road safely and swiftly. Please note that availability varies by location. For more information, please head on over to our dedicated same day tyre fitting page where you can find answers to frequently asked questions, choose the right tyres for your vehicle and book your appointment.
Join the Halfords Motoring Club
Another winning option is to join the Halfords Motoring Club, where you'll get access to a range of amazing benefits and discounts that are designed to keep you moving, keep you safe and keep you saving.
It's free to join and you'll receive money off your MOT, a free car health check and a welcome voucher that can be spent on any Halfords product or service.
Or choose our Premium membership for a small monthly fee (or a one-off payment) to unlock exclusive member pricing on all motoring products and services online and across our stores, garages and Halfords Mobile Experts, as well as a variety of other benefits that will help you to keep moving for less.
With so much to enjoy, this is too good an opportunity to miss!
Join the Halfords Motoring Club today at www.halfords.com/motoring-club.
---
If you need more help getting the right tyres, head over to our tyres advice and buying guides where there's lots more information.
You want your tyres to safely navigate this winter. You want Halfords.