DIY, you either love it or you hate it. For those who aren't the biggest fans of getting their hands dirty, knowing what gifts to get for their DIY-mad loved ones can be difficult.
Not anymore. Here at Halfords, we have lots of great gift ideas that will make working through your Christmas shopping list much easier.
Below are our top 10 picks for those who love DIY.
Halfords Essentials 60 Piece Home and Garage Tool Kit
If you know someone who likes to turn their hand to anything, our 60 Piece Home and Garage Tool Kit is a must-have gift for Christmas.
The 60 tools includes a range of spanners, pliers, screwdrivers and bits to get those household upgrades or repairs completed. Arriving with a case, the tool kit is easy to carry and is a convenient choice.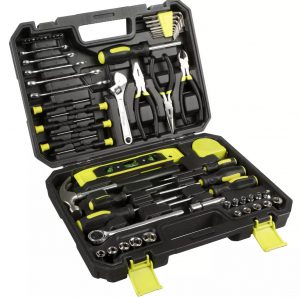 Stanley Sortmaster Organiser
While DIY is a common hobby, keeping tools and parts organised often isn't – much to the frustration of other-halves everywhere.
Give that loved one the nudge they need by getting them the Stanley Sortmaster Organiser.
With removable dividers, the Sortmaster allows up to 1024 different configurations – we haven't counted ourselves, but we'll trust Stanley on this one! That means that you can store both tools and parts.
To avoid parts loosely falling between compartments, the lid also has special interlocking ribs so you'll find everything exactly where you left it.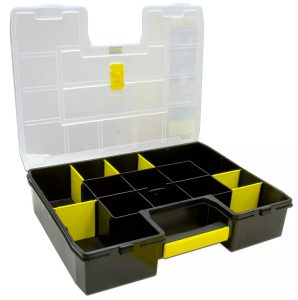 Halfords Advanced Screwdriver Bit and Set
Those that pride themselves on precise, quality work need tools built for the job, and you won't find many better than the Halfords Advanced Screwdriver and Bit Set.
All of the screwdrivers are high-quality with comfort grip handles for greater torque. They're also incredibly durable with notched metal rods that go deep into the handle, making them less likely to come loose.
Backing up this durability, all Halfords Advanced tools come with a lifetime guarantee – making the Advanced Screwdriver and Bit Set a gift for life.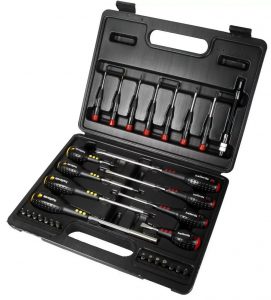 Halfords Advanced 40 Piece ¼" Socket Set
The Halfords Advanced 40 Piece ¼" Socket Set is a versatile set that can be used for lots of jobs in the garage and around the home.
The included 100 tooth ratchet provides a lower swing arc, which means you need just 3.6 degrees of movement before the next tooth is engaged. Combine this with the low-profile head design and you have a tool that is perfect for working in confined spaces.
Built to last, Halfords' sockets and ratchets are made from durable alloy chrome steel and they come in a moulded case with EVA foam for that added protection.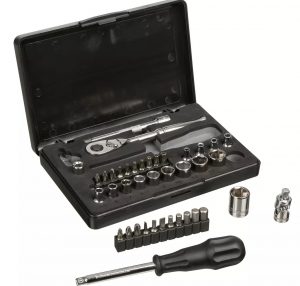 Halfords 50 Piece ¼" & 3/8" Drive Metric Socket Set
One for those who spend lots of time working on their car, the Halfords 50 Piece ¼" and 3/8" Drive Metric Socket Set is a great gift for Christmas.
The 72-tooth ratchet requires as little as 5 degrees of movement to turn a fastener, and the wide range of sockets (from 4 to 19mm) are made from long-lasting chrome alloy steel.
The set also includes spark plug sockets for everyday vehicle maintenance and comes in a robust carry case.
With a two-year guarantee, the set will be a great addition to any DIY enthusiast's garage.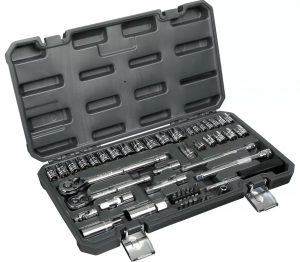 Halfords 3 Drawer Metal Portable Tool Chest
While our tool collections may start off modest, they quickly grow and storing all our tools can become difficult. If you know someone with more tools than space to store them, they need the Halfords 3 Drawer Metal Portable Tool Chest.
Designed and engineered for DIY enthusiasts, each drawer has a 9kg load rating so that there's plenty of space for every tool. The top compartment is great for frequently used tools and each of the drawers lock when the lid is closed, making it easy and safe to transport.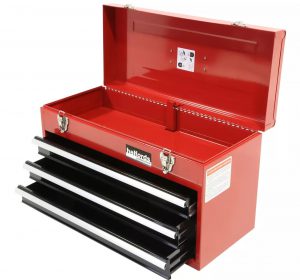 Halfords 5 Drawer Cabinet
For those who have too many tools to count, something larger may be needed.
The Halfords 5 Drawer Cabinet not only stores tools but also keeps them safe. With a 25kg load rating per drawer, there is enough space for plenty of weighty tools. For that added convenience, every drawer is also designed to fit our range of Halfords Advanced modular tray sets.
Then, for that added security, the whole cabinet is fully lockable. A great gift for storing and protecting tools this Christmas, and one that'll test your wrapping skills too!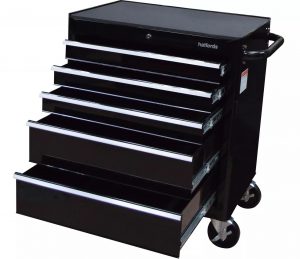 Halfords 186 Piece Maintenance Tool Kit
The ultimate gift for home mechanics, the Halfords Maintenance Tool Kit contains 186 tools commonly required to complete a range of basic mechanical jobs on your vehicle.
A wide range of 12-point standard sockets (from 4 to 19mm) and deep sockets (from 8 to 17mm) mean that you'll be well equipped to tackle a large number of mechanical jobs.
A range of other tools such as combination spanners, pliers, screwdrivers, and hex and torx keys make this set an ideal solution for anyone looking to complete jobs on their vehicle, as well as around the garage and home.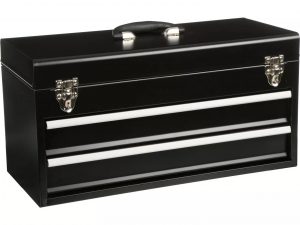 Ryobi 18V ONE+ Impact Wrench Starter Kit
The Ryobi Impact Wrench Starter Kit is a perfect gift for those starting their Ryobi collection, or adding to it.  The kit comes with the Impact Wrench, battery and charger, all within a handy carry case.
A part of the ONE+ system of cordless tools for the home and garden, the Ryobi R18IW3-120S is a high-powered impact wrench capable of tightening and removing heavy-duty fasteners such as wheel nuts and coach bolts.
It also has three speed modes and a tri-beam LED light that illuminates the work area, making it a versatile option.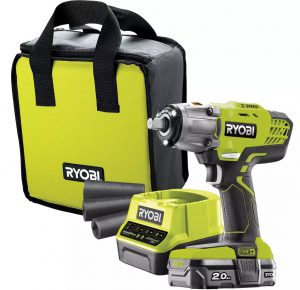 Halfords Advanced 200 Piece Socket and Ratchet Spanner Set
We finish with a gift for the professionals.
Our Halfords Advanced 200 Piece Socket and Ratchet Spanner Set has been designed and engineered by professionals to enhance your everyday needs around the workshop.
These high-quality tools come with the latest advancements in technology including 100 tooth ratchets and combination spanners with Surface Drive Plus for up to 28% more torque before rounding.
The set includes items for all your automotive needs or general everyday jobs.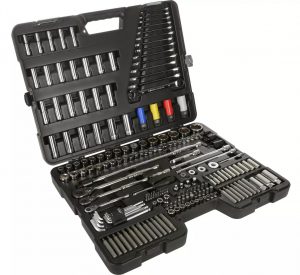 ---
If you're in need of more Christmas gift inspiration, head over to Halfords.com where we have many great options.
Remember: if you want the best DIY products, you want Halfords.