Discovering a tyre puncture can be alarming but fixing the issue may be more straightforward than you think. Most modern vehicles are now equipped with a tyre puncture repair kit rather than a spare tyre, making emergency tyre repairs much quicker and simpler. If you've never had to use a tyre puncture repair kit, the task may seem daunting, but we're here to help.
In this blog, we'll cover how to use a puncture repair kit so you can get your car safely to a garage as soon as possible.
What is a tyre puncture repair kit?
Tyre puncture repair kits are a modern alternative to spare tyres, helping motorists spend less time trying to fix punctured tyres at the side of the road. The repair kit should consist of tyre sealant and a tyre inflator. It's important to remember that tyre puncture repair kits are only a temporary fix that can help you get to a garage to have your tyres looked at properly.
How do I know if my tyre is punctured?
If you're driving on a punctured tyre, either your tyre pressure warning light will appear on your dashboard, you'll feel the steering wheel vibrate or the car will pull to one side. If this occurs, it's important to pull over to the nearest safe place, away from the traffic, so you can assess the punctured tyre.
How do I repair a tyre puncture myself?
If you're on the road and looking to repair a tyre puncture yourself, follow these steps:
Make sure you're in a safe place
Before you start doing anything, make sure your car is parked in a safe place, away from busy traffic. You should switch off your car engine and put on your hazard warning lights to alert other road users.
Read the instructions
The puncture repair kit can usually be found in the car boot. Make sure you read the instructions on the puncture repair kit before you begin to avoid any confusion.
Locate the tyre puncture
Once you've located the puncture, you need to assess whether it's repairable. You shouldn't use a puncture repair kit if:
The puncture has a diameter of more than 4mm.
There is damage to the wheel rim.
The puncture is on the tyre sidewall
The tyre has been flat for some time.
If you notice a nail or something else that has pierced the tyre, do not try to remove this as it could worsen the damage.
Position the tyre
Position the tyre so that the puncture is at the top and the air valve is in the top half of the tyre. This will make the repair easier and more accessible.
Squeeze in the tyre sealant
Remove the valve core on the tyre and squeeze in the tyre sealant, following the instructions on the bottle, then screw the valve core back in.
Inflate the tyre
Use the tyre inflator to pump up the tyre to the recommended tyre pressure. The recommended tyre pressure for your vehicle can be found in your vehicle handbook, in the door sill on the driver's side or inside the fuel cap.
Test if the tyre sealant has worked
You may need to drive a short distance for the tyre sealant to work its way around the tyre. The bottle will explain if this is the case and how far to drive. Once you have done this, pull over to a safe place again to check if there is any further damage to the tyre. If the tyre looks intact, you can drive to a garage to have the tyre inspected further.
Be mindful of your speed when driving on a repaired tyre. It's important to drive carefully to avoid any further damage to the tyre. The tyre sealant bottle may advise a maximum speed limit.
Replace the tyre
As mentioned previously, tyre puncture repair kits are a temporary fix. Once you've taken your car to a garage, they will assess the tyre to establish whether it can be fixed permanently or if it needs to be replaced.
Can a tyre puncture be fixed permanently?
Whether punctured tyres can be fixed permanently depends on the severity of the puncture. If the puncture is less than 6mm in diameter and in the middle three-quarters of the tyre's width, then it can likely be fixed. However, more severe punctures can cause internal damage to the tyre and can lead to further problems if you continue driving. In these instances, punctured tyres will need to be replaced. In either case, tyre sealants are a temporary solution to help you get your car to a garage to be further assessed.
My car isn't equipped with a puncture repair kit
If your car is not currently equipped with a tyre puncture repair kit, the Slime Smart Tyre Repair Kit is a great option. It comes with a tyre inflator and tyre sealant to help you quickly repair a puncture without having to use a spare tyre or use any tools. It's TPMS safe and won't impact your tyre pressure sensors. Slime tyre sealant can also be easily washed out. Find out more about tyre sealant with our dedicated guide.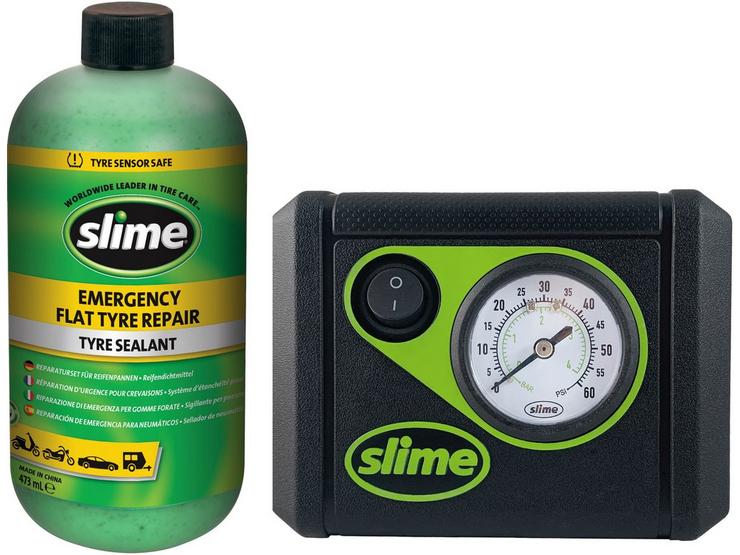 At Halfords, we're always here to help you get back on the road as soon as possible. Book a puncture repair online and one of our technicians will inspect your tyres and replace them if necessary. You can quickly pick a slot at a time to suit you at one of our 600 Autocentres. If your tyre is fixable, we can usually get it sorted there and then. If not, we'll quickly sort out some suitable replacements.
What's more, if you join the Halfords Motoring Club, you'll receive exclusive offers and discounts across our products and services.
If you can't make it to one of our Autocentres, Halfords Mobile Expert can meet you at your chosen location. Simply book a convenient slot online and we'll swiftly get you back up and running.
Same day tyre fitting
Did you know that we now offer same day tyre fitting across our garages nationwide? Simply book online before 1pm and we can replace your tyres the same day to help you get you back on the road safely and swiftly. Please note that availability varies by location. For more information, please head on over to our dedicated same day tyre fitting page where you can find answers to frequently asked questions, choose the right tyres for your vehicle and book your appointment.