Getting your driving license is exciting – the newfound freedom, the sense of achievement. But it can be intimidating too.
To help you get to grips with driving alone, we're breaking down some of the most common questions about looking after a car, keeping your vehicle road-legal, and how to save money as a new driver. Plus, we'll include links to all our most helpful articles, guides, and blogs to keep you clued up about all things motoring.
New driver insurance and car tax
Every vehicle on UK roads needs to be taxed. Car tax, also called road tax, vehicle exercise duty, or VED, varies from vehicle to vehicle depending on factors like age, tailpipe emissions, value, and fuel type.
This is because car tax goes towards funding things like road maintenance, upkeep, and other local projects, so cars that are deemed to make more of an impact pay more. You can find a full breakdown of tax rates here, and you can tax your car on the government website here.
As for car insurance, it can be tricky to figure out what policy is right for you. Many insurers will recommend a black box policy for new drivers, as it will help to keep your premium low. To better understand how car insurance works and what you can get cover for, check out our Types of Car Insurance Cover guide.
Your car's insurance band or group will also affect the price of your premium. There are 50 bands, with band 1 cars being the cheapest to insure and band 50 cars the most expensive. You can find out what band your car falls into here.
New driver MOT and servicing
Just like road tax, your car also needs an annual MOT. This yearly test assesses the condition of your vehicle to make sure that it's safe to drive, so it's illegal to drive without a valid MOT certificate.
If your car is brand new, it won't need to be tested until its third birthday (since all the parts and mechanisms aren't likely to have accumulated much wear and tear in that time), but you'll need to book in for a yearly test from then on. Although it's not a legal requirement, if you want the peace of mind that everything is working properly, you can book a service or MOT within those three years. Find out more about new car MOTs here.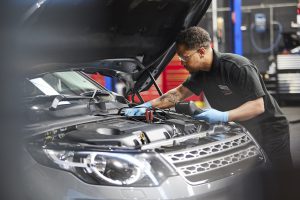 A service, on the other hand, is not a legal requirement, but it's highly recommended that you book one to make sure your car is working safely. Where an MOT checks that your car meets important safety and environmental standards, a service will assess the full working condition of your car, and replace things like your engine oil, coolant, and filters if needed. You can find a full list of what's included in a car service here.
The best way to save money on an MOT and service is to book them together – not only does it save you an extra journey to the garage, but you'll also get a significant discount compared to two separate bookings. Plus, you'll be less likely to forget either appointment since they're both on the same day!
You can find out when your MOT is due with our handy online tool – just enter your vehicle registration number to see the date you need to book in. You can also sign up for email reminders, so you'll always know when your test is due.
Basic car maintenance for new drivers
To keep your car in good condition long-term, it's best to carry out some basic routine maintenance. This might sound intimidating, but it's often as simple as keeping your car clean and tidy!
Car cleaning
Not only does washing your car keep it looking fresh, but it can also keep everything working well for longer. Taking the time to remove contaminants can stop them from damaging your car's components; road salt is corrosive and can cause your paintwork to rust if it's left uncleaned, while grime and bugs on your windscreen can damage your wiper blades prematurely. So, it's best to get into a routine from the start.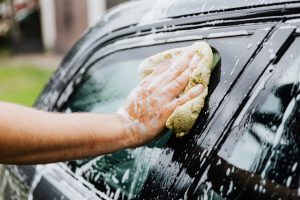 There are a few things to avoid, though; you should never wash your car with washing-up liquid! Although it may seem cost-effective, you'll actually end up spending more in the long run, as the chemicals in the formula can damage your paintwork and even create rust. Instead, a dedicated car shampoo is your best option.
You can find our full step-by-step guide on how to wash your car here.
Engine oil
To keep the engine's components moving freely, your car needs engine oil. This lubricating substance, also known as motor oil, helps to reduce friction between the engine's moving parts to reduce wear and damage.
Keeping your engine oil topped up is an important – and simple – part of looking after your car. You can quickly see if your car needs a top-up by checking your dipstick – it's a quick and easy task, and you'll find a full guide on how to do it here.
To find out more about what engine oil does, and which type is right for your car, you can find our full engine oil buyer's guide here.
Tyres
Since your tyres are in constant contact with the road, it's important to make sure they're always at their best. There are a few things to look out for – your tyre pressure, your tyre tread depth, and any abnormal tyre wear.
Checking your tyre pressure
Checking your tyre pressure is an easy way to keep your vehicle at its best. Not only is it unsafe to have incorrectly inflated tyres, but you're also legally required to have tyres inflated to your manufacturer's recommendations. You'll find the correct inflation for your car's tyres in your owner's manual.
Checking and inflating your tyres is simple – you can buy a tyre pressure gauge and tyre inflator so you can do it yourself at home, or you can use the machines provided at petrol stations. Here's a handy step-by-step guide to walk you through the process, along with some common questions.
Abnormal tyre wear
To give you the best grip on the road, your tyres should be wearing evenly across the entire tread. Any uneven wear or strange damage to your tread could impact your tyres' grip, so it's best to keep an eye on them and inspect them regularly. You can find our full guide on abnormal wear and what to look out for below.
Checking your tyre tread depth
To give you a solid grip on the road, your tyres are covered in tread – that's the grooves and ridges in the rubber. The more your drive, the more this tread is worn away as the tyre makes contact with the road. To ensure you have a safe amount of friction, your tyres need to have a minimum of 1.6mm of tread by law. You can check your tread depth with a tyre depth gauge.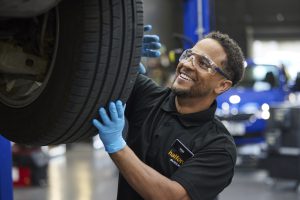 If you're unsure about carrying out any of these checks yourself, why not pop to your local Halfords garage for a Free Tyre Check. We'll check your tyre pressure, inspect tyre tread depth, and ensure your tyres are safe and legal, all for no cost.
Helpful apps, gadgets, and tech for new drivers
Now that you've passed, it can be intimidating to think about driving on your own for the first time. Thankfully, there are plenty of gadgets, apps, and other tools to help you feel more comfortable and confident on the roads.
Saving money as a new driver
When you're starting out as a new driver, saving money where and when you can is important. Thankfully, there are plenty of things you can do to keep costs down.
Use a parking app
Getting to your destination is one thing, but paying for parking can add even more cost to your journey. To avoid paying for a premium space, use a parking app such as Parkopedia – these databases can tell you if there's a cheaper car park nearby so you can avoid paying more than you need to.
Wash your car yourself
Although it can be tempting to let a drive-through car wash do the work for you, cleaning your car yourself can save a lot of money in the long run. £5 or so every few weeks can soon add up, so if you're trying to cut costs, this can be a good place to start. Plus, there are plenty of affordable car cleaning kits and bundles you can buy to get everything you need for a thorough clean in one package!
Keep your tyres inflated
We've already told you how keeping your tyres inflated can make your journeys safer, but did you know it can save you money too? Underinflated tyres actually reduce your fuel economy, so you'll use more fuel to cover the same distance as on correctly inflated tyres.
Join the Halfords Motoring Club
One of the best ways to save money as a driver is through the Halfords Motoring Club! You can sign up completely free and receive instant benefits to keep you moving, safe and saving.
Or you can upgrade to our Premium membership for a small monthly fee (or a one-off payment) and enjoy a huge £100 worth of benefits, including a free MOT! Both membership types will also have access to exclusive promotions and offers, including early access to some of our best deals.
Laws for new drivers
In the first few years of holding your license, you may be subject to some different rules and laws than more experienced drivers – this is because new drivers are classed as being in a "probationary period" for the first two years after passing your test.
How many points can a new driver get?
Penalty points (or endorsements) can be put on your license if you commit a motoring offence and will stay there for 4 or 11 years depending on the offence. If you build up a certain number of them, then you can lose your license. However, the number of penalties you can accrue as a new driver differs from other motorists.
A standard driver (a driver who's held their license for over two years) can be disqualified from driving if they get 12 or more penalty points within 3 years. For new drivers though, your licence will be revoked if you get 6 or more points within 2 years of passing your test. You can read more about penalty points on the government website.
---
So, those are some of our best new driver tips to help you get used to owning and driving your car. Just remember to relax and drive safely! For more helpful tips and advice on all things motoring, you can check out our help and advice hub on Halfords.com. There you'll find hundreds of handy articles, from how to find the correct wiper blade size to tips for driving at night.
Still learning? Check out our top tips for learning to drive, or browse our range of learner driver accessories over at Halfords.com.