Electric bikes, or e-bikes, have been growing in popularity over the last few years, but their weight and dimensions mean that standard bike racks aren't suitable. Our range of e-bike-compatible bike racks provides the answer, offering products that are easy to fit, won't break the bank and will help e-bike riders to enjoy journeys outside of their local area.
Here's a breakdown of our top three picks.
1. Halfords 1 Bike Rear Mounted Bike Rack
The Halfords 1 Bike Rear Mounted Bike Rack is one of the most competitively priced racks for e-bikes on the market. It's also easy to install, with four mounting straps securing the rack to the back of most makes and models of car. A fifth strap provides additional support and prevents movement, while foam pads on the back protect your car's bumper from any wear and tear.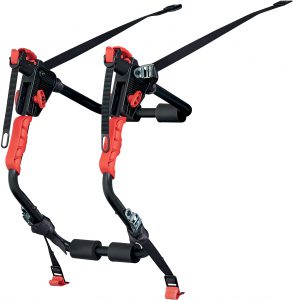 The rack can carry one electric (or standard) bike of up to 25kg, which makes it perfect for those solo rides. It comes fully assembled and folds flat for easy storage, giving you the ability to tuck it safely away when it's not in use. Best of all, we're pleased to be able to offer a two-year guarantee so that you can be confident that your purchase is protected.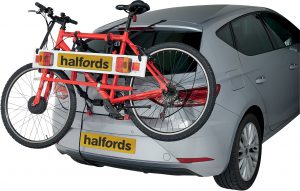 Just make sure that you check your vehicle compatibility before you buy to avoid disappointment. Simply enter your registration number online to find out which rear-mounted bike racks are appropriate for your car.
2. Halfords Advanced 2 Bike Tow Bar Mounted Bike Rack
If you're looking for something with a little more space, then the Halfords Advanced 2 Bike Tow Bar Mounted Bike Rack is the answer. This neat bit of kit attaches to your tow bar and provides space for two electric bikes that weigh up to 30kg each. As it also supports standard bikes, this is a great choice if you've got a mix of the two. Add in the fact that it's half the price of the nearest competitor and what's not to love?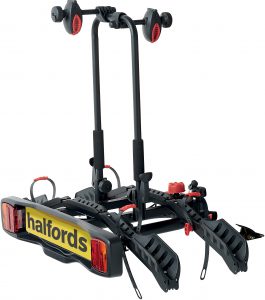 The rack is constructed from strong steel and has a durable grey finish. Padded support protects the bike frames, while the integrated number plate holder and lights ensure that all the essential elements are still visible after the rack has been installed. If you haven't got a spare number plate to hand, then our Number Plates Builder can help you there.
For added security, the rack locks to the tow bar and the bikes themselves can be locked into the rack. There's also a tilt function that means you still have easy access to your boot when both the racks and your bikes are in place.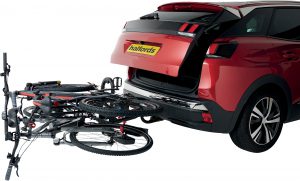 The rack comes partially assembled, so you'll need to get out your screwdriver, but we've got you covered with full fitting instructions. We're also offering a five-year guarantee in the event of any hiccups along the way.
3. Halfords Advanced 3 Bike Tow Bar Mounted Bike Rack
Got three e-bikes that you want to transport? Then look no further than the Halfords Advanced 3 Bike Tow Bar Mounted Bike Rack.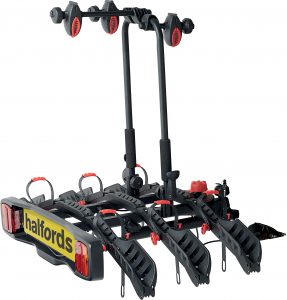 Like its smaller brother, this rack locks neatly onto your tow bar and has a body of strong steel and padded support. It's fully lockable, has a tilt function, and features an integrated number plate holder and lights. However, it also has space for three e-bikes (20kg each) or two e-bikes (30kg each) or a mix of e-bikes and standard bikes (up to a combined weight of 60kg) – a versatility that makes it a truly family-friendly option.
This rack also comes partially assembled, so be sure to check out our full fitting instructions, and with a five-year guarantee.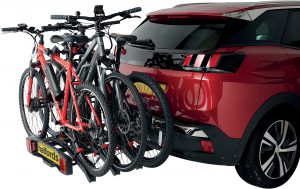 Introducing the Halfords Motoring Club
At Halfords, we're here to provide you with the best value for all your motoring needs, whether you're transporting your e-bike or booking an MOT. Join the Halfords Motoring Club today to access a range of amazing benefits and discounts that are designed to keep you moving, keep you safe and keep you saving.
It's free to join and you'll receive money off your MOT, a free car health check and a welcome voucher that can be spent on any Halfords product or service.
Or choose our Premium membership for a small monthly fee (or a one-off payment) to unlock exclusive member pricing on all motoring products and services online and across our stores, garages and Halfords Mobile Experts, as well as a variety of other benefits that will help you to keep moving for less.
With so much to enjoy, this is too good an opportunity to miss!
Join the Halfords Motoring Club today at www.halfords.com/motoring-club.
---
We hope one of these options has captured your interest! We've also got an extensive collection of standard bike racks available online.
Here at Halfords, we're committed to driving down prices and offering you the best value possible to keep you safe, happy, and secure. We've pledged to never be beaten on price on 1000s of motoring essentials – read more here.