You've got your shiny new turbo trainer. You've signed up to an indoor training app. So, you're all set to start training and exploring virtual worlds.
Not so fast! While a bike and turbo trainer are essentials, there are some other accessories you'll need to get the most out of your turbo training experience.
Fans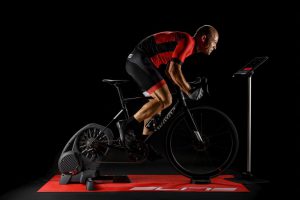 Where else could we start? If there's one thing you need, it's a fan – trust us!
When you ride outside, you're cooled by the airflow. Indoors it's a completely different story and there's nothing to cool you down. When you're pushing lots of watts out, your body generates a lot of heat too. Without a fan, you'll quickly overheat which will be uncomfortable and, in some cases, dangerous. You'll also lose performance.
That's why you should have at least one fan blasting cool air at you. If possible, use two or even three. Then you can get cooled down from different angles.
Towels
Which leads us neatly on to towels.
Even with a fan or two (or maybe even three!), you're still going to sweat, a lot. The last thing you want is sweat dropping in your eyes while riding. So, a towel is a must.
They also serve another important purpose. Sweat can corrode components on bikes, especially anything with bearings like bottom brackets and hubs. By placing your towel carefully over the handlebars and top tube, it'll protect your bike from getting covered in sweat.
Water bottles
Water bottles are a necessity whether you're riding indoors or outside. As riding indoors is hotter work, you'll need to drink much more than you usually would.
So, make sure you have a couple of bottles full to the brim with cool water to keep you hydrated and refreshed.
As most indoor training sessions are short, you'll need to make sure you're well hydrated ahead of the session. Start drinking more a couple of hours before you start riding, as this will give your body time to absorb the water.
And hydration tablets

To really keep on top of hydration, add some hydration tabs to your water.
When you sweat, you lose electrolytes which are key for performance. Hydration tablets like the High5 Zero Berry Tablets help replace these electrolytes and they also contain sodium and magnesium.
A tablet or phone holder
You've probably already heard, but turbo training is a lot of fun. There are many apps available to keep you entertained, whether it's a training session or racing your friends through virtual worlds.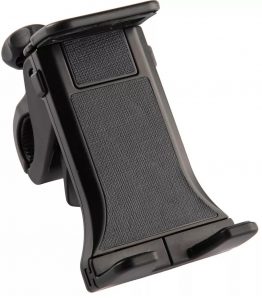 However, you need easy access to a tablet or phone so you can control these apps. That's where the Halfords Tablet and Phone Holder Mount comes in handy. It attaches to your handlebars so you can use an app while riding and is compatible with any tablets up to 12" or any phones up to 6.8".
Training mat
A training mat isn't essential but it's worth the investment for multiple reasons.
Firstly, it'll protect your floor from the trainer (which could scratch it) and from any sweat.
Many like the Halfords Turbo Trainer Mat also have sound dampening qualities. There's no denying that turbo trainers can be noisy, especially wheel-on trainers. So, your neighbours and your family will appreciate less noise.
Turbo trainer tyre
If you've got a wheel-on trainer and your bike is adorned with its best tyres, be warned! Turbo training can quickly wear down the rear tyre.
That's why it's best to use a specialised turbo training tyre. An option like the Halfords Essential Turbo Trainer Tyre will withstand the high temperatures and friction created while riding indoors.
To save time, it's worth having a spare wheel that you use for turbo training too. That way, you don't need to swap tyres every time you migrate indoors.
Turbo training riser block
A turbo trainer raises a bike's rear wheel. While you can use the old fashioned method of sticking a couple of books under the front wheel to counter this, we think you're better off using a riser block. This will wedge your tyre in place to reduce excess movement.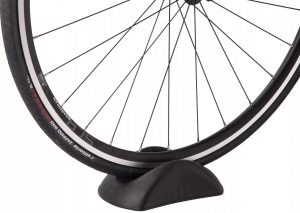 Even better, for you Zwifters out there, the Elite Sterzo Smart Steering Frame Ant+ connects to apps and allows you to steer according to the virtual world you're riding in, taking turbo training to the next level!
---
Need anymore help preparing for indoor training? Check out our guide to creating your own indoor cycling studio here.
Or, if you need more inspiration or advice, we've pulled together a complete guide to turbo training. And don't forget to head over to Halfords.com where you'll find a range of turbo trainers plus all the must-have accessories.