What does it take to become a record-breaking Paralympian? Endless hours of gruelling training rides and leg-sapping turbo sessions. A strict dietary regime. Complete physical and mental dedication to one aim. It's something we can contemplate with awe, but for others it's a reality. One such athlete is Dame Sarah Storey. Sarah won't need any introduction. This summer, she became Britain's most successful Paralympian of all time with her 17th gold medal. An incredible achievement! One achieved through complete devotion.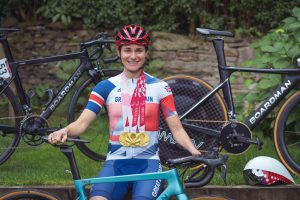 With the level of dedication required, it's important athletes are backed up with the highest-quality equipment, and Boardman are proud to be long-standing supporters of Sarah. Now a few months have passed since Sarah's record-breaking summer, we thought it would be a good time to reflect on the Boardman bikes that supported her throughout the Tokyo games.
Boardman ATT 9.8 – Paralympic C5 Time Trial Gold
In 2016, Sarah took time trial gold at the Rio Paralympics. Many of us would be satisfied with such a fete, but to be one of the all-time greats, you've always got to strive for more. That's why, only two years later, Sarah was already preparing to defend that title.
During that gold-medal-winning effort, Sarah rode the Boardman TTE – a time-trial thoroughbred with complete integration and aero optimisation. However, while conducting tests in the wind tunnel, they discovered that the greatest improvement to Sarah's aerodynamic efficiency could be achieved by altering her position on the bike. That's why, for the record-equalling Tokyo time trial, Sarah switched to the Boardman ATT 9.8 with a T10 fork. Still a pure time trial bike, the ATT 9.8 has a more conventional design with a non-integrated cable and stem arrangement. Using this bike made it easier to adjust and improve Sarah's position on the bike.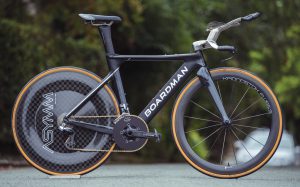 Something that would take years to perfect! During this period, the Boardman team worked alongside Sarah to find the most aerodynamic position that would reap the most gains, maximise her strengths, and could be held for the duration of the time trial. Through this testing, it was decided a custom cockpit would be required to meet Sarah's needs and to maximise aerodynamic efficiency. That's why they turned to Metron Additive Engineering who duly supplied a 3D printed titanium cockpit courtesy of cycling engineer Dimitrus Katsanis, a development worthy of a Paralympic gold.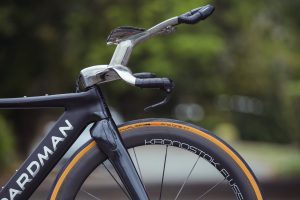 "When you are riding a machine that feels so good underneath you and feels so balanced, it really is a joy. I'm so delighted that it was that race that took me to the record-equalling sixteenth gold medal and the stepping-stone I needed for the road race." – Dame Sarah Storey
Boardman SLR 9.8 Caliper – Paralympic C4/C5 Road Race Gold
Not satisfied with time trial gold, Sarah set her sights on the road race two days later. Completing the time trial-road race double is something most athletes can only dream of. At the Fuji International raceway circuit, Sarah achieved it for the third Paralympics in a row.
It almost sounds easy, but it was far from a foregone conclusion, and Sarah had some important bike choices to make before starting the race. She would definitely be riding the Boardman SLR 9.8, but the bike is available in both a rim and disc version. Disc brakes are popular in modern cycling, but Sarah opted for the rim brake option as it was lighter. It was a risk considering the wet conditions, but Sarah rightly backed the bike and her ability as she stormed to her second gold medal of the games, an incredible 17th of an illustrious career spanning two sports.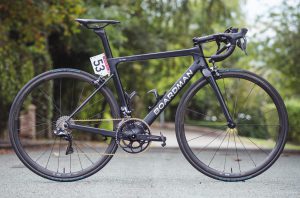 "One thing I love about the Boardman range is that there is a bike for every scenario. So, for me, I chose to ride the rim brake bike as I wanted the lightest option to get up the climbs, and I was confident about my cornering ability in what was an incredibly wet race." – Dame Sarah Storey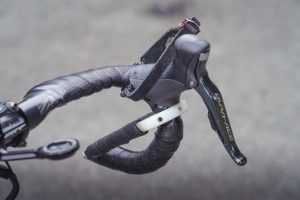 Similarly to the time trial bike, the SLR 9.8 was also adapted. This included adaptations that enabled her to operate both brakes through the right-hand lever. Sarah and her team have been adapting bikes to various degrees for over a decade, and one of the biggest developments was a system that allowed her to get out of the saddle and on the drops, something achieved with the help of British cycling engineers.
Boardman SLR 9.6 Disc 
The SLR 9.6 isn't a bike Sarah used during the Paralympics, but it's one that has supported her in training and other races.
Using a disc brake bike was previously difficult due to the single lever braking requirements. However, through innovation, something intertwined with Sarah's success story, a solution was found. Now, she can take advantage of the improved modulation and better performance across all conditions, levelling the playing field when racing able-bodied athletes.
"When competing in the women's peloton, the disc brake option is incredibly useful for me as groups can often be choppy, slowing or changing direction suddenly, and I need to be able to stop or scrub speed quickly on just that one lever." – Dame Sarah Storey
---
Sarah's incredible success has been achieved through hard work and innovation, and we're proud to support her through Boardman bikes.
If you feel inspired, why not check out the range of Boardman bikes available. We can't promise you'll become a record-breaking athlete, but you can still discover your own limits and success.
You can explore the full range here.