It only seems like yesterday that your little ones were excitedly ripping open their presents, desperate to see what Santa had brought them. Now it's that time of year again, and with it comes the yearly conundrum, what to get the kids?
Luckily, we've got all your Christmas needs covered with our fantastic range of gift ideas. From balance bikes and mountain bikes through to stunt scooters, there will be some sparkly eyes on Christmas morning this year.
So, what are you waiting for? Let's find that perfect Christmas gift.
Trunki Folding Balance Bike – 10" & 12", Ages 3-5
What better gift this Christmas than giving your little one the chance to explore on two wheels for the first time – and the perfect way to do it is with the Trunki Folding Balance Bike.
Available in either blue or pink and suitable for children aged between three and five, the bike is perfect for developing balance and coordination while remaining simple to control.
A gem of a balance bike, the Trunki has a unique folding mechanism which allows you to easily fold and carry it, meaning you can take it with you on all your adventures!
Learning to ride can be tiring work and the included carry strap gives your kid some much-needed rest as you can tow them along. It also allows you to carry the bike over your shoulder after the school run.
Exclusive to Halfords, you won't find the bike anywhere else, and we have a range of cool helmets, stabilisers and other accessories that'll help make this Christmas magical!
You can learn more about the benefits of balance bikes here. Shop our full range of balance bikes over at Halfords.com.
Apollo Jungle Pals Kids Bike – 12″ Wheel – Ages 3-5
If your little one loves to go wild, there's no better present than the Apollo Jungle Pals Kids Bike – 12″ Wheel.
With a cool animal print design including fun jungle characters and a removable parent handle and stabilisers, the bike has everything needed to whizz along safely! This fun bike is perfect to help your child grow their cycling confidence and will easily keep them entertained all the way through to next Christmas!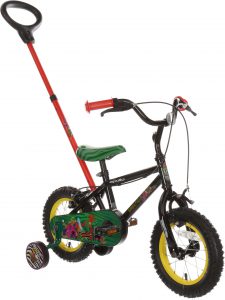 Apollo Twinkles Unicorn Kids Bike – 14", Ages 4-6
Make Christmas truly magical with the Apollo Twinkles Unicorn Kids Bike.
Every ride your little one makes will be accompanied by Twinkles the Unicorn – learning to ride has never been so fun! Plus, the bike has everything needed for a safe ride, including reliable front and rear caliper brakes, and removable stabilisers that can be easily detached as confidence on the bike grows.
As there's no such thing as too many unicorns, we even have a unicorn inspired Apollo Twinkles Bike Bell and an Apollo Twinkles Kids Helmet to complete the cool look.
If your little one's more into monsters than unicorns, then they need the Apollo Monsterz Kids Bike. With an insulated lunch bag connected to the handlebar, the bike also comes with a magnetic chainguard and a cool selection of magnets that allow you to decorate and customise the design. It's a great choice for those little monsters who love an adventure!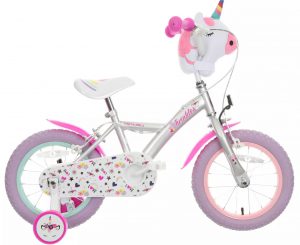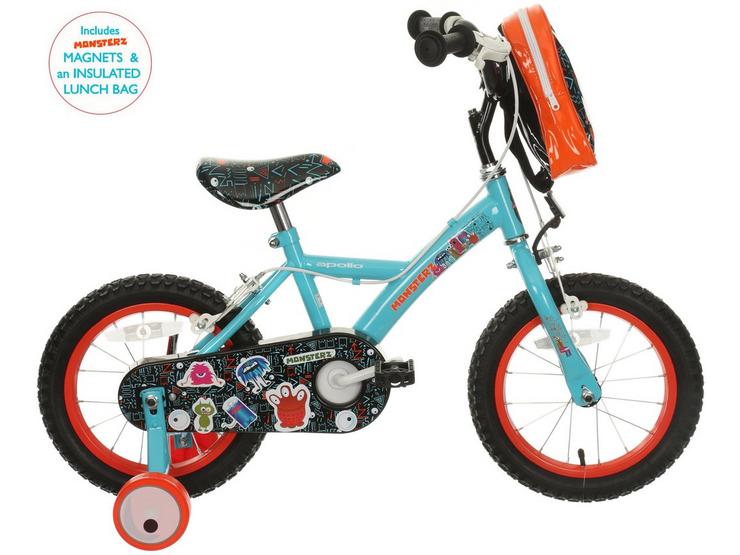 Apollo Firecracker Kids Bike – 16", Ages 5-7

With a cool, fiery design, the Apollo Firecracker Kids Bike is sure to receive some excited gasps when it's unwrapped this Christmas.
Ready for endless fun, the bike comes with an innovative speedometer that lights up and makes revving noises. Available in cool blue, the bike is exclusive to Halfords and is a must-have Christmas gift.
To make sure your little one is safe on their bike, why not add the Blue Flames Kids Helmet or you can also add the perfect finishing touch with the Blue Halfords Essential Kids Bike Valve Cap Lights.
When you buy a bike from Halfords, you benefit from our bike building service. Our expert technicians carefully piece together millions of bikes each year, so they're good to go and ready to ride!
We have lots of great kids' bikes for Christmas, and you can find more options here.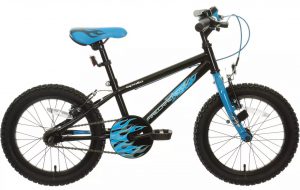 Hyper Nitro Circus Jet Fuel BMX Bike – Age 8+
For those two-wheeled tricksters out there, look no further than the Hyper Nitro Circus Jet Fuel BMX Bike . Ideal for children aged 8 and above, the bike comes with a cool jet fuel paint finish to make your kids look just like a Nitro rider!
Why not also slip some kids' safety accessories under the Christmas Tree? The Halfords Crackle Kids Skate Helmet has a hardwearing ABS shell with inner padding for safety and comfort. Plus, it looks great! Another great option is the X-Rated Pad Set. Featuring knee, elbow, and wrist guards, it will help protect your little one as they push the boundaries of their BMXing ability!
What's more, you can take advantage of our free-14 day CyclePlan to cover your shiny new bike from theft or damage.
You can explore our full range of kids' BMX bikes here.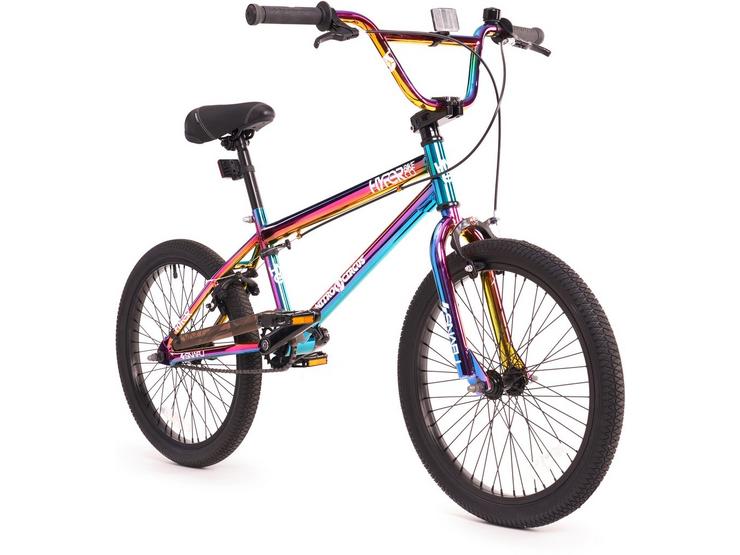 Apollo Kinx Junior Hybrid Bike – 24″ Wheel – ages 8-11
The Apollo Kinx Junior Hybrid Bike – 24″ Wheel is great for kids between the ages of 8-11 who have outgrown their old bikes.
Ideal for going on adventures with friends or family, the Kinx Junior Hybrid Bikes has everything needed to enjoy riding on cycle paths, or for the more adventurous, even off-road. Its 18-speed Shimano gearing makes riding up hills a breeze and is swift when racing on the flat.
At Halfords, all our kids' bikes come with our lowest price guarantee so you can be confident that you're getting the best value this Christmas. To find many more junior bikes, head over to Halfords.com.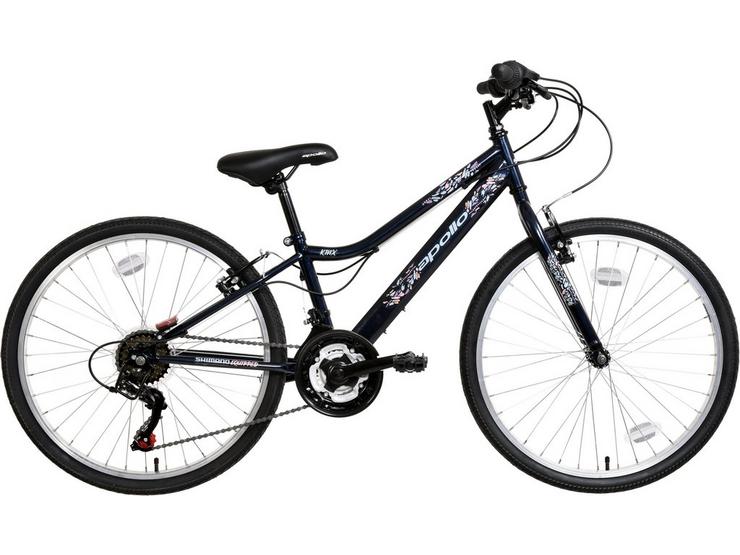 Trunki Small Folding Kids Scooter
The Trunki folding scooter looks like a lot of fun and it is! With bright colours and three wheels for extra stability, Trunki have partnered with Halfords to design scooters with adventurous families in mind. The lightweight frame makes it easy to learn on and easy for you to carry when little legs get tired.
There are lots of opportunities to improve balance and build coordination with the learn to steer functionality. And, after a hard day scooting, the carry strap allows for some much-needed towing.
A lovely gift for Christmas, there's also a larger option for those who have outgrown their small Trunki, with both sizes available in either blue or pink. Find out more about our range of exclusive to Halfords Trunki scooters and bikes here.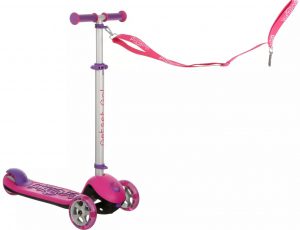 U-Move LED Scooter
If you're keen to go on more outdoor adventures with your little ones, then the U-Move LED Scooter will help. Available in Green Dino and Pearl Pink, this fun scooter contains colourful light-up motion-activated wheels to keep them dazzled. There is also an anti-slip footplate and responsive rear footbrake for greater control.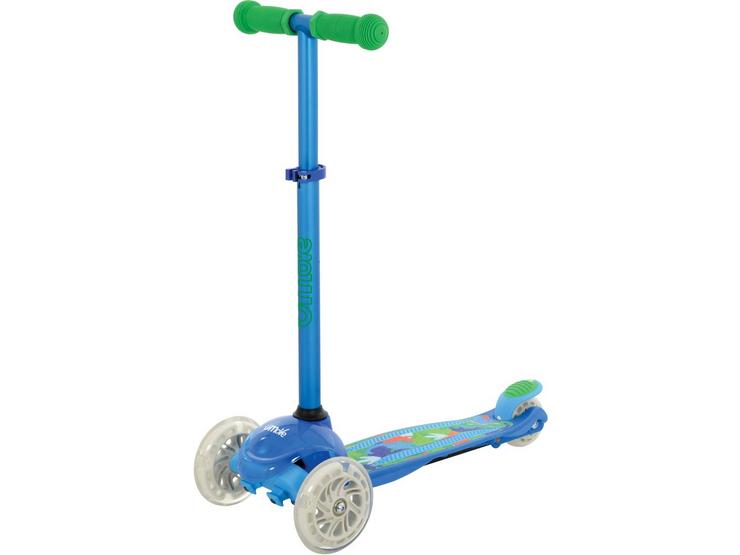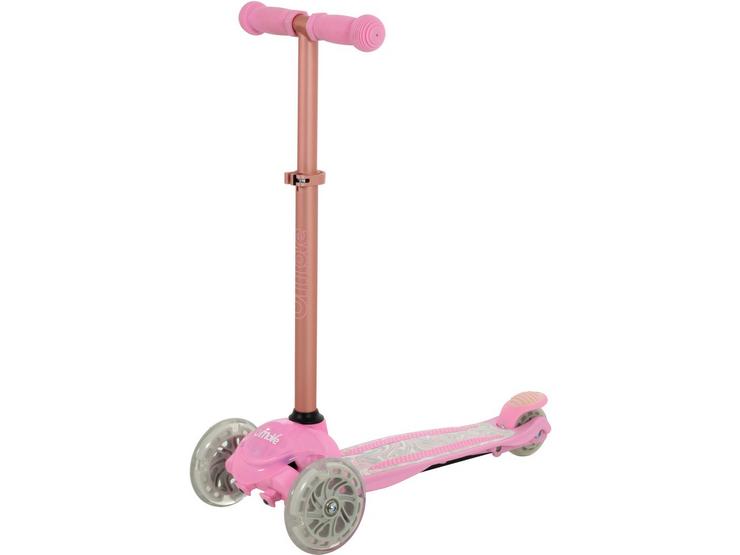 Invert FS2 Stunt Scooter
Ready for lots of tricks? We have lots of stunt scooters that will make great gifts for Christmas. The Invert FS2 Stunt Scooter is one of the best and will help rip up the skatepark and destroy the competition.
It has a stunning jet fuel finish that will definitely turn heads. It's also strong and can withstand plenty of failed tricks thanks to its reinforced steel fork construction and 25mm grind rails.
Every scooting trickster falls off now and again, but if they're wearing one of our stylish helmets and our X-Rated Pad Set, they'll quickly bounce back up.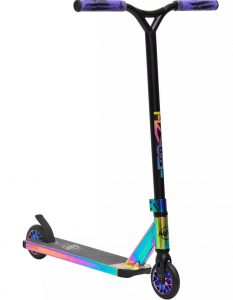 Wired 120 PRO Lithium Electric Scooter
For your mini adrenaline junkies, look no further than the Wired 120 PRO Lithium Electric Scooter. This lithium-powered e-scooter is ideal for kids aged 8 and over can also be ridden manually, giving kids the option for a dynamic or gentler ride. With its adjustable stem, the scooter is also perfect for growing kids!
Please note that e-scooters are not to be used on public roads, cycle paths, or pavements. Only on private land with the landowner's consent.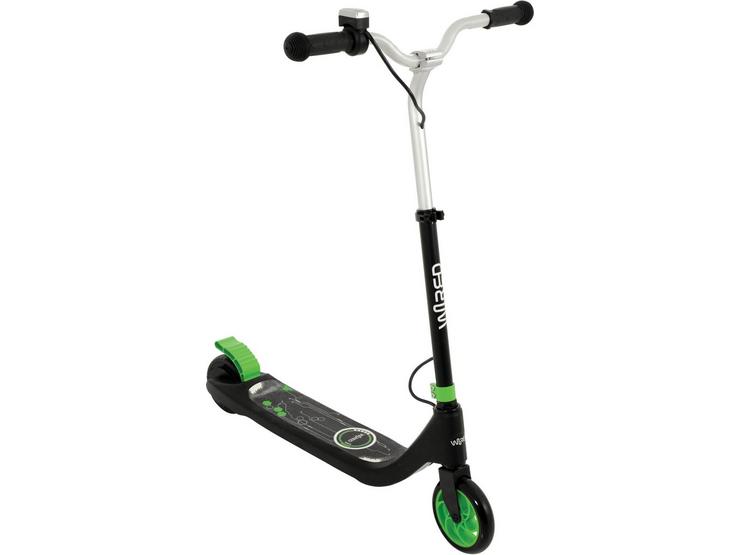 ---
Bikes, scooters, accessories – Santa's going to be busy this year! The fun doesn't stop there, though, and you can find lots more Christmas gift inspiration over at Halfords.com.
If you're planning on buying a kids' bike this Christmas, did you know we offer kids' bike personalisation? Make your gift look extra special by including your child's name, a large bow and a snazzy bike gift bag all for £10. You're sure to put a smile on their faces on Christmas morning!
We now offer delivery of your fully built bike straight to your door for just £20! Discover more on our delivery information page.
You want the perfect gifts this Christmas. You want Halfords.