Planning on sneaking a bike-shaped surprise under the tree this Christmas? Firstly, great decision and get ready for some seriously happy kids on 25th December! Secondly, check out the top 10 kids' bikes that we're putting on our Christmas list this year.
1 – Trunki Folding Balance Bike – 10" & 12" Wheels (first bike)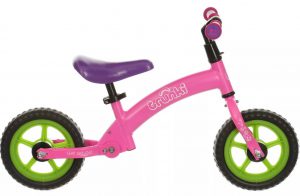 Balance bikes like the Trunki Folding Balance Bike are ideal for first-time riders. The Trunki is the only balance bike of its kind thanks to its unique folding mechanism that allows you to easily fold it down and carry it – which means it can go on all your adventures!
It's also only available exclusively through Halfords in either a 10-inch or 12-inch wheel and in two cool colour schemes, blue or pink.
2 – Buzz Lightyear Kids Bike – 12" Wheel (3-5 years)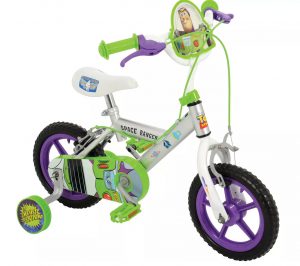 What could be cooler than a new Buzz Lightyear Kids Bike? (Nothing!) Featuring Buzz Lightyear character graphics, a metallic frame, and EVA-moulded rims for better stability, it'll take your kid on adventures to infinity and beyond!
It's ideal for kids who are ready to progress from a balance bike and comes with sturdy stabilisers.
3 – Apollo Monsterz Kids Bike – 14" Wheel (4-6 years)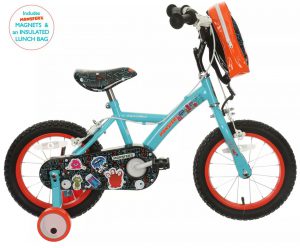 If your little one is obsessed with monsters, the Apollo Monsterz Kids Bike is sure to be a hit. With a striking blue frame and monster graphics, it looks cool and comes with a magnetic chainguard and magnets so your child can customise the look. Wherever the adventure takes them, they can also carry all the snacks they need in the insulated lunch bag.
4 – Apollo Roxie Kids Bike – 16" Wheel (5-7 years)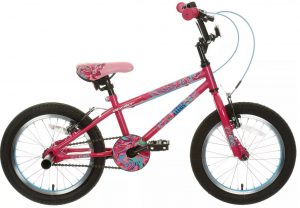 With its marble-coloured graphics, the Apollo Roxie Kids Bike looks as good as it rides – so, you should prepare for some excited kids if you squeeze this one under (or near!) the Christmas tree.
Combining powerful V brakes, strong alloy rims and a BMX style frame, your kid will feel unstoppable while riding the Roxie, whatever adventure they're on.
5 – Apollo Outrage Kids Bike – 18" Wheel (5-7 years)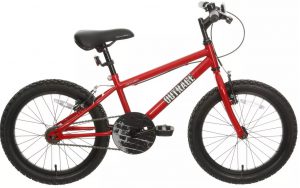 The Apollo Outrage Kids' Bike is designed for adventurous kids who love to explore and get muddy on a bike.
Taking elements from the adult range and applying them to a kids' version, it's a versatile bike that's equally at home in the park as it is on off-road trails – so there's no limits to the adventures kids can enjoy.
6 – Hyper Nitro Circus Jet Fuel BMX Bike – 20" Wheel (8+ years)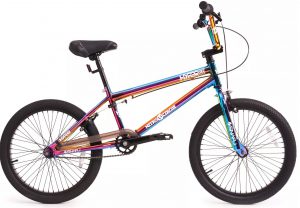 The Hyper Nitro Circus Jet Fuel BMX Bike takes us into edgier territory with a bike that's at home in the hands of little tricksters.
The bike's design is inspired by those ridden in the Nitro Circus and will be at home in any skate park. Whether it's your little ones first BMX bike or they're already confident shredding, the bike is equipped with everything needed to develop their skills while having lots of fun doing it.
7 – Apollo Cipher Junior Bike – 26" Wheel (9-12 years)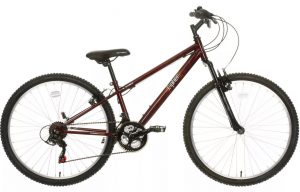 For older kids who have outgrown their old bikes or have their heart set on an upgrade, the Apollo Cipher Junior Bike is a great option.
It's a versatile bike that excels on a range of terrain and benefits from Shimano 18-speed gearing that helps kids glide over the flat then easily scale any hills. Of course, kids love adventures and that's why the bike also comes with a front suspension and reliable V brakes, keeping them safe and comfortable as they explore.
8 – Apollo Kinx Junior Hybrid Bike – 24" Wheel (8-11 years)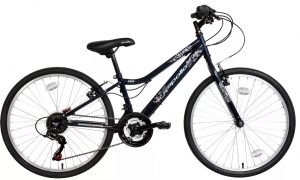 With the Apollo Kinx Junior Hybrid Bike, your child will never lose a race against their friends. Fast along the flat and up hills, there's a choice of 18 different gears and the SRAM shifters are simple to use. Of course, at the end of any race, they'll need to come to a safe stop, and you won't need to worry thanks to high-performing V brakes.
9 – Carrera Vengeance Junior Mountain Bike – 26" Wheel (9-12 years)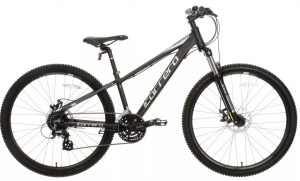 Very few junior bikes can claim the same heritage as the Carrera Vengeance Junior Mountain Bike. The design is inspired by the adult Vengeance, our best-selling bike of all time, and this junior version doesn't disappoint.
Designed for riders of all abilities, it's packed with top components including a lightweight frame, Shimano Altus 24-speed gearing, high-performing Tektro disc brakes, and a Suntour suspension fork.
What's not to like?!
10 – Apollo Independence Junior Mountain Bike – 26" Wheel (9-12 years)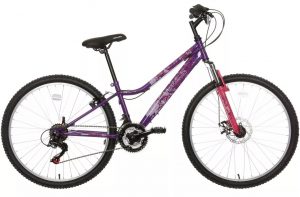 That stage when your kid has outgrown their kids' bike but they're not ready for an adult bike can be tricky, but the Apollo Independence Junior Mountain Bike will help you bridge the gap.
It's great for on and off-road riding and benefits from a front suspension, 18-speed gearing and a front disc brake. Get this bike and you'll have a very happy child on your hands this Christmas.
Make the gift extra special
Want to make the gift extra special? We can personalise your kids' new bike for you by adding their name to the frame. On top of this, we also offer a reindeer gift bag specially designed for kids' bikes and red bows to help complete that Christmas look – and you can combine all three for only £10!
We can also fully build your kids' new bike for you so it's ready to ride and deliver it straight to your home for only £20 (available for selected junior and BMX bikes), or you can have it built and collect it instore for £10.
And that's not all! If you find your bike of choice cheaper elsewhere, we'll match the price through our price match promise. If you find the cheaper price after your purchase, we'll refund the difference within 7 days of receipt of your goods.
---
If you want to make Christmas unforgettable this year, why not add one of these bikes to your present list? Don't forget, each of the bikes can be built and delivered to your home, making your life that little bit easier this Christmas.
This is only a fraction of the bikes we could have included, and you can find many more kids' bikes over at Halfords.com.
You want to buy the perfect Christmas present for your little one, you want Halfords.