Whether you've got a teenager that you're trying to prise away from the screen or a little one full of beans, a family bike ride can be a fantastic way to get everyone out together in the fresh air this festive season.
Here are a few pointers to ensure you make the most of that time and create the best of memories. Who knows, maybe the Christmas family bike ride will become the new favourite thing to do!
Check the equipment
Have a good check through of everyone's bikes before you hit the road. It's been a several months since the summer and if you've not been on them since then, there might be a soft tyre and a loose saddle here and there. Throw a mini-pump and a bike repair kit in your bag to take with you just in case you need them and then you won't find yourself heading home before you even got started.
Clothing
Even in some beautiful winter sunshine it can get pretty chilly so make sure you have some layers that you can peel off if you do work up a sweat. Hands can get cold too of course so gloves are a good idea and a waterproof in case you're surprised by a shower. Cold and wet children don't make for a great bike ride! Handwarmers are a nice idea to pack to stick in pockets or inside gloves as a cosy treat. You can check out our full range of cycling clothing online here.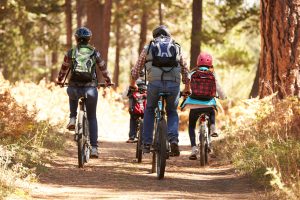 Choose your route
Depending on where you live and level of ability in the family, you might want a route that's relatively short and simple or you might be up for a more adventurous jaunt. If you're a bit stuck on where to go, the Halfords Discovery Hub has loads of interesting rides to choose from in your area and you can select from Easy, Moderate and Hard depending on how energetic the family is feeling. Think about the daylight too at this time of year and make sure you're not going to end up cycling in the dark if you're having an afternoon cycle.
Have a practice run
Rather than set off straight away, you might want to have everyone take a little circuit around the garden, driveway or road near your house to check all is okay. Are brakes working, are the handlebars and saddle still at the right height? You can iron out any wobbles before you set out on your Christmas caper!
Agree the family code
Before everyone races off it's a good idea to check that all your family members understand what the rules are for this ride. If you're going to be cycling in a built-up area it's worth reminding yourself and all the family of the Highway Code for Cyclists so you know how to negotiate tricky junctions or roundabouts and keep everyone safe.
Decide between you who's at the front, who's at the back and what distance you're going to have between you. It's usually a good idea to have younger children in front so you can keep an eye on them with the youngest in the middle. Making sure everyone knows what the sign is when someone needs to stop is also important. And, it can be helpful to agree how long the first phase of cycling will be so everyone is clear on when to expect their first snack break.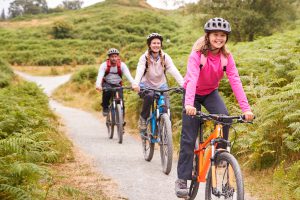 Pace yourselves
If you're out for a short ride or for a few hours, be careful not to overdo it at the beginning and find that you've got some tired and bedraggled children (not to mention adults) before you've even reached halfway. Fitness levels might be different to the last time you were all on a bike plus it's colder and your body is using energy to stay warm, so it's a good idea to pace yourselves so that you get the most out of the ride.
Don't forget snacks
You could argue that this is the most important ingredient to a harmonious family trip out! Pack some drinks and snacks to keep everyone hydrated and energised. Even better, plan your route to include a takeaway hot chocolate or tea and there will definitely be smiles on faces!
---
Enjoy all that fresh air everybody! Stay safe out on the roads and most importantly, have a lot of family fun together. Happy Christmas!