When booking your MOT test, it can be tempting to leave it to the last minute. After all, what's the point in booking it in earlier than necessary?
However, with lockdown restrictions set to ease, garages are busier than ever. Leave it too late and you may not get your MOT completed in time, leaving you with a car you can't legally drive. That's why we suggest booking your MOT earlier this year.
To help you prepare, we've pulled together everything you need to know about booking your MOT.
Book your MOT early and don't miss out!
With garages busier than ever before, it's never been more important to get your MOT booked in early.
But how early can you MOT your car? You can book your MOT a month ahead without losing out, as your renewal date will remain the same.
That's right! An MOT can be carried out up to one month prior to the expiry date of the existing certificate with the expiry date remaining the same. So, if you book your MOT for a month before the renewal date, it's effectively valid for 13 months!*
BOOK EARLY AND GET A 13-MONTH MOT!*

MOT DUE
BOOK YOUR  MOT EARLY
2022 EXPIRY DATE
15TH  APRIL 2021
16TH MARCH 2021
15TH  APRIL 2022
15TH  MAY 2021
16TH  APRIL 2021
15TH  MAY 2022
15TH  JUNE 2021
16TH MAY 2021
15TH JUNE 2022
*providing your vehicle passes first time.
Booking an MOT with Halfords
As an essential service provider, our garages have been keeping cars safely on the road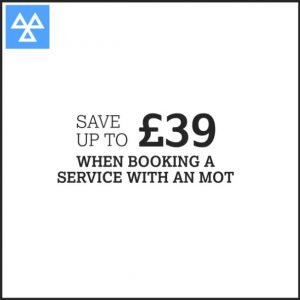 throughout the pandemic, completing car services, repairs, and MOTs. And with over 350 Autocentres nationwide, booking your MOT with Halfords is easy and convenient.
Simply head over to Halfords.com and you can book your MOT for a time and date that suits you. Saving you multiple trips to the garage (and money!), you can also combine your MOT with either of our Major, Full or Interim services.
If you're unsure which service is best for your car, check out our handy guide to car servicing here.
Preparing for your MOT
As you'd expect, the requirements for an MOT can be quite strict. However, there are some easy steps you can take to make sure you're prepared – and we can help you every step of the way.
To start, check out our guide to everything covered during the test here. Nearly half of all MOT failures could be avoided through simple maintenance – so knowing what will be checked is the best way to prepare!
Once you've familiarised yourself with the test, why not book our Free 5-Point Car Check? In this, one of our trained technicians will check your vehicle's brake and headlights, wiper blades, battery, and windscreen – all parts checked during an MOT.
Or, if you're worried specifically about your tyres, book our Free Tyre Check for that added peace of mind.
Head over to our guide on how to prepare your car for its MOT for more information.
Safe services – keeping you and our colleagues safe!
The health and wellbeing of our customers and colleagues is our top priority and we've introduced a number of steps to help keep everyone safe, and you can find a full breakdown of these Covid measures here.
There are also a few scenarios when you must not bring your vehicle to us for an MOT, and these include:
You or someone you live with has coronavirus (COVID-19) symptoms.
You've been told by the NHS Test and Trace service that you've been in contact with someone who has coronavirus.
You're self-isolating because you recently entered the UK.
If you're shielding, you must not take your vehicle for its MOT because you're clinically extremely vulnerable to coronavirus. This applies even if you have not received your shielding letter.
Check the guidance about shielding in England, Scotland and Wales.
MOT extension update
From 30th March to 31st July 2020, all MOT's were automatically extended for 6 months due to coronavirus. This gave drivers a 6-month extension period to get their MOT completed from the day it was due to expire.
The final 6-month extension period ended on 31st January, so any eligible cars should now have completed this. Remember, you can be fined up to £1000 for driving a vehicle without a valid MOT!
You can use our handy MOT reminder tool so you don't have to worry about missing the renewal date in the future.
---
Don't miss out on your MOT! Head over to Halfords.com to find your local Autocentre and to book your MOT today.
You want the best motoring services, you want Halfords!