We all know that the Great British weather can be somewhat hit-and-miss, especially as autumn arrives. And with half-term only a week-long, you'll be wanting to squeeze in as much fun as possible, come rain or shine.
So, we've compiled a list of fun and affordable family days out for both wet and dry weather, so you can avoid any disappointment and get the most out of the time off school.
For sunny days
It's generally easier to think of ideas for days out when the sun's shining, and we've got a host of fun adventures for the whole family to get involved in.
Here are our picks for some activities to enjoy whilst it's dry:
Head out for a bike ride
For some casual exercise and a chance to explore the great outdoors, a family bike ride is a great option. You can set the pace according to how confident your little cyclists are, and there are plenty of dedicated routes for all abilities across the UK.
Don't worry about having to cycle all the way to your chosen destination – you can transport your bikes by car with a bike rack, so it's even easier to try out routes and trails further afield. Or, if you want to discover more about your local area, try sticking closer to home and exploring the nearby routes.
For some ideas for where to ride, check out our blog on the best family cycle routes in the UK.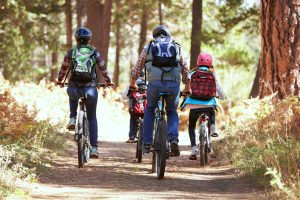 If your bikes have gotten a lot of good use over the summer, and you want to ensure that everything's still working safely, why not book in for our free bike health check? This 32-point assessment is carried out by our trained technicians to check for any signs of wear or damage, to give you the peace of mind that your bike is safe to ride.
We check all bikes, from kids to adults, and in any size or discipline, so book the whole family in for a free check today.
Have a picnic in the park
Some of the best adventures turn the mundane into the magical, so why not take the kids to the local park and have your lunch alfresco?
You can get cosy with blankets and cushions and dig into a pre-prepared feast – coolboxes are perfect for storing chilled food and drink for an adventure! Plus, when you're done eating, you can enjoy an afternoon of exploring the park itself and exerting some energy outdoors.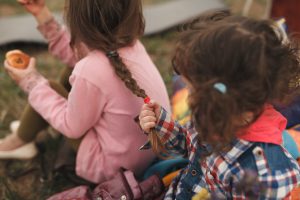 Whether you're hitting the playground, on the lookout for creepy crawlies, or playing with a Frisbee, there's plenty of fun to be had.
Try geocaching
Essentially the world's largest treasure hunt, geocaching is a great way to spend a day. It's free to sign up, although you can upgrade to a premium membership for more customisable features, and you'll just need to download the app to get involved.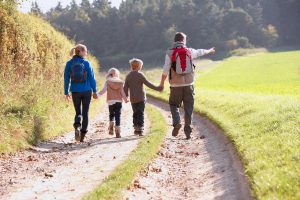 You'll be hunting down 'geocaches', which are hidden items or containers holding a number of items, using GPS signals to locate their clever hiding places. Once you find them, you can mark your success in the logbook, trade small objects as rewards, and log your find online. Then, just put the geocache back where you found it, and onto the next one!
There are millions of geocaches hidden all around the world, so expect a whole day of free outdoor fun.
For rainy days
An autumn shower doesn't have to spell the end of your adventures: there are loads of activities and adventures to be had even when the rain sets in. Here are some of our favourites:
Head to a museum
One way to stay out of the rain is to find some indoor attractions, and museums can be a fun and interactive way to keep the kids engaged.
While it may not sound like the most exciting day out for your little ones, you'd be surprised how many different types of museums there are across the UK, and a lot are free entry.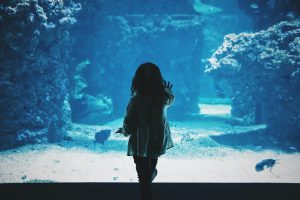 Do a little bit of research and find something that appeals to your child's hobbies and interests – whether that's the Dinosaur Museum in Dorset, the National Football Museum in Manchester, or the National Roman Legion Museum in Newport!
Go for a swim
Another way to have fun whilst being active is to get your swimming trunks on! Indoor pools are a great way to keep the kids entertained and burn off some energy without getting caught in a downpour. There are pools up and down the country with a variety of features to suit your children's abilities and preferences, from dedicated toddler zones to slides and wave machines!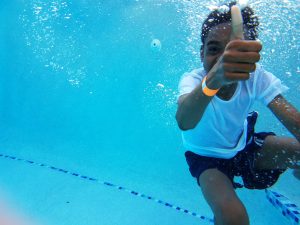 Many swimming pools will have dedicated kids' swim sessions set up for school holidays, so you can have a ball splashing and playing without worrying about disturbing other swimmers.
Embark on a road trip
Drizzly weather doesn't have to stop you from enjoying some spectacular views. Taking a drive to a local beauty spot or a place you've always wanted to see can be a fun day out, and you can have a picnic right from your car!
Pack a coolbox with some drinks and snacks, fill the car with comfy blankets and cushions, and go exploring. If you take some waterproof clothes with you, you could even embrace the rain and enjoy jumping in puddles – just remember to take some towels!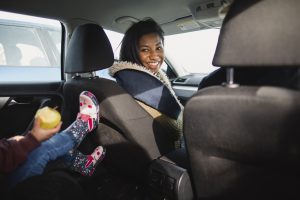 If you are heading out in the car and want the peace of mind that there won't be any rainy-day breakdowns, let us inspect your car for free. We've got individual checks for areas like your tyres, clutch, suspension, and more, as well as a comprehensive Free 5-Point Car Check to check the vital areas of your car in one go, at no cost.
Plus, if you sign up for the Halfords Motoring Club, you can get a 10-Point Car Health Check for free, worth £15. It's free to join and you'll receive a host of instant benefits, including money off your MOT and a welcome voucher that can be spent on any Halfords product or service.
Or choose our Premium membership for a small monthly fee (or a one-off payment) to unlock exclusive member pricing on all motoring products and services online and across our stores, garages and Halfords Mobile Experts, as well as a variety of other benefits that will help you to keep moving for less.
---
So, that's the half-term plans sorted, whatever the weather throws at you. Now it's time to kick back and enjoy some family time. If you need anything else, just head to Halfords.com, or pop into your local store where our colleagues will be more than happy to help.
You want to keep motoring for less, you want Halfords.