With spring and summer fast approaching, there's never been a better time to start thinking about this year's staycation adventures.
If you're anything like us, going on staycation means packing up the suitcases, securing the bikes and hopping into the car. And that's where roof boxes and bike racks come in.
Picking the ideal roof box or bike rack and getting it installed might include a few more steps than you expect, so don't leave it until the last minute! Find the perfect fit today and set yourself up for a year of staycationing in style.
Here are some top tips to get you started.
Roof boxes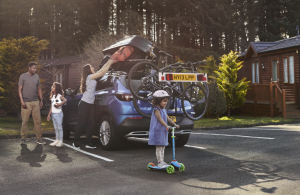 Think about size
Roof boxes come in all shapes and sizes, and it's all about choosing one that meets the needs of you and your family.
Buy one that's too small and you could end up having to fill your boot with items that didn't fit up top (which slightly defeats the object of having a roof box in the first place!). Buy one that's too big and you could end up spending more for space that you don't need.
Have a think about what you'd take on a typical staycation or weekend getaway and that should help to inform your decision. Typical capacity ranges from 320L up to over 600L, so it's all about finding a balance between space and price.
Our online roof box finder will lend a helping hand if you're struggling to make a decision – just follow the steps to narrow down your options. Or have a read of our Roof Boxes Buyer's Guide for a breakdown of all the points to consider on your buying journey.
Think about weight
All roof boxes have a maximum weight that it's safe for them to carry. These weights tend to be between 50kg to 75kg depending on the size of your box, so you probably won't need to worry about overloading, but it's still useful information to bear in mind (particularly as someone will need to do the packing and unpacking!)
Also, you'll need to keep the weight limit of the roof of your car and capacity of your roof bars in mind, as these can sometimes be less than the roof box can hold. Both of these limits can usually be found in the relevant manuals.
Check out our blog article on 8 tips for packing your roof box like a pro for more advice on size, weight and packing.
Think about bars and compatibility
Does your car already have roof bars? If the answer's 'no', then you'll need to add that to your list – and you'll need to make sure the bars you choose are compatible with the make and model of your car.
Thankfully we can help here, with our online roof bar checker. Just pop in your vehicle registration number to find bars that are suitable for your vehicle. Please note that bars may require additional fixings in order to secure them to your roof.
Think about fitting
Any new roof box – and potentially any new roof bars – will need safe and secure fitting. While it's something you could tackle yourself, why not let us take all of the hassle out of the process for you?
You can book a fitting appointment online by simply selecting the option during the checkout process or, if you're in store, by speaking to one of our colleagues. For a small fee, we'll get you sorted for the adventures to come.
Bike racks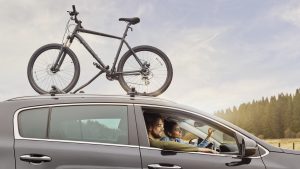 Think about type
Bike racks come in three types: rear-mounted, tow bar-mounted and roof-mounted. Choosing between the three really comes down to what you're looking for and whether you prioritise price, accessibility, ease-of-use or carrying capacity.
Our How to choose the right bike rack article provides a useful overview of the three types and what the pros and cons are, but here's a quick general breakdown:
Rear-mounted racks are small, easy to store and the most cost-effective option
Tow bar-mounted racks are easy to attach, easy to load and particularly secure
Roof-mounted racks give you uninterpreted access to your boot and don't obstruct your view
Think about compatibility
Compatibility is one of the most important points to bear in mind when it comes to buying a bike rack.
Not all bike racks are compatible with all makes and models of cars. Cars with spoilers, for example, won't be able to accommodate a rear-mounted bike rack while a tow bar-mounted rack requires a tow bar and a roof-mounted one requires roof bars. If you don't already have those features on your car, then there are extra costs to bear in mind.
One of the easiest ways to check compatibility is to use our online vehicle registration checker. Once you enter your details, you'll only be shown results that are suitable for your particular vehicle so that you can be confident in your choice.
Think about number and types of bike
How many members of your family will be taking their bikes along for the ride on this year's staycations? Rear-mounted racks can support up to three bikes, while tow-bar and roof-mounted ones can support up to four and so are a better option for larger families.
E-bikes are another consideration because not all bike racks are e-bike compatible. Here's a great selection of racks that will support your e-bike, but just remember to keep an eye out for that feature if you'll be carrying a beloved e-bike around with you this year.
Think about fitting
A new bike rack means new bike rack fitting and we can help there too. Our expert fitters will not only build and install your rack safely and securely, but they'll also show you exactly how it's done so that you can do it yourself next time.
As with the roof box fitting, all you need to do is choose the fitting option during the online checkout process or ask in-store. To find out more, head on over to our Cycle Carrier Fitting Service article.