Staycation season is fast approaching! And that means it's time to leave our homes behind and explore the best that the UK has to offer.
If you love cycling as much as we do, then your bikes will probably be joining you for the journey (and, more importantly, at your destination). So, let's get them ready for the adventure by doing a bit of forward-thinking right now…
1. Is your bike in good condition?
Safety is the number one priority when it comes to bikes and that means making sure your bike is in a good condition. While giving it a thorough cleaning is a great first step, we'd also recommend taking advantage of our Free Bike Health Check to ensure that everything's working as it should be. Even if you're not aware of any particular problems, getting a second opinion will be great for your peace of mind!
During the bike check, one of our experienced technicians will ensure that your bike is safe to ride by checking it for any wear or damage. The inspection will cover 32 points across key areas of your bike such as the frame, saddle, handlebars, wheels (including your tyres, rims, spokes and hubs), brake system (including your levers, calipers, pads and cables/hoses) and drivetrain (including your gears, levers, chain, bottom bracket, cranks and cables).
If our technician finds any problems that require a service or repair, then we can book your bike in at the first available opportunity to get that sorted.
Our Free Bike Health Check is open to all bikes of any size or discipline (including e-bikes) and is available at all Halfords retail stores. All you need to do is pick a date and time that suits you!
2. How are you going to transport your bike?
In order for your bike to join you on your staycation, you're going to need a way of getting it from A to B. That's where a bike rack comes in.
There are three types of bike rack to choose from: rear-mounted, roof-mounted and towbar-mounted. Each has their own features and benefits, and our online vehicle registration tracker will help you to discover which types and models are suitable for your car (not all rear-mounted racks are compatible with all cars). We can also secure them onto your vehicle for you through our WeFit service (and demo the process for you too) – simply select the fitting option during the checkout process.
Rear-mounted bike racks
Rear-mounted bike racks can carry 1-3 bikes and tend to be both small and easy to store. The Halfords 3 Bike Rear Mounted Bike Rack is one of our favourite options as it can carry three bikes, has a maximum load weight of 45kg (15kg per bike) and can be folded flat when it's not in use.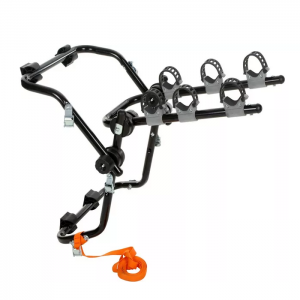 The easy fit individual cycle holders and anti-scratch rubber inserts will help to keep your bikes secure during transit, while the side straps and locking system provide additional stability. The rack also comes part-assembled, which means it can be fully assembled and fitted to your car in just 15 minutes.
For bikes without a crossbar, you'll need to purchase a false crossbar in order to use a rear-mounted bike rack. Also, remember to check if your vehicle requires a lighting board as this is a legal requirement.
Roof-mounted bike racks
Roof-mounted bike racks can carry 1-4 bikes and give you full access to your boot, which can be come in really handy. Our pick here would be the Thule ProRide 591 Roof Mounted Bike Rack, which can carry one bike per carrier.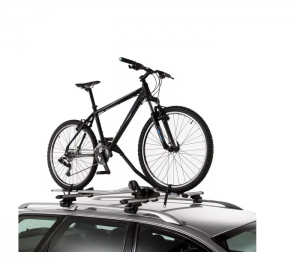 The clever design of the Thule will hold your bike securely in place and the quick-release wheel straps make for convenient loading and unloading. You can fit the bike rack easily on either side of your car's roof and the carrier comes pre-assembled so there's no need for any tools.
Towbar-mounted bike racks
Towbar-mounted bike racks can also carry 1-4 bikes and are arguably the easiest to load of the three options. The Halfords Advanced 3-Bike Towbar Mounted Bike Rack is a winner in this category thanks to its high load capacity and ability to carry e-bikes. Locking clamps and quick-releasing straps combine to conveniently secured bikes, while the rack also has a neat feature where you can tilt it forward and still access your boot.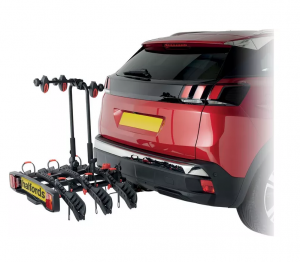 Just remember that you'll need to have a towbar installed in order to make use of this model, which is something our Halfords Mobile Experts will be happy to help you with.
3. What accessories and equipment do you need?
Packing the right cycling equipment will help you to get the most out of your bike once you reach your destination, so get that checklist written up!
Protect your head with a helmet like the Lazer Compact Helmet. Comfortable, safe, stylish and affordable, the Lazer Compact comes with 20 cooling vents and a nifty Turnfit 360-degree fit system that means you can simply turn the dial at the back of the helmet to achieve a perfect fit.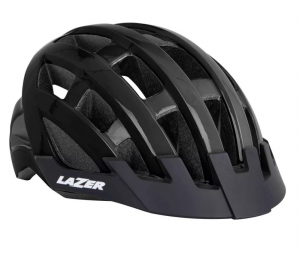 Add in a Camelbak Podium water bottle to give yourself an easy way to stay hydrated while riding. There are loads of different styles, sizes and colours to choose from, with some also offering additional insulation to help keep your drink cooler for longer.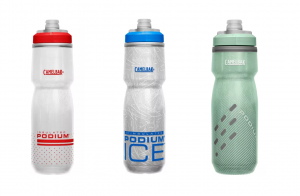 You'll need somewhere to secure that bottle, so make sure you've got a bottle cage like the Elite Pria Pave Adjustable Bike Bottle Cage to-hand. It's quick and easy to fit, great for downhill or rough terrain, and adjustable for bottles between 70 and 76mm wide.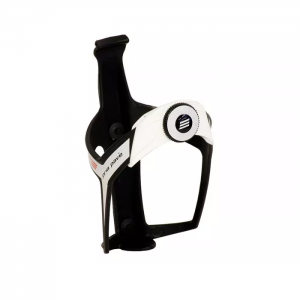 Sunglasses are also sure to come in handy (on the journey as well as when you reach your destination) and if you're after some extra space to carry supplies while you're cycling then you can't go wrong with a pannier bag.
4. How can you keep your bike secure and road-ready?
It's always better to be safe than sorry, so make sure there's room in your car for items that will keep your bike secure while you're enjoying your surroundings and get you back on the road quickly if you pick up a pesky puncture.
You've got a lot of choices when it comes to bike locks, so have a think about things like what level of security you want (Sold Secure ratings can help here) and how portable you need the bike lock to be. It can also be a good idea to combine two locks for added security or, if you want the ultimate level of protection, consider investing in bike insurance.
To help you deal with a puncture quickly and effectively, our pick would be the Halfords Essentials Puncture Repair Kit thanks it it's all-in-one solution of patches, adhesive tubes, tyre levers, sandpaper, chalk and marker crayon. Slime Bike Tube Puncture Repair Sealant is another great choice. Suitable for all types of inner tubes, this innovative sealant can prevent and repair punctures of up to 3mm.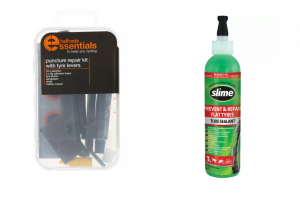 Finally, we'd never go anywhere without our trusty Bikehut 21 Function Multi Tool! Small in size, but mighty in potential, the Multi Tool includes various Allen keys, Torx keys, Spoke keys and tyres levers, as well as a Phillips screwdriver, chain hook and pedal spanner. It's a one-stop tool shop in your pocket.
5. What cycling routes are you going to enjoy?
The UK is filled to bursting with scenic cycle routes for all ages and abilities. Make the most of your staycation time by identifying some routes to try in advance.
If you're staycationing with experienced cyclists, then you may want some more challenging routes with trickier terrain to get everyone's hearts pumping. If it's a family holiday, then look for something of a gentler nature that your kids will be happy to tackle.
The Halfords Discovery Hub is a great source of inspiration as it has the details of popular cycling trails up and down the country. Simply enter the postcode of your staycation destination to see what routes are waiting to be discovered in your area.
---
Now that all the planning is out of the way, it's time to pack up the car and set off on your staycation! If you need any more cycling equipment or staycation essentials before you leave, then just pop on over to Halfords.com.
 For summer staycations, you want Halfords.