Last year, we shared some of our favourite UK drives and destinations for both the summer and winter months.
Now it's the turn of spring and we've got some more amazing sights and beautiful scenery lined up for you. From the Isle of Skye in Scotland to the brilliantly-named Dragon's Spine in Wales, here are some of the best drives that the UK has to offer.
Cheddar Gorge, England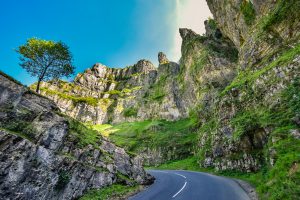 The winding road from Cheddar to Ashwick in Somerset might be our shortest route, but it's more than worthy of your time. Regularly voted one of the best and most scenic driving roads in the UK, the B3135 twists and turns it way through Cheddar Gorge and the Mendip Hills Area of Outstanding Natural Beauty, giving you ample opportunities to see some of the most awe-inspiring countryside in the UK.
The village of Cheddar is a great place to start this 14-mile trip. Home to quaint tearooms and ancient architecture, there are plenty of ways to spend your time here including indulging in some cheese making at the Cheddar Gorge Cheese Company and, of course, exploring the show caves that take you inside the gorge itself.
Then it's out onto the B3135, where vast limestone cliffs flank the road as you drive through England's deepest natural canyon. The road can be a little challenging as it follows the natural twists and turns of the rockfaces that surround it, so take your time and enjoy the amazing view.
You'll exit the gorge after four miles or so, emerging into a tree-lined landscape. Nearby Stockhill Wood is a pleasant place to spend a couple of hours and the Cheddar Camping and Caravanning Club Site is on-hand if you're looking to camp in the area.
Continue heading east and you'll leave the Mendip Hills behind and reach journey's end at the village of Ashwick. Grab a bite to eat at one of the local pubs in the surrounding towns before bringing your Cheddar Gorge adventure to a close.
Find out more: https://www.cheddargorge.co.uk/
Strangford Lough, Northern Ireland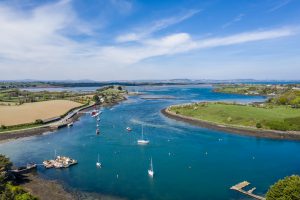 Strangford Lough lies to the east of Belfast in Northern Ireland. Measuring 58 square miles and boasting over 70 islands, the lake is part of the Strangford and Lecale Area of Outstanding Natural Beauty and is an important wildlife conservation zone. It's also bordered by a road, which means there's a scenery-filled drive just waiting to be discovered.
Start out in the market town of Newtownards and head south along the edge of Strangford Lough towards the coastal village of Portaferry. On the way you'll bypass attractions like Mount Stewart (a 19th-century residence that has more than five and half miles of beautiful walking trails), Greyabbey (a picturesque village that's famous for antiques) and Kircubbin (with the award-winning Echlinville Distillery nearby).
Portaferry itself stands at the mouth of the lake and it's a quick ferry ride across to the village of Strangford. If you're a fan of Game of Thrones then be sure to head out along the coast to visit Castle Ward, which doubled as Winterfell in the early seasons of the show.
It's well-worth leaving the lake behind for a moment to visit Downpatrick, home to the Down Cathedral, which is said to be the burial place of Saint Patrick. Then it's on to Killyleagh by way of Delamont Country Park, which offers lovely views and activities for the kids.
Keep heading north along the lake's edge and you'll pass through several pretty villages. A quick trip to Mahee Island is a must as you'll get to see the Nendrum Monastic Site, which dates back to the 5th century, and Mahee Castle. Then it's on towards Comber, stopping off at Castle Espie on the way to take in the area's beautiful wetland and wildlife.
The market town of Comber lies at the north-western corner of the lake and is famously the birthplace of Thomas Andrews, who designed the doomed RMS Titanic. After checking out the Titanic memorial in the town square, it's time to return to Newtownards and complete the circuit.
Find out more: https://www.nationaltrust.org.uk/strangford-lough
The Isle of Skye, Scotland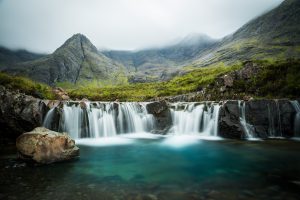 There are over 900 offshore islands around the mainland of Scotland and arguably one of the most eye-catching is the Isle of Skye. The largest of the Inner Hebrides, the isle provides miles of coastline, beaches and mountains to explore.
A good starting point on any journey is the capital of Portree, which overlooks a bay on the eastern side of the island. This thriving cultural centre meets every touristic need and will set you up perfectly for your adventure.
From there, head south to visit the Sligachan Old Bridge and take your own photograph of one of the most popular landmarks to snap on the isle. You'll have a great view of the Cuillin mountains in the background along with the sprawling landscape of Skye.
Head west towards the village of Carbost, but make sure you take a detour south to visit the amazing Fairy Pools in Glen Brittle (pictured above). This natural waterfall phenomenon consists of a series of small waterfalls and crystal blue pools that cascade down from the Black Cuillin range and are really a sight to be seen.
The next stop is Dunvegan, a village in the north-west of the island where you'll find Dunvegan Castle, seat of the chief of Clan MacLeod. Then follow the coastline up to Uig (which is home to a miniature green valley known as the Fairy Glen), The Quiraing (a haunting landscape where landslides have created a series of cliffs and plateaus) and Kilt Rock and Mealt Falls (where a waterfall cascades into the ocean below).
One final stop before returning to Portree is the famous Old Man of Storr, where large rock formations rise from the ground at unusual angles. It's a landscape that's featured in many films and definitely one that's worthy of any photo album.
Find out more: https://www.isleofskye.com/
The Dragon's Spine, Wales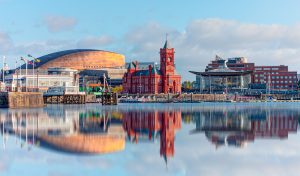 The wonderfully-named Dragon's Spine is an 180-mile route from Cardiff in the south to Conwy in the north. Following the path of the A470 through the heart of Wales, this route offers a mix of rural, coastal and urban sites to take in. Which means there's something for everyone to enjoy.
Our journey begins in the capital of Cardiff, which is bursting with cultural highlights, eateries, tourist hotspots and more. Once you've had your fill, it's time to head north and enter the Brecon Beacons National Park. One of three national parks in Wales, the Brecon Beacons stretch from Llandeilo in the west to Abergavenny in the east and offer miles of natural beauty.
The market town of Brecon lies on the northern edge of the park, where you'll have access to a range of sport and adventure activities, as well as shops, museums and cafes. Continue north and you'll pass through the towns of Builth Wells (where the rivers Wye and Irfon meet), Rhayader (close to the Elan Valley Reservoirs) and Llangurig.
Snowdonia National Park awaits further up the road, the largest of the national parks in Wales and an area that combines soaring mountain peaks with deep, lush valleys. Here you'll find towns such as Dolgellau, Blaenau Ffestiniog and Betws-y-Coed along the route.
Described as 'the gateway to Snowdonia', Betws-y-Coed in particular has loads to offer travellers. The town sits in the Gwydir Forest and has become a popular tourist destination thanks to its picturesque location and the various outdoor activities on offer.
Leaving the national park behind and it's time to follow the River Conwy north to the town that shares its name. Conwy sits at the end of the Dragon's Spine route and is home to attractions such as Conwy Castle. This World Heritage Site dates back to the late 13th century and is a more than fitting place to bring the car to a stop and wave goodbye to your Welsh adventure.
Find out more: https://www.breconbeacons.org/ and https://snowdonia.gov.wales/
Before you go
Help to ensure you'll enjoy a smooth journey by taking care of the basics before you set out.
Car checks
First, check that your car's MOT and service is up-to-date (and if they're not, get them booked in quickly!).
Next, why not take advantage of our 10-Point Car Check? It's a great way of getting a second opinion on the key areas of your car like your tyres and battery.
Or if there's a particular area that you're concerned about, then one of our free car checks could be just what you're looking for.
Halfords Motoring Club
Another great option is to join the Halfords Motoring Club. You'll get access to a range of amazing benefits and discounts that are designed to keep you moving, keep you safe and keep you saving.
It's free to join and you'll receive money off your MOT, a free car health check and a welcome voucher that can be spent on any Halfords product or service.
Or choose our Premium membership for a small monthly fee (or a one-off payment) to unlock exclusive member pricing on all motoring products and services online and across our stores, garages and Halfords Mobile Experts, as well as a variety of other benefits that will help you to keep moving for less.
With so much to enjoy, this is too good an opportunity to miss!
Join the Halfords Motoring Club today at www.halfords.com/motoring-club.
Breakdown essentials
In terms of breakdown essentials, our must-haves are a tyre inflator, a puncture repair product and a motorist first aid kit. Products like these can help you to get you back on the road (or to your nearest garage, so that they can give you a helping hand). For added protection, there's also Halfords Breakdown Cover, which comes with a range of exclusive benefits.
In-car tech
Finally, particularly given the length of some of these amazing trips, it's worth having a little think about your in-car tech options. A sat nav will help you to stay on track, a dash cam will give you added peace of mind when it comes to staying safe on the road and a stereo will give you a way to play that perfect staycation road trip playlist. Sorted!
---
We hope you have a great time on your long-distance journeys and staycations this year! If you need any further motoring services or staycation essentials, then pop on over to Halfords and we'll be happy to help.