Spring's arrival means warmer weather, longer days, and plenty of opportunities for adventure! We've already shared some of our favourite UK drives and destinations for both the summer and winter months.
Now it's the turn of spring and we've got some more amazing sights and beautiful scenery lined up for you. From the Isle of Skye in Scotland to the brilliantly-named Dragon's Spine in Wales, here are some of the best drives that the UK has to offer.
St Ives to St Just, England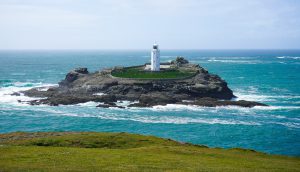 While there are shorter routes from St Ives to St Just, the B3306 is widely regarded as the most scenic road in the southwest, and well worth a longer trip. Full of stunning straights, twisting bends, and plenty of sea views as you follow the coastal road, there's lots to see and explore.
Departing from the seaside town of St Ives, you'll first face a steep climb along a narrow road before encountering a run of sweeping bends and short straights, complete with some breathtaking coastal views.
From there, you'll pass through a series of small villages and hamlets, each with its own quirks and attractions; the rugged stone and granite of Zennor, the coves of Porthmeor, and the rich architectural history of Morvah.
You'll then reach the larger town of Pendeen, famed for its rich mining history. There, you can visit Pendeen Lighthouse, or explore Geevor Tin Mine, a preserved mine-turned-museum where you can experience life underground, try your hand at panning for gems, and talk to the guides about Cornish mining – many of whom actually worked the mines when they were operational!
Past Pendeen, you're on the home stretch, with a few more miles of rugged views to soak up before you arrive in the town of St Just. It's the most westerly town in mainland England and Wales and sits just 8 miles west of Penzance. You'll find plenty to explore there, including rows of stunning granite cottages, a medieval theatre, and galleries displaying the work of local artists. After such an absorbing trip, there are also lots of great spots to relax with some local delicacies.
Find out more: https://www.cornwalls.co.uk/st-just 
Strangford Lough, Northern Ireland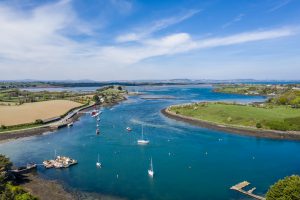 Strangford Lough lies to the east of Belfast in Northern Ireland. Measuring 58 square miles and boasting over 70 islands, the lake is part of the Strangford and Lecale Area of Outstanding Natural Beauty and is an important wildlife conservation zone. It's also bordered by a road, which means there's a scenery-filled drive just waiting to be discovered.
Start out in the market town of Newtownards and head south along the edge of Strangford Lough towards the coastal village of Portaferry. On the way, you'll bypass attractions like Mount Stewart (a 19th-century residence that has more than five and a half miles of beautiful walking trails), Greyabbey (a picturesque village that's famous for antiques) and Kircubbin (with the award-winning Echlinville Distillery nearby).
Portaferry itself stands at the mouth of the lake and it's a quick ferry ride across to the village of Strangford. If you're a fan of Game of Thrones, then be sure to head out along the coast to visit Castle Ward, which doubled as Winterfell in the early seasons of the show.
It's well worth leaving the lake behind for a moment to visit Downpatrick, home to the Down Cathedral, which is said to be the burial place of Saint Patrick. Then it's on to Killyleagh by way of Delamont Country Park, which offers lovely views and activities for the kids.
Keep heading north along the lake's edge and you'll pass through several pretty villages. A quick trip to Mahee Island is a must as you'll get to see the Nendrum Monastic Site, which dates back to the 5th century, and Mahee Castle. Then it's on towards Comber, stopping off at Castle Espie on the way to take in the area's beautiful wetland and wildlife.
The market town of Comber lies at the north-western corner of the lake and is famously the birthplace of Thomas Andrews, who designed the doomed RMS Titanic. After checking out the Titanic memorial in the town square, it's time to return to Newtownards and complete the circuit.
Find out more: https://www.nationaltrust.org.uk/strangford-lough
Edinburgh to Glencoe, Scotland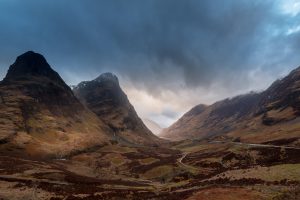 This 139-mile route takes you from the bustling capital city of Edinburgh all the way up to Glen Coe on the west coast via Loch Lomond, past miles of showstopping views and plenty of places to stop and admire.
When you depart from Edingburgh, head towards the city of Stirling. On the way, it's well worth stopping off at the Forth and Clyde Canal to visit The Kelpies – this iconic sculpture created by Andy Scott is the largest equine sculpture in the world and depicts the famous mythical creature rumoured to lurk in the Scottish waterways.
You can stop off in Stirling to explore Stirling Castle and the Wallace Monument, then you're heading west along the A811 towards Balloch – although this seems a long detour, we'd always recommend taking the extra time to see Loch Lomond on your way. The journey across guarantees stunning views of the Southern Highlands, passing quaint villages and rolling countryside, before arriving at the Loch.
You'll follow the A82 up the west shore of Loch Lomond, passing picturesque villages like Arden and Luss before reaching Firkin Point, where you'll find parking, toilets, and a stunning lochside route to walk. A stop in Tarbet is also worthwhile if you want to explore the Loch by boat – we'd recommend booking ahead of time though!
Past these sights, you'll notice the road become narrower as you get closer to the Glen. Still following the A82, you'll pass spectacular mountains like Beinn Dorain and the Black Mount, and pass several viewpoints where you'll be able to park up and admire the view. Carry on up this route and you've reached the towering mountains of Glencoe. Explore the village on the shore of Loch Levan, admire the views, or head to the visitor centre, where you can learn more about the area, its wildlife, and its rich history.
Find out more: https://www.visitscotland.com/places-to-go/glencoe
The Dragon's Spine, Wales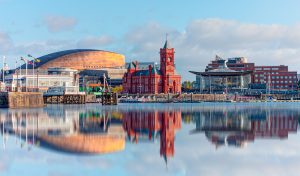 The wonderfully-named Dragon's Spine is a 180-mile route from Cardiff in the south to Conwy in the north. Following the path of the A470 through the heart of Wales, this route offers a mix of rural, coastal and urban sites to take in. Which means there's something for everyone to enjoy.
Our journey begins in the capital of Cardiff, which is bursting with cultural highlights, eateries, tourist hotspots and more. Once you've had your fill, it's time to head north and enter the Brecon Beacons National Park. One of three national parks in Wales, the Brecon Beacons stretch from Llandeilo in the west to Abergavenny in the east and offers miles of natural beauty.
The market town of Brecon lies on the northern edge of the park, where you'll have access to a range of sports and adventure activities, as well as shops, museums and cafes. Continue north and you'll pass through the towns of Builth Wells (where the rivers Wye and Irfon meet), Rhayader (close to the Elan Valley Reservoirs) and Llangurig.
Snowdonia National Park awaits further up the road, the largest of the national parks in Wales and an area that combines soaring mountain peaks with deep, lush valleys. Here you'll find towns such as Dolgellau, Blaenau Ffestiniog and Betws-y-Coed along the route.
Described as 'the gateway to Snowdonia', Betws-y-Coed in particular has loads to offer travellers. The town sits in the Gwydir Forest and has become a popular tourist destination thanks to its picturesque location and various outdoor activities.
Leaving the national park behind and it's time to follow the River Conwy north to the town that shares its name. Conwy sits at the end of the Dragon's Spine route and is home to attractions such as Conwy Castle. This World Heritage Site dates back to the late 13th century and is a more than fitting place to bring the car to a stop and wave goodbye to your Welsh adventure.
Find out more: https://www.breconbeacons.org/ and https://snowdonia.gov.wales/
Before you go
Help to ensure you'll enjoy a smooth journey by taking care of the basics before you set out.
Car checks
First, check that your car's MOT and service are up-to-date (and if they're not, get them booked quickly!)
Next, why not take advantage of our 10-Point Car Check? It's a great way of getting a second opinion on the key areas of your car like your tyres and battery.
Or if there's a particular area that you're concerned about, then one of our free car checks could be just what you're looking for. We cover everything from your suspension and steering to your brakes and clutch, for the peace of mind that your journey will stay on track.
Halfords Motoring Club
Another great option is to join the Halfords Motoring Club. You'll get access to a range of amazing benefits and discounts that are designed to keep you moving, keep you safe and keep you saving.
It's free to join and you'll receive money off your MOT, a free car health check and a welcome voucher that can be spent on any Halfords product or service.
Or choose our Premium membership for a small monthly fee (or a one-off payment) to unlock exclusive member pricing on all motoring products and services online and across our stores, garages and Halfords Mobile Experts, as well as a variety of other benefits that will help you to keep moving for less.
With so much to enjoy, this is too good an opportunity to miss!
Join the Halfords Motoring Club today at www.halfords.com/motoring-club.
Breakdown essentials
In terms of breakdown essentials, our must-haves are a tyre inflator, a puncture repair product and a motorist first aid kit. Products like these can help you get back on the road (or to your nearest garage, so they can give you a helping hand).
In-car tech
Finally, particularly given the length of some of these amazing trips, it's worth having a little think about your in-car tech options. A sat nav will help you to stay on track, a dash cam will give you added peace of mind when it comes to staying safe on the road and a stereo will give you a way to play that perfect getaway road trip playlist. Sorted!
---
We hope you have a great time on your long-distance journeys and getaways this year! If you need any further motoring services or getaway essentials, then pop over to Halfords and we'll be happy to help.