If you're anything like us, you're probably already planning your next break, and with summer fast approaching, many of us have got a getaway or two in the diary. If you are setting off, the Halfords Motoring Club is the perfect road trip companion, giving you loads of perks and benefits for the best holiday possible.
There are plenty of ways to keep moving, keep safe, and keep saving this spring and summer. In this blog, we'll explain how you can make the most of your benefits in time for your getaway, whether you're a Free or Premium member.
Getting there
The last thing any holiday needs is a mid-journey breakdown. For peace of mind before you set off, a 10-Point Car Check will assess the key areas of your car to make sure everything's topped up and running smoothly.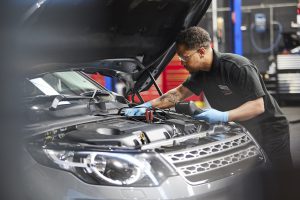 Carried out at your local store or garage, one of our trained technicians will perform vital checks to ensure your car is fully ready for your journey. It'll only last around 30 minutes, but we'll cover all of the following:
Headlight & brake light check
Wiper blade condition check
Battery health check
Windscreen chip check
MOT due date reminder (UK only)
Tyre depth check
Tyre inflation check & top up
Oil level check
Screen wash top up
AdBlue & coolant check
Make the most of your Premium membership and use one of your two free 10-Point Car Checks for the peace of mind that your car is in top condition for your holiday. Then, you can use the other free check to give everything another look-over later in the year. It's perfect for a quick check-up before the harsh winter weather.
If you're a Free member, you'll have one free check per year, so you can make sure that you're ready to set off.
If there are any nasty surprises – like a flat battery or faulty bulb – then the Halfords Motoring Club has got you covered. Don't forget that you can use your Premium membership perk of a free fitting at any of our stores for a new pair of bulbs, windscreen wipers or a battery, to get you back on the road and enjoying your break without having to worry about trying to fit something yourself.
Fancy sprucing up your car before you go? Use your handy welcome voucher* on anything you like, so whether you're topping up your oil, adding some extra storage with a roof box, or giving your car a good clean before you set off, you know you're getting a great price.
*Minimum spend applies
Even better, as a Premium member, you have a 5% discount on all motoring products and services, giving you the best deal on all the car accessories and extras you'll need for the journey.
If your MOT due date is fast approaching, chances are you'll want to get booked in before you go. As a Free Motoring Club member, you get £5 off your test, while Premium members don't pay a thing.
Days Out With The Kids partnership
From the water park to the zoo, there are endless attractions across the UK to keep little ones entertained during your trip. Days Out With The Kids gives families exclusive discounts on fun days out, with over 1,000 locations to choose from.
We've teamed up with DOWTK to offer our members an exclusive deal; as a Halfords Motoring Club member, you'll get 3-months' free membership, as well as a discounted yearly renewal. After the 3-month free trial, the subscription will automatically renew at a discounted annual rate of £9.99 per year – that's a £20 saving on top of your FREE 3 months!
To start saving, you can find your exclusive discount code in the 'Rewards and Benefits' section of your Motoring Club account on Halfords.com.
Entertainment
If you're stuck for things to do to bring some extra excitement to your trip, look no further. Halfords has loads of ways to keep everyone happy – both on the drive there, and once you've arrived!
For the journey
There's nothing worse than a long car journey with nothing to do, especially if you've got little ones. Got a Premium membership? Put your 5% off member pricing to good use and stock up on some in-car entertainment to make the journey fly by.
An in-car DVD player could be the perfect solution to keep your little ones entertained and spare you from hours of i-spy, fitting to the front headrest for easy viewing from the back seats. Plus, car DVD players are completely independent of the car's audio system, meaning that while the kids watch their favourite movies, you're free to listen to your own music.
Once you've arrived
If you're anything like us, your holiday adventures may often happen by bike – and as a Halfords Motoring Club member, you can even use your benefits to boost your holiday cycling.
By far the easiest way to transport your bikes further afield is with a bike rack, many of which are fitted to a tow bar. If you've not got around to having one installed, our Halfords Mobile Experts are here to help – we can fit a new tow bar right on your drive! You can use your welcome voucher or 5% off Premium member discount with Halfords Mobile Expert services, so you can get a convenient fitting for less.
If cycling isn't your thing, a tow bar can also be used to pull a trailer for some extra storage if you've got a lot of holiday gear. Whatever form your getaway takes, you can be fully prepared and ready to go.
If you're unsure about the process of fitting a tow bar, check out our article breaking down exactly how our Experts will do the job.
Quick fixes
Although we all do our best to avoid them, it's always possible to run into some setbacks throughout your holiday. With the Halfords Motoring Club, you can be safe in the knowledge that if you hit any bumps in the road, a member of our customer support team is only a few clicks away.
The few weeks before a holiday can be really hectic, and it's easy to forget things or run into some last-minute hiccups. Thankfully, the Halfords Motoring Club gives you unlimited free next-day delivery as a Premium member, so if you've come to power up your old sat nav and it won't turn on, or you've forgotten to order those new bike helmets for the kids, you could have them the very next day for no extra cost.
---
With all these great features, the Halfords Motoring Club is the perfect getaway companion to keep you moving, keep you safe and keep you saving.
Tired of missing out on more benefits? Upgrade to Premium and unlock even more perks, including 5% off member pricing – an always-on, unlimited discount on all motoring products and services online and across our stores, garages, and Halfords Mobile Expert. Just log in to your account and follow the steps to upgrade.
If you're still not a part of the club, don't miss out! We're the UK's leading motoring retailer, so there's no one better to keep you safe and saving on your journeys. Plus, you won't want to miss the amazing (and exclusive!) offers that over 2 million members are making the most of. Sign up today at www.halfords.com/motoring-club for instant access to your benefits.