With the weather getting warmer and summer in sight, many of us are starting to plan our next staycation adventure. But where to go? There are so many amazing drives and destinations here in the UK that it would take an age to list them all. So here are a couple of our favourites, along with our top tips on how to make sure you get there safely and comfortably.
The Atlantic Highway, England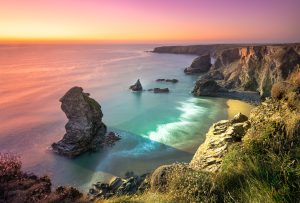 Running down the coast from Somerset, through Devon and into Cornwall, the Atlantic Highway (otherwise known as the A39) takes in some of the most beautiful sights and sounds that England has to offer. You'll pass by rich woodland and forests, quaint English villages, eye-catching coastlines and breath-taking sea views along the highway, so there's truly something for everyone to enjoy.
The 77-mile stretch between Barnstaple in Devon and Newquay in Cornwall is a particular highlight. Taking about 3-4 days to complete, the journey starts in the river-port town of Barnstaple (where the Clock Tower is definitely worth a visit), before winding south-west past the picturesque Bude.
Tintagel and its famous castle await further down the coast, where you can explore the legends of King Arthur, before the route winds past Port Isaac and the striking Bedruthan Steps (shown in all its beauty in the picture above).
The final stop on the journey is the popular town of Newquay, which is home to a range of stunning beaches and all the seaside amenities you could possibly need.
The Causeway Coastal Route, Northern Ireland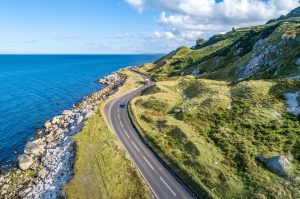 A short hop across the Irish Sea will bring you to the Causeway Coastal Route in Northern Ireland. This 120-mile route encompasses some of the country's top tourist attractions and combines them with stunning scenery to create a trip you won't soon forget.
The journey begins in Belfast, where you can visit the world's largest Titanic visitor experience, Ulster Museum and Belfast Castle. Then it's time to head north along the coast, where you can stop off at The Gobbins coastal walk and the Glens of Antrim to get closer to nature before reaching the famous Giant's Causeway. Consisting of 40,000 interlocking basalt columns, the causeway is one of the most recognisable places in the UK (if not the world!) and well-worth a visit.
The final stops on this 3-5 day journey include Dunlace Castle and Derry (otherwise known as Londonderry), which is the second largest city in the country and rich with history. The perfect end to a wonderful trip!
North Coast 500, Scotland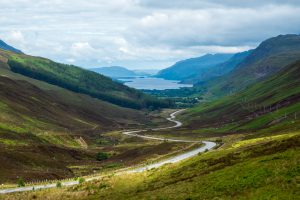 As the name suggests, the North Coast 500 in Scotland is a 500-mile (516 to be exact) journey around the north of this beautiful country. While this might sound like a lot, it'll take you to some amazing destinations and is considered the UK equivalent of America's famous Route 66 – so prepare for something special.
The circular route begins and ends in Inverness, and covers a whopping number of beautiful vistas, picture-perfect landscapes and tourist attractions during its 500 miles. You'll work your way around the Scottish coastline up to John O'Groats, at the northern-most point of mainland UK, passing by places like Cape Wrath and the stunning white sands of Balnakeil Beach along the way. There's also Smoo Cave, a mystical limestone sea cave to explore, along with the historic Dunrobin and Ardvreck Castles.
So many places to visit; so little time! Visit Scotland has put together some action-packed itineraries for food-lovers, campers, action adventurers and more, so be sure to check them out to get the most out of what's at least a 5-7 day trip.
Black Mountain Road, Brecon Beacons, Wales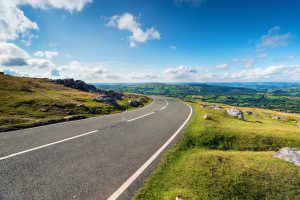 Our last stop is Wales and, more specifically, the beautiful Black Mountain Road in the Brecon Beacons National Park. At around 20 miles, this is the shortest of our trips by a large margin, but more than compensates for that with its jaw-dropping views and pure driving pleasure.
The road twist and turns through the Black Mountains as it works its way from Llandovery to Gwaun-Cae-Gurwena. It's widely regarded as the best driving road in Wales and exploded in popularity after a 2011 Top Gear episode saw Jeremy Clarkson put it through its paces.
If you're looking for a road that's fun to drive, gives panoramic views of the countryside (with handy laybys where you can stop to capture the scene) and takes you into the heart of a beautiful National Park, then you can't do much better than this.
Before you go
No one wants to set off on their staycation only to break down five minutes up the road. That's why we'd always recommend taking care of the basics before you set out to make sure that your car's in top condition and that you've got the necessary essentials on hand in the event of an unexpected breakdown.
Car checks
First, check that your MOT and service is up-to-date (and if they're not, get them booked in quickly!). Next, why not take advantage of our 10-Point Car Check? It's a great way of getting a second opinion on the key areas of your car like your tyres and battery. Or if there's a particular area that you're concerned about, then one of our free car checks could be just what you're looking for.
Halfords Motoring Club
Another great option is to join the Halfords Motoring Club. You'll get access to a range of amazing benefits and discounts that are designed to keep you moving, keep you safe and keep you saving.
It's free to join and you'll receive money off your MOT, a free car health check and a welcome voucher that can be spent on any Halfords product or service.
Or choose our Premium membership for a small monthly fee (or a one-off payment) to unlock exclusive member pricing on all motoring products and services online and across our stores, garages and Halfords Mobile Experts, as well as a variety of other benefits that will help you to keep moving for less.
With so much to enjoy, this is too good an opportunity to miss!
Join the Halfords Motoring Club today at www.halfords.com/motoring-club.
Breakdown essentials
In terms of breakdown essentials, our must-haves are a tyre inflator, a puncture repair product and a motorist first aid kit. Products like these can help you to get you back on the road (or to your nearest garage, so that they can give you a helping hand). For added protection, there's also Halfords Breakdown Cover, which comes with a range of exclusive benefits.
In-car tech
Finally, particularly given the length of some of these amazing trips, it's worth having a little think about your in-car tech options. A sat nav will help you to stay on track, a dash cam will give you added peace of mind when it comes to staying safe on the road and a stereo will give you a way to play that perfect staycation road trip playlist. Sorted!
---
We hope you have a great time on any long-distance journeys or summer staycations you take this year! If you need any further motoring services or staycation essentials, then pop on over to Halfords and we'll be happy to help.