Whether you're bringing your new-born baby home from hospital or are heading out on a car journey with older kids, you want a car seat you can trust!
To help, we caught up with global car seat brand, CYBEX. Renowned for their safe and innovative car seats, pushchairs, and baby carriers, they know a thing or two about child travel, and they've pulled together a list of the best car seat technology currently available.
Rotating car seat technology
While a car seat will keep your little one safe, getting them in it can sometimes be a bit of a struggle, as you lean headfirst into your car, trying to manoeuvre your child into the right position. The solution? Rotating car seat technology!
Adding a rotation mechanism to the base of the car seat, rotating technology allows you to swivel the chair towards the door. Doing so makes it much easier to get your child in and out of their seat, especially when you're having to do it multiple times per day.
It's an innovation many parents have come to rely on, and rotating seats like the Sirona Z i-Size and the Sirona S i-Size offer a rearward facing option suitable until a child is approximately four years old.
The technology isn't limited to toddler seats, and CYBEX have applied it to infant carriers too. The Modular Base Z allows both the Sirona and Cloud Z i-Size infant carrier and toddler seats to rotate on the same base.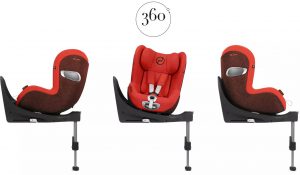 Ergonomic lie-flat position
When using most child seats, you'll need to transfer your child from the car to a different pushchair or baby carrier – not with a seat with an ergonomic lie-flat design.
Seats with a lie-flat design like the CYBEX Cloud Z i-Size can be fully reclined when outside of the car. Both the longer leg rest and lie-flat reclining angle allow your child to lie comfortably in an ergonomically correct position. When attached to a CYBEX pushchair, the Cloud Z i-Size can be used as a practical travel system so your sleeping baby can rest comfortably in a lie-flat position.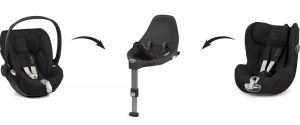 Impact shields
Impact shields have become common on car seats, and for good reason!
In a frontal collision, impact shields help reduce the risk of neck injuries by distributing the force of the impact across a larger surface area, essentially acting like an airbag.
A great example, the CYBEX Pallas M-Fix SL Baby Car Seat's adjustable impact shield secures your child easily, quickly, and reliably. Suitable for children approximately three years old and above, the seat benefits from a range of innovative technology including a Linear Side-Impact Protection system, height-adjustable headrest, and an air ventilation system.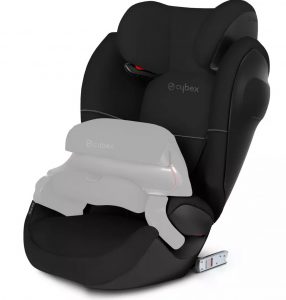 Linear Side-Impact Protection System
The majority of CYBEX car seats are fitted with the Linear Side-Impact Protection System.
These additional side-impact protectors absorb the forces in an impact, providing more head and upper body protection in a side-impact collision.
To ensure a child is well protected, a high-quality car seat should be equipped with the best technology that helps prevent injuries, and a side-impact protection system is a must-have.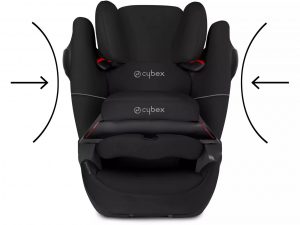 CYBEX car seats
Choosing the perfect child seat is important – after all, it's there to keep your little one safe!
When buying a car seat from CYBEX, you can be confident you're getting one of the best seats available. All their seats feature the latest technology and are designed to keep your child safe. Plus, they have an option for every age and you can learn more about their car seats here.
---
From enhanced impact protection to convenient rotation systems, car seats are crammed with more technology than ever before, helping keep your little ones safe. Head over to Halfords.com where you'll find a wide selection of CYBEX car seats.
For more information on how to safely fit your child in a car seat, visit CYBEX's Car Seat Safety Guide.
You want a car seat with the best safety technology, you want Halfords!