Whether you're planning for a long sportive, race, or simply want to build your cycling fitness, you'll want to head out on some long training rides. By clocking up long hours in the saddle, you'll build your endurance and set yourself a strong fitness base so you can go on to conquer your cycling goals!
Of course, long rides take up lots of hours and the increased riding time means you'll need to be well-prepared for everything from mechanicals to hydration. Here's our checklist of everything you'll need to consider ready for your long rides this upcoming bank holiday.
When and where will you ride
You won't get very far without a solid plan, so the best place to start is by creating your route.
Try to stick to quieter roads wherever possible. While the surface on main roads can be better, you want to avoid traffic as much as possible – plus main roads tend to be a bit boring! Also, use a cycling GPS computer to help you navigate. The Garmin Edge 530 is a good choice as you can use the Garmin Cycle Maps function to plan your route. Then, when you're out on the road, the 2.6" colour screen provides clear turn-by-turn navigation – it can even recalculate your route while on the move. Don't forget, the 'stay local' government advice still applies, so take the opportunity to explore local routes.
With your route planned, try to pick a good day for your ride – you don't want to be riding for hours in the rain! Weekends or bank holidays are usually best as you can leave yourself plenty of time to complete your ride. Remember, endurance rides don't need to be fast!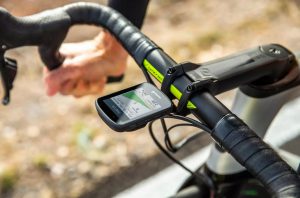 Preparing your bike
It may seem like a basic point, but is your bike set up to fit you correctly? An ill-fitting bike is one of the biggest mistakes even experienced cyclists make.
While muscle aches are a natural part of riding, the results of a poor bike fit become more pronounced during longer rides – with knee, neck or any other non-muscular pains a sign you might need to change your set-up.
Luckily, solving these issues usually only requires minor adjustments and you can find a guide on what you might need to adjust here.
Fuelling
Whatever you do, avoid the bonk!
As many cyclists have found out the hard way, bonking isn't a pleasant experience. Before you even realise it's happened, all of your energy seemingly floods out of your body, making even an easy pedal stroke feel like a Herculean effort.
Don't worry, you can easily avoid this by planning out your ride nutrition ahead of time. What works best depends on each person, but specialised energy bars and gels are usually a good option. Head over to Halfords.com to find popular options from top brands including Science in Sport (SIS) and High5. You can also supplement your carbohydrate intake with energy powders that you add to your water.
TOP TIP: As a rule of thumb, it's best to take in one gram of carbohydrate per kilo of body weight, every hour. So, if you're 70kg, aim to take in 70g of carbohydrates per hour.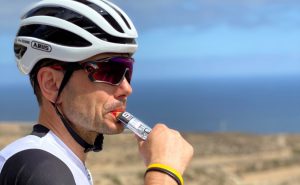 Hydration
Like bonking, dehydration usually creeps up without you even realising – and even experienced cyclists can be guilty of not drinking enough.
Most bikes have space for two bottle cages which should tie you down for much of your ride. However, on warmer days – depending on how far you're riding – you may need more. One solution is to use a hydration pack, with many options having capacity for two litres of water. If the idea of carrying water on your back isn't attractive, factor in a stop on your route where you know you'll be able to top up your bottles.
When exercising, you will also lose electrolytes which are vital for helping your body hydrate and for keeping your muscles moving. The easy solution to this is to add electrolyte supplements to your water, and you can find a range over on Halfords.com.
Maintenance must-haves
As every cyclist knows, every gram counts. It's all about those marginal gains!
However, you may want to park that mentality when it comes to longer rides. For a start, you'll probably need to carry an extra spare inner tube. After all, you don't want to end up stranded due to a puncture! Some riders only carry two but it's always worth carrying more if you have the space.
Don't forget the other maintenance essentials either, including a multi-tool, pump, puncture repair kit, and tyre levers.
And if you're struggling to carry the water, food and maintenance accessories you need, explore our range of saddle, handlebar and small frame bags for more storage solutions.
Monitoring performance
The aim of endurance rides is to ride at a comfortable level of exertion for long periods.
While it's possible to do this based on perceived exertion, you'll more effectively measure your effort using a heart rate monitor. By training using heart rate, you can ensure your heart rate never becomes too high – a clear sign that you're riding too hard. The effectiveness of training with a heart rate monitor isn't reduced to long rides, and all of your training will benefit from using one. In terms of the types available, many cyclists use monitors that strap around the chest like the Garmin Dual Trams. With Ant+ and Bluetooth connectivity, the Garmin will connect to most cycling GPS computers. Alternatively, you can monitor your heart rate using a smartwatch like the Garmin Vivoactive 4 Smartwatch. Not only will the Vivoactive track your heart rate but it also monitors your energy and hydration levels – perfect for long rides!
If you're unfamiliar with heart rate training zones, you can find a full guide here.
Preparing your bike for the next ride
Once your ride is over, it's almost time to enjoy a well-deserved rest. Before you do, make sure you've given your bike a thorough clean – especially if you've been riding in the rain.
Always use a specialised bike and drivetrain cleaner as these are designed to remove dirt and grease while protecting your bike's components. The Muc-Off Clean, Protect and Lube Kit is the perfect option as it contains a biodegradable bike cleaner, a protective spray, plus chain lube so you can prepare your bike for your next long ride.
---
That completes our checklist. All that's left to do now is ride! Remember, from must-have products to cycling services, you can find everything you need to keep you and your bike in motion over at Halfords.com.
You want to ride further, faster and higher, you want Halfords!