CHRISTMAS ALERT!!!
Yes, you read it right, the biggest day of the year is just around the corner, so it's time to start thinking about getting the gifts sorted.  Alongside the PlayStations, Xboxes and mobile phones that will be peppering kids' Christmas gift lists up and down the country, there'll always be one humble (and in our opinion, best) gift that may instill panic in many parents' minds – the Christmas bike.
Jump to our top 10 Kids Bikes
Read our Christmas Advice
Learning to ride a bike is an important moment for any child. The feeling of freedom and the thrill of speeding around the park are difficult to replicate, and bike riding is a great way to teach kids about road safety, balance, and fitness and exercise. But what on earth do you buy the fussiest child on the planet?
The best kids bikes for Christmas
12″ Urchin Kids Bike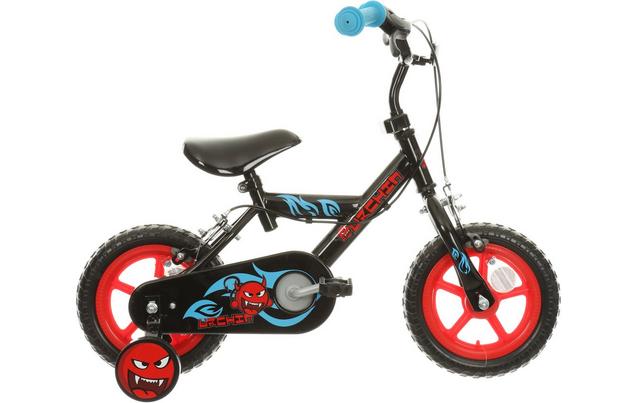 The perfect first bike for little devils! Designed for 3-5 year olds, this cool-looking bike will have them excited and ready to ride on Christmas Morning with bold colours and graphics.
Little fingers are kept away from moving parts with a full chain guard and the stabilisers can be removed as they gain more confidence. There are also front and back calliper brakes to slow them down if they get carried away!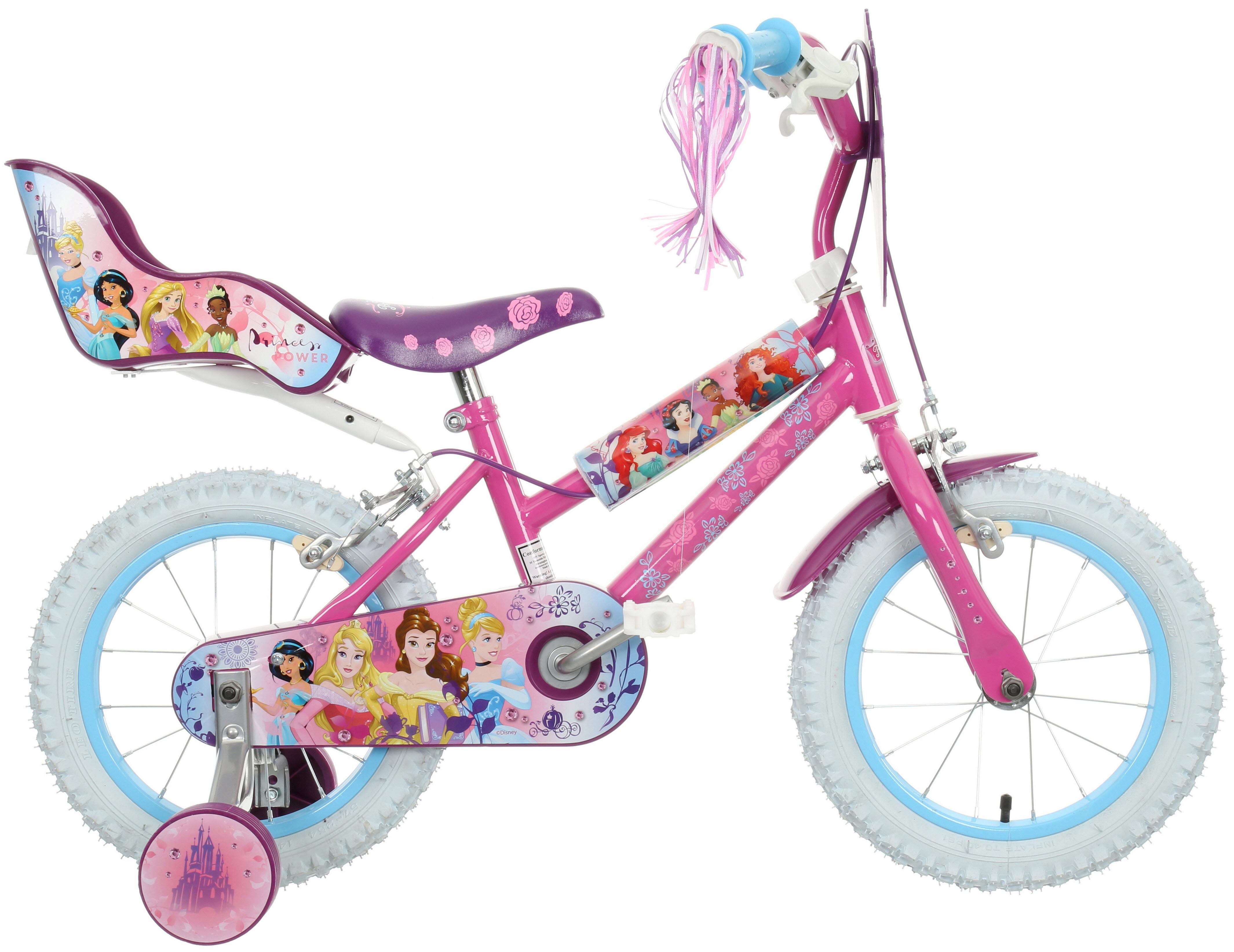 If your little one dreams of being a Disney princess, then this beautiful Disney Princess Kids Bike will help them fuel their imagination!
You'll find Cinderella, Ariel, Jasmine and Snow White on the frame, seat and chain guard and there's even a mini seat on the back for dolls or a small backpack! The colourful pink stabilizers can also be taken off as they get better at balancing.
Our favourite features however are the colourful tassels that hang from each handlebar, the perfect fashion accessories for aspiring royalty!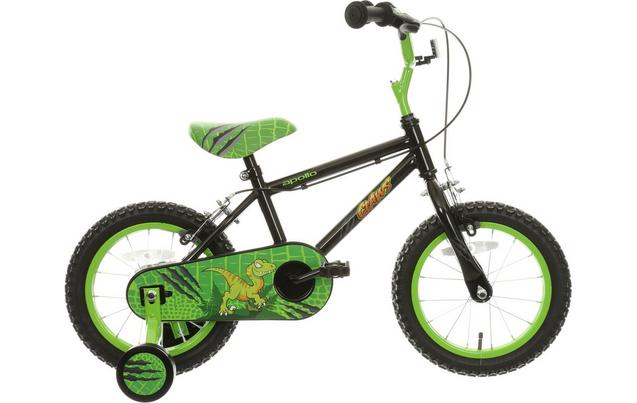 Take a step back in time and cycle through the prehistoric jungle with Claws the Dinosaur! This funky green and black bike is perfect for 4-6 year olds, with both Claws and the stabilisers filling them with confidence as they ride!
There's a slash-covered chain guard to keep fingers safe (Claws really does live up to his name) as well as front and rear brakes to slow them down quickly.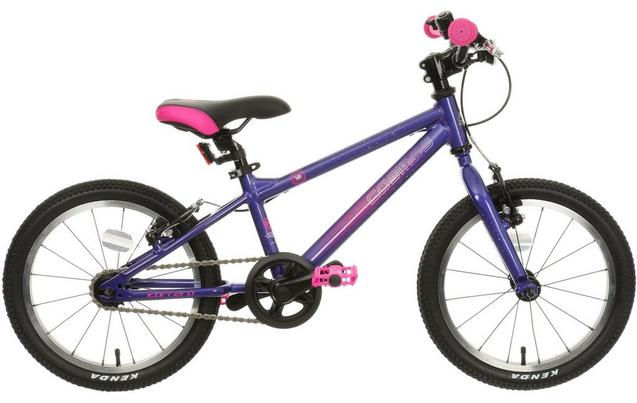 If your child is ready to step up to a more capable bike, the Carrera Cosmos is a great choice. Bringing some of the features found on adult Carrera bikes to the kids version, 5-8 year olds who don't need stabilizers can go faster and further on this light aluminium-framed kids bike.
Available in purple or blue, this Carrera Cosmos has 16" wheels fitted with front and rear alloy V-brakes for reliable stopping power, along with genuine Kenda tyres that will keep up with them on off-road adventures. You can even fit quickfit lightweight stabilisers (sold separately) if they're not quite ready for two wheels just yet.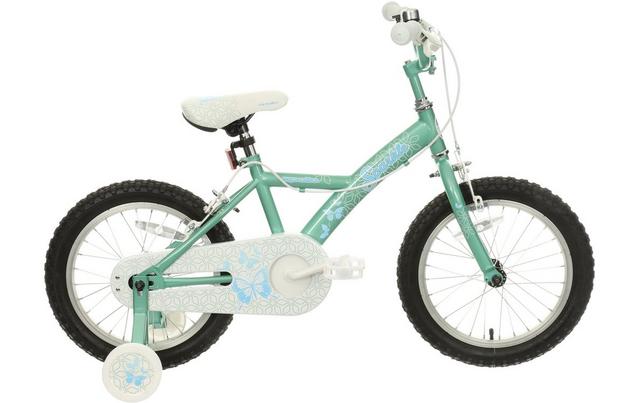 This superb Apollo Sparkle kids bike will certainly make learning to ride a bike fun. The cool ice blue finish and butterfly decals turn this kids bike for 5-8 year olds into a fashion accessory!
With a built in chain guard that prevents fingers from getting trapped and stabilisers to keep them upright, you can concentrate on helping them to get their balance rather than worrying about crashes and accidents. The stabilisers can be removed as they build confidence and the shiny finish will certainly have them looking forward to that boxing day bike ride.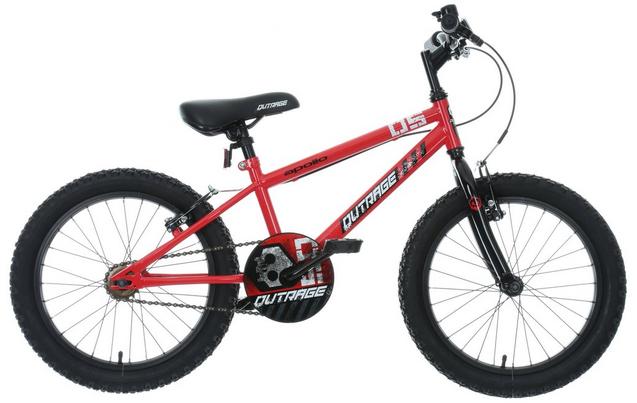 If they're ready to go off-path, then this Apollo Outrage is the machine for them! Powerful styling mixes with a strong steel MTB style frame to make the Apollo Outrage a contender for coolest bike in the playground.
Suitable for 5-8 year olds, they'll be able to stop on a sixpence with V-brakes and the cool skull decal with have them excited to get riding on Christmas Morning!
20″ Apollo Xpander Kids Mountain Bike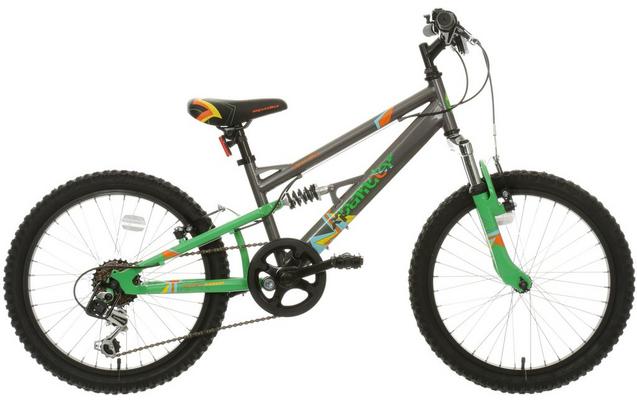 It's time to hit those muddy trails with the superb Apollo Xpander Kids Mountain bike. Designed for rough terrain, adventurous 7-9 year olds can get a taste of mountain biking with full front and rear suspension to absorb bumps and a SRAM MRX 6 speed gear set to get them up hills more easily.
The cool black and green design emulates high-spec MTBs and the super-cool look of the whole bike will make them feel like they're ready to take on the pros!
24″ Carrera Luna Girls Mountain Bike
If your little Grrrl wants to thrash it out on a hillside trail, then get her a Carrera Luna Mountain Bike this Christmas. Featuring a lightweight aluminium mountain frame, 21 speed Shimano Revoshift gear set, and powerful Clarks disc brakes for performance stopping power, this junior mountain bike will put a smile on the face of any aspiring pro riders on the big day.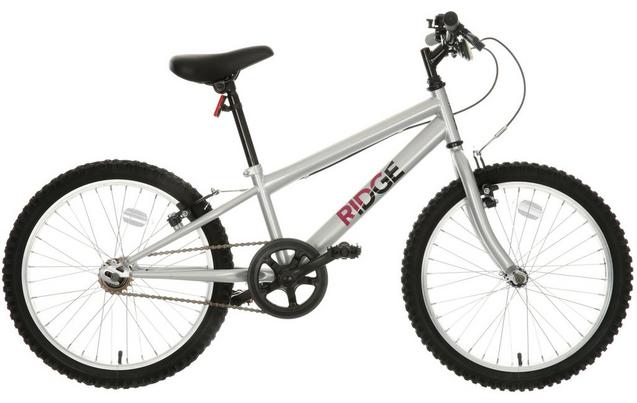 If you need a great all-rounder that will keep them interested on family bike rides, then a Ridge Kids Mountain Bike is a good shout. Designed for 7-9 year olds, things are kept simple with single-speed gearing, front and back V-brakes and lightweight alloy wheels and steel frame so it can be ridden or pushed with ease.
As well as looking great, this Ridge is a great step up from a kids bike or a great starting point for older beginners.
24″ Carrera Blast Junior Mountain Bike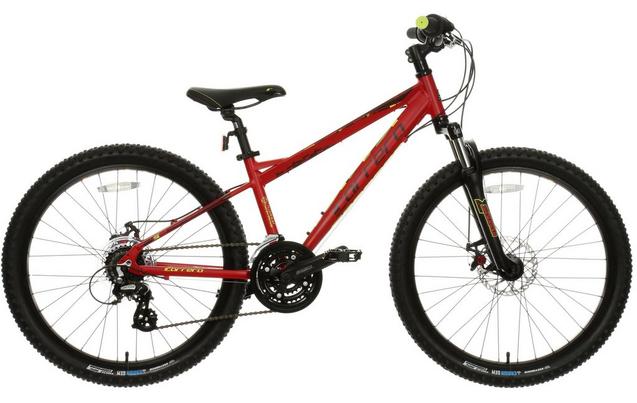 If you're looking for a Christmas Morning jaw-dropper, then they'll be blown away by a Carrera Blast. Packed with features usually found on adult bikes, they'll think they're cycling pros with a lightweight aluminium frame, 21speed Shimano Revoshift gears, Clarks disc brakes and 24" alloy wheels covered in sweet Vee Crown Gem tryes.
Inspire your next MTB champ with this brilliant mountain bike suitable for kids aged 8 and over.
The best Christmas bikes for younger children
For toddlers and early learners, a balance bike is a great starting point. These fun bikes don't have pedals or a seat, so they can glide along with a push and get used to getting both feet off the ground.
If they're a little bit older, then the choices get a bit more wide-ranging. Kids bikes come in a huge range of colours, shapes and sizes, so this is where you might need some input. If you already know their favourite characters or TV shows / movies, then you're laughing – we've got everyone from Spiderman to Hello Kitty emblazoned on a huge selection of kids bikes, so you'll get instant brownie points for picking something they're interested in to start with. You can easily add bike stabilizers to all of our kids bikes if they aren't quite used to two wheels just yet.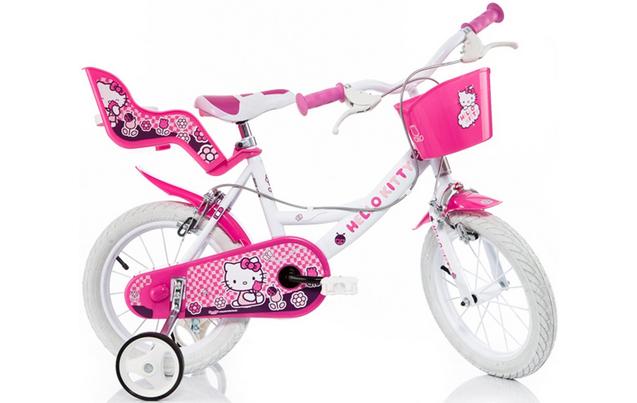 Don't forget to add a mirror, bike bell or horn, mudguards, reflectors, (deep breath) lights, front basket, stunt pegs, protective pads, cleaning gear, stickers and decals, valve caps, spokies and of course a water bottle – all of which make great stocking fillers!
Shop all kids bike accessories >
The best Christmas bikes for daredevils
Older and more adventurous kids may need something a bit more exciting. This is where a BMX or mountain bike can really put a smile on their face on Christmas morning. Check out this Mongoose Switch R50, which comes with a full-face helmet and gloves to help prevent any Boxing Day trips to the doctors to have gravel removed from their hands and chin.
On the subject of accessories, you'll absolutely need a helmet if you're thinking of revealing a bike at 6am on the 25th when they practically kick you out of bed. Older speed-demons out there might appreciate a Hornit stealth helmet, complete with rear LED light to keep them safe on darker nights.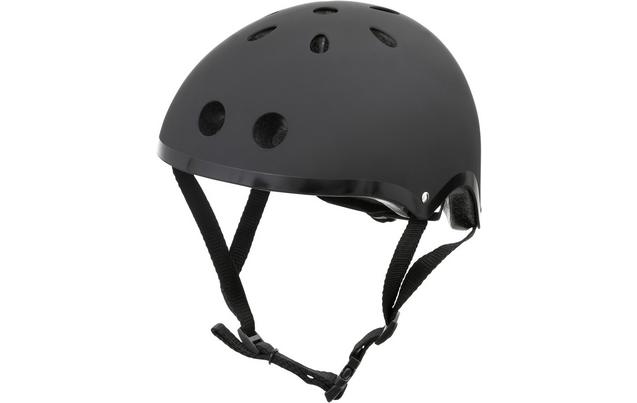 If you aren't sure which bike size they need, check out our bike size guide – all you'll need is their height or inside leg measurement and our handy online tool will do the rest!
The best Christmas bikes for big kids
For teenagers and big kids (read: adults who should know better), the best Christmas bikes are ones that will last them a bit longer. Consider an adult bike if they're over 15 and maybe ask them if they'd prefer a road bike, mountain bike or something more fun like a BMX.
For true biking enthusiasts, a Boardman bike may be the dream bit of kit that they'll want to take out for that Boxing Day bike ride. They'll be more appreciative if you get a bike that they may have been coveting for some time, so get them involved with the buying process (just tell them you're passing on the ideas to Santa)
If you don't fancy spending Christmas morning in the garage with just your spanner set for company, Halfords can even build your kids Christmas bike for you at no extra charge.
Hopefully this handful of ideas will give you a starting point for choosing that Christmas bike. Don't forget to check out our guide on how to wrap a bike for Christmas too so you can keep things a surprise on the big day.
Remember all kids bikes can be ordered online and collected in-store fully built for free and ready for the special day!