For most kids, there's nothing more exciting than getting a new bike. It's the perfect opportunity to head out on long sunny rides as a family and to explore with friends.
Every new bike needs some matching accessories to keep your journeys on track. Here at Halfords, we have everything you and your little ones need for their cycling adventures, from safety essentials for first-time riders to must-haves for a stylish playground look, we've got you covered.
Halfords Junior Leisure Helmet
Helmets are an essential bit of kit, and you shouldn't head out on a ride without one. Luckily, even for the most fashion-conscious kids, we've got a massive selection of shapes, sizes, colours, designs, and themes to choose from.

For safe and stylish riding in either pink or blue, the Halfords Junior Leisure Helmet is a perfect choice. The micro-adjust system means you'll easily find the perfect fit for your child, so they'll be safe and comfortable.
An EPS safety liner gives added impact protection, and the 17 cooling vents will keep your little one comfortable on long sunny rides. As well as being stylish, the bright colours help your child to be seen on darker nights, and you can attach our LED rear light for even safer riding.
Halfords Kids Camo & Confetti Helmets
For younger style-focused kids, the Halfords Kids Camo Helmet should be right up their street. You can easily adjust it to fit your little one with the simple dial at the back of the helmet, for a safe and snug fit.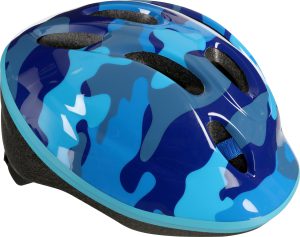 To keep little heads cool, the 8 vents allow air to flow through so you can enjoy long days in the sunshine. With the funky blue camo design and a comfortable padded chin strap, your kids will be safe riding in style.
Or, for riders wanting to stand out in pink, the Halfords Kids Confetti Helmet comes complete with a multi-coloured confetti pattern.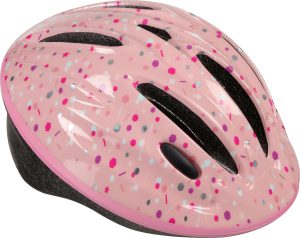 Black & Grey Junior Mitts
For older kids itching to get outside and explore further, these junior mitts allow them to level up their riding. Designed for performance, the stretchy and breathable fabric is perforated to increase airflow, while the silicone-printed palm ensures maximum grip on the handlebars.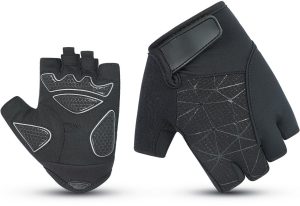 The palms also feature foam padding, so they'll be safely protected against any particularly rough terrain, and the adjustable wrist fastening means these mitts are sure to stay on. When the day's riding is done, the finger-pull tabs allow them to remove the mitts easily.
Halfords Kids Mitts (3-6yrs)
As for your younger riders, safe and comfortable riding doesn't have to be boring! The Halfords Pink Terrazzo mitts feature a fun and bright design, alongside a host of safety features.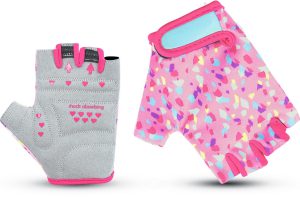 The palms are foam-padded to keep little hands protected, while the breathable fabric still lets air flow. Easy-to-use finger-pull tabs mean your child can take them off themselves, and you can even get a matching bike bell!
If blue camo sounds more up their street, then treat them to the Halfords Blue Camo Mitts. Designed to make riding safe, stylish, and comfortable, these mitts are sure to satisfy any cool riders. And of course, there's a bell to match.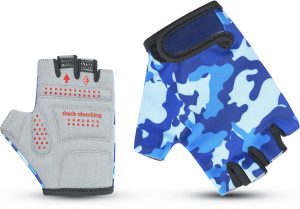 Halfords Kids' Bike Ribbon Streamers
A cool bike is one thing, but the right accessories can take it to the next level – jazz up your child's bike with the Halfords Bike Ribbon Streamers.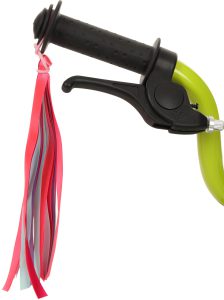 The streamers hang from the ends of their handlebars to add some flair to their ride, and they come in blue or pink to suit your little one's style. Thanks to the universal loop attachment, they're quick and easy to fit, so your funky little one can get back on two wheels in no time.
Plastic Woven Bike Basket
If you're heading out on a long family bike ride, you'll likely be bringing some things with you. Blankets and picnic supplies for a mid-way rest, some tools to deal with any hiccups, and water bottles to keep everyone hydrated are all likely on your list. And chances are, the kids are keen to get involved too.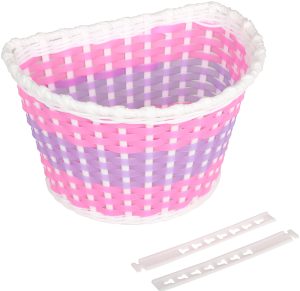 So, let your little one carry supplies for your next cycling adventure with the Halfords Plastic Woven Bike Basket. It's quick and easy to attach to handlebars, and the bright colour scheme will leave them keen to carry some snacks and toys!
Halfords Essential Ping Bike Bell
A large part of staying safe on your bike is making sure other people can see you – and hear you. So, a bike bell is a worthwhile accessory for both you and your child to have.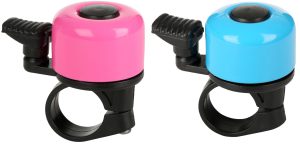 The Halfords Essential Ping Bike Bell adds a pop of colour to your little one's handlebars, whether they're into blue or pink, and will give them a handy way to tell other people that they're riding nearby. It's quick and easy to fit, so you can attach the bell to your child's handlebars and off they go!
Halfords Junior Bottle 600ml
Traditional safety equipment like a helmet and a bell is important to remember, but it can be easy to underestimate how important staying hydrated is, especially on a long ride in the sun. The Halfords Junior Bottle is sure to keep them topped up and energised for a full day of riding and comes in both black and pink.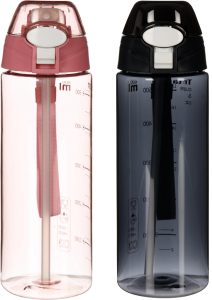 It's perfect for all kinds of riding, whether your kids are out having fun with friends or heading to school.
Halfords Insulated Junior Lunch Bag with Bottle
If your cycling adventure involves a lunch break, then you'll need something to hold your snacks! The Halfords Insulated Junior Lunch Bag is the perfect carrier for kids heading out on their bikes all day and will help to keep their food cool.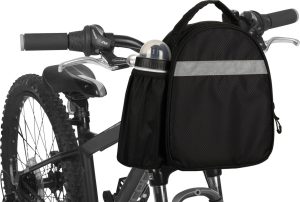 It comes with a 500ml bottle included so they can stay hydrated, and the adjustable hook and loop straps let you easily attach the bag to your little one's handlebars so they can carry their lunch with them to the park or the school playground.
Halfords Protection Pad Set
For budding BMXers and adventure riders, it's well worth picking up a protection pad set. Keep elbows, knees and wrists protected against tumbles and falls for fun and safe high-intensity riding.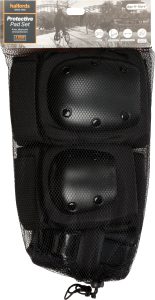 They're available in sizes 11-15yrs and 7-11yrs, as well as a knee & elbow set for your littlest adventurers. The slip-on design makes staying protected quick and easy, and the soft elasticated back fabric means they're not compromising comfort.
Halfords Skate Helmets
Your BMX, skateboard and scooter-riding youngsters are sure to stay comfortable and stylish in the Halfords range of skate helmets. In both a cool print design and a fabulous bright pink sparkle, you're sure to find something that your child loves.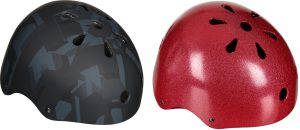 The tough ABS shell is durable and protective, with built-in vents to maximise airflow to keep your child cool while they're riding. Making sure your helmet is the right size can make a big difference to its performance, so the adjustable fit system is designed to make finding the perfect fit quick and easy.
---
So, those are our picks for the very best kids' bike accessories, from safety to style, so your little ones can enjoy even better cycling adventures.
If you need any other riding gear, either for the kids or for yourself, then head over to Halfords.com to explore our full range. Or, pop into your local Halfords store where one of our cycling specialists will be happy to help.
You want family cycling adventures, you want Halfords.