Road trip itinerary? Check. That holiday feeling? Double check. Now it's time to make sure you've packed the road trip essentials to get set for your summer plans.
So, if you're wondering what to pack for a road trip, from sun cream to sat navs, this list has got you covered.
1. Air conditioning
Driving for hours in a stuffy, humid car is certainly going to put a damper on your holiday spirit, so make sure you've got a fully working air con system before you set off.
Here at Halfords, we've got you covered with a Free Air Con Check to make sure everything's working as it should. It'll only take 15 minutes, and you can book in at your local Halfords store or garage at a time to suit you.
If you suspect you might have a problem with your car air conditioning, or you'd just like a more thorough inspection, then we'd recommend our Air Con Diagnostic Check. One of our experienced technicians will inspect aspects such as the temperature, refrigerant and key components, and check for leaks. You can also choose to have an air con regas or air con recharge for an additional fee.
2. Refreshments
No road trip is complete without food and drinks for the journey, so level up your snack storage with an in-car coolbox! The Halfords 8 Litre 12V In-Car Electric Coolbox straps into the back seat for easy access and secure travelling, and the shoulder strap means you can take it on the go too.
You can use it to store everyone's favourite travel snacks or pre-prepare a picnic you can tuck into at a scenic stop along the way. On a long journey, hydration is key too, so be sure to pack extra bottles of water in case of traffic or breakdowns.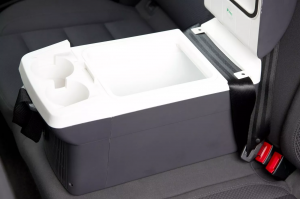 3. Chargers
Solar-powered, USB, or battery pack, remember to bring along whatever portable power sources you need!
While road trips are a great way to unplug, a few key bits of tech can help make your trip a success – whether it's for navigation, snapping some shots of your adventure, or entertainment for the journey, a couple of spare batteries and vehicle-friendly chargers might just save the day.
4. Protection from the elements
The weather is anything but predictable, so you'll want to be prepared for whatever gets thrown your way on your UK road trip – we're talking sunglasses, sun cream, insect repellent for when the sun's shining, and an umbrella and waterproof jacket for when the heavens open.
Put on a layer of sun cream before you set off (yes, you can get sunburned while driving!) and make sure you have your shades nearby to avoid being dazzled by the sun.
5. Extra storage
Looking for some extra storage space? Say goodbye to the days of cramming everything into the boot and backseat, and hello to a roof box like the Halfords Advanced 470L.
The Halfords Advanced 470L Black Roof Box is quick and easy to install, it has a load capacity of 75kg and the dual side opening means you can access the contents from either side of the car. It also comes with a handy three-year guarantee for added peace of mind.
Another clever way to add storage space to your car (and to spare your interior from muddy bikes) is with a bike rack. There are loads of different options to choose from and you can find the perfect match for your car by entering your registration number online.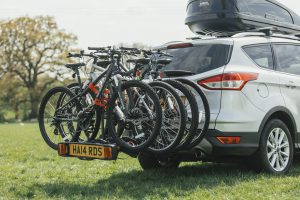 We'll be happy to help you with fitting, so just select that option during the checkout process or speak to one of our colleagues to find out more. And if you opt for a tow bar-mounted model, like the Halfords Advanced 4 Bike Towbar Mounted Bike Rack, then we can even fit the tow bar for you on your drive with our Halfords Mobile Experts.
6. Navigation
Some of the silliest arguments start over disagreements about directions. That's no fun way to start a holiday! Keep arguments to a minimum and make sure you get to your destination quickly and smoothly with a sat nav. At Halfords, we've got a huge range of the latest sat navs in the UK with all the features you could ask for, from traffic updates and 3D mapping to points of interest and driver assists.
If you're struggling to make the transition from a classic A to Z, check out our Sat Nav Buyer's Guide to find the sat nav that's right for you.
And why not maximise your safety by adding a speed camera detector to your car at the same time too? These neat bits of kit can do much more than just keep an eye out for speed cameras, with the Saphe Drive Mini Speed Camera Detector notifying you of accidents, hazards and dangers ahead too to help you stay safe on the road.
7. Sunshades
No one wants to get into a boiling hot car after a day in the sun, so some sunshades are definitely essential. Shield your car from the sun while you're out and about with a windscreen sunshade to deflect UV rays and keep your interior cool for when you return, and keep little ones in the back seats protected with side sunshades to reduce brightness and filter sunlight.

8. In-car tech
Let's face it, even adults get irritable after too many hours spent in the car. If you're travelling with kids, you can keep them happily entertained with an in-car DVD player, fitting to the front headrest for easy viewing from the back seats. Plus, car DVD players are completely independent of the car's audio system, meaning that while the kids watch their favourite movies, you're free to listen to your own music.
Speaking of music, you may also want to upgrade your audio system for some quality road-trip listening. We've got loads of options to enhance your listening experience, whether you want to add some extra dimension with a Car Amp or stream your music straight from your phone with Apple Car Play and Android Auto.
9. Child car seats
Another way to help keep the kids happy and safe on a long journey is with a good child car seat. The Joie for Halfords Transfix i-Size Group 2/3 Car Seats ticks a lot of boxes thanks to its i-Size safety technology, three layers of protection and an adjustable, quick-fit headrest that can help the seat grow with your child.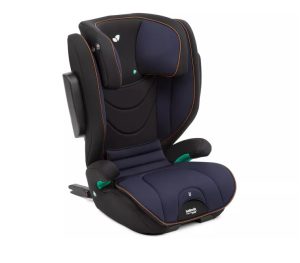 There's also the Halfords Group 1/2/3 Isofix Child Car Seat with Top Tether, which offers supreme quality and comfort for any child while helping to keep them safe.
10. First aid kit
Between sorting out entertainment, snacks, and sun cream, you might forget about first aid, but since you're likely to be getting out and exploring an unfamiliar area, it's best to be prepared.
Make sure you've got everything you need to patch up any bumps and bruises you might pick up along the way, as well as other emergency essentials like a torch, engine oil, and a hi-vis jacket. You may never need them, but you'll have the peace of mind that they're in the boot or glove box if you do.
The Halfords Motoring Club
Our final road trip essential is a big one – keep your summer plans on track with the Halfords Motoring Club! Use your benefits to keep your road trip on track and help you stay safe and saving.
Our Premium membership gives you access to our best perks, unlocking exclusive member pricing on all motoring products and services online and across our stores, garages and Halfords Mobile Experts, as well as a variety of other benefits that will help you to keep moving for less.
Or, join for free to get money off your MOT, a free car health check and a welcome voucher that can be spent on any Halfords product or service.
Still not part of the club? Join over two million members enjoying the exclusive partner offers and Halfords discounts – from free 10-Point Car Checks to welcome vouchers! Sign up today at Halfords.com.
---
Now that you're all stocked up, it's time to get out there and enjoy your road trip! Need some inspiration? Check out our list of the top UK drives and destinations to explore this summer.
And remember, Halfords is here to help with all things getaways– head over to Halfords.com for everything you need to make the summer months a success.