With winter now in full swing, it's important to take good care of your bike.
If you're tough enough to ride outdoors during this time, your bike will need that little extra care to help it navigate the cold and rain (and maybe even some snow). For those fair-weather cyclists among us, our bikes need to be safely stored, ready to hit the road when the better weather arrives.
Whatever your riding plans for this winter, here are our top tips for keeping your bike protected and secure.
Lock it up
Our bikes are our pride and joys. So, it's important to keep them safe and secure!
If your bike will be spending lots of time stored away, it's important to make sure it's done so securely. You may think that it's safe left unsecured in a garage, but it'll still be vulnerable to opportunistic thieves.
Safely securing your bike can be difficult, as any lock needs to be attached to an immovable object. Which is why we would suggest using a ground anchor.
The Halfords Advanced Ground Anchor is a reliable option here, with its four masonry screws firmly fastening the anchor to walls or flooring. The anchor also features a large, weather-treated shackle, giving you peace of mind that your bike is in safe hands. With such a package, it's no surprise that the anchor has been awarded a Gold Sold Secure and 9/10 safety rating.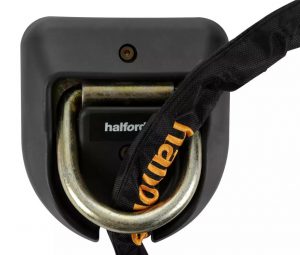 An anchor alone will not protect your bike, though, and you'll also need a lock to attach the bike to the anchor.
One of the first bike locks to receive the Diamond Sold Secure rating in the country, the Halfords Advanced D-Lock is perfect for the job. As you'd expect from a lock that has the highest safety rating possible, it's created with the best technology.
This includes a hardened steel casing that prevents prying, jacking and cutting. A 120cm cable can be used to secure wheels and other components which could otherwise be removed from the bike.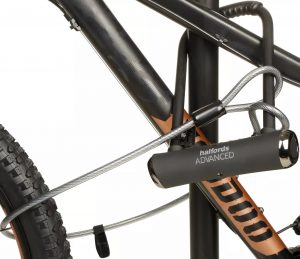 The perfect combination, if you buy the Halfords Advanced D-Lock you also get a 50% discount on the Halfords Advanced Ground Anchor. Securing your bike at home has never been so easy!
Keep it clean
Despite the colder conditions, cycling during the winter months can still be lots of fun. If you do intend to carry on riding outdoors, it's necessary to regularly clean your bike. If you don't, you may reach spring with an underperforming bike in much need of repairs.
Luckily, cleaning your bike doesn't have to be difficult thanks to the Muc-Off Nano Tech Bike Cleaner.  Using a state-of-the-art Nano Tech Formula, this cleaner removes dirt on a microscopic level.
Safe to use on all surfaces including carbon fibre and matte finishes, the cleaner will leave your bike gleaming.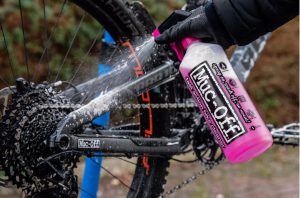 Still not convinced? Here's what our customers had to say about the Muc-Off Nano Tech Bike Cleaner:
Easy to use and cleans even the dirtiest of areas such as the cassette and chain.

(Geoff34)

I've been using Muc-Off for years on my bike. It does a great job every time and its biodegradable. Fantastic stuff!

(Wammers)
Prevent spray
In an ideal world, our bikes would never get dirty. There'd be no need to regularly clean them and they'd last forever. Unfortunately, this isn't the case, but you can still use a mudguard to help protect your bike from excess spray from the tyres. It'll also mean less spray in the face for you!
Lots of bikes are built with mudguard mounts and you can find a wide range of rear and front mudguards over at Halfords.com.
For those whose bikes don't have mudguard mounts, the Halfords Quick Fit Front Mudguard is a convenient option.  Easily fitting to most bikes with a suspension fork and fork bridge, the mudguard ensures maximum protection against mud and spray.
Plus, the adjustable cable ties provided allow for easy adjustments so that the mudguard will always be in the right position.
This is one option of many and Halfords has mudguards suitable for every bike. For further help with finding the correct mudguard, head over to our Mudguards Buyers Guide.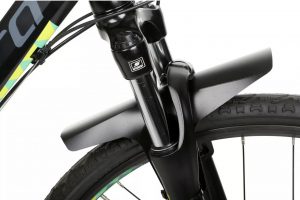 Service your bike
Whether storing your bike away for the winter or continuing to ride, one thing is certain: your bike needs to be well serviced.
Send a bike into hibernation dirty or without its parts checked and it may exit its hibernation worse for wear. On the other hand, if you plan on riding outdoors, it's best to make sure your bike is prepared for the months ahead.
Here at Halfords, we offer a range of bike services, from a comprehensive gold service through to our simple repair and puncture protection services. To make life easier for you, we offer a free bike check before any service to ensure that you are getting the service that best suits you and your bike.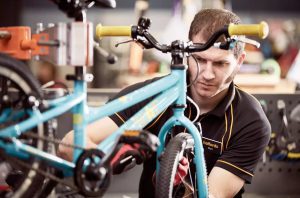 What's not to like? Head over to Halfords.com for our range of services and further protect your bike this winter.
---
Follow these tips and your bike will be well protected in every possible way, from scuppering would-be thieves through to preventing excessive wear.
Still need more suggestions? No problem! Simply visit Halfords.com where we have an extensive range of cycling accessories, locks and services.