Ever find yourself cringing as muddy shoes devour the interior of your car? During the colder months, the wet weather plays havoc, and keeping your car clean becomes trickier than ever. And no matter how hard you try, mud and dirt seems to work its way into your car.
But it doesn't have to be this way, and we have the perfect solutions that will keep your car's interior protected and squeaky clean.
Protecting your interior
Car mats
When it comes to dirty interiors, there's usually one major culprit: mud lathered shoes. And stopping kids from traipsing mud through the car can be a mammoth task.
However, with the help of car mats, this isn't a concern. Providing a barrier between your car and the dirt, they're a great way to protect your interior.
One of the best options available is the Halfords Rubber Car Mats Set. Designed to fit most cars thanks to the pre-defined cut lines, this full set includes two front and two rear mats to protect your car from mud and dirt.

Seat covers
Another major spreader of dirt, but often overlooked, are child seats. Regularly moved in and out of the car, dirt can easily fall from them throughout the interior – especially after muddy adventures. If children have been out in the rain, the chair can also get damp and begin to smell – a problem for all car seats.
The Halfords Seat Protector is the perfect solution, as it'll not only protect the child seat from dirt, but also stop the seat from damaging or marking your car seats' fabric. Incredibly versatile, it also contains a mesh pocket for safe storage and is compatible with ISOFIX compatible child seats.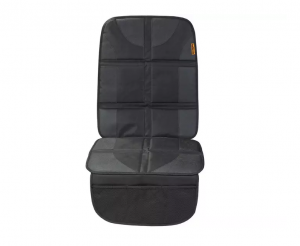 Don't forget to protect the rest of your car seats too – and your boot. Head over to Halfords.com where you'll find lots of stylish options for any vehicle, including the Halfords Essentials Seat Protector and the Halfords Complete Boot and Bumper Protector.
Air freshener
There's nothing worse than stepping into a smelly car, which is why it's best to have an air freshener on hand at all times.
Air fresheners don't simply mask smells, and the Turtle Wax Odor-X Whole Car Blast removes odours on a molecular level. Using three key ingredients, the spray penetrates deeply absorbed odours in fabrics, carpets, headliners, and air vents to permanently eliminate unwanted smells!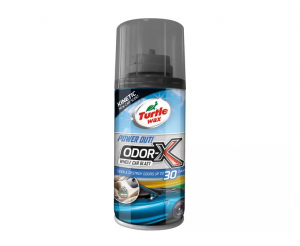 Getting the right smell for your car is important, and you can find many more air fresheners here.
Cleaning your interior
Car vacuum
Even the best protected car will still end up dirty, and the time will come when it needs a thorough clean.
The best place to start is with the Karcher WD 3 Car Vacuum. Empty out your car and use the vacuum to remove any dirt that has gathered. Its various nozzles will get into every corner and help with removing even the most stubborn dirt.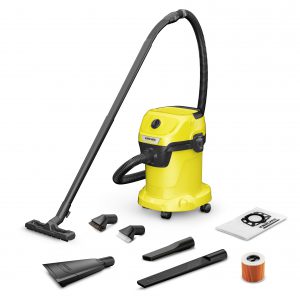 Whether on sensitive surfaces such as the car dashboard, heavily soiled areas such as the footwell, large areas such as the boot or narrow gaps between the seats – the Karcher is the best choice for the job.
Multi-purpose cleaner
When it comes to cleaning your car, you've probably had that heart-in-your-mouth moment when you find a stain on the fabric.
That's when a multi-purpose cleaner such as the Turtle Wax Interior 1 Multi-Purpose Cleaner and Stain Remover comes in handy. The dry foam formula has the power to remove accidentally spills and stains and can be used throughout the interior. It won't sink into the seats either, leaving the fabric dry to the touch immediately after cleaning.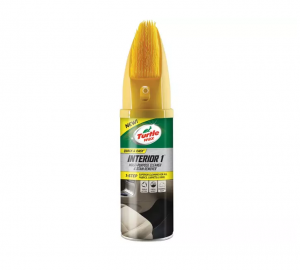 Heavy-duty cleaner
On wet and windy UK roads, the exterior of your car can also get lathered in dirt. Having a multi-purpose interior and exterior cleaner is therefore useful, and we think the Meguiars Heavy Duty Multi-Purpose Cleaner is one of the best.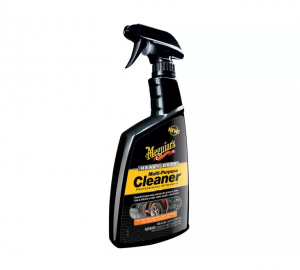 Designed to remove the toughest of dirt on the exterior surfaces of a car, it can also be used to clean interior surfaces and won't stain or bleach fabrics.
Such a powerful cleaner is a great option for family cars that carry muddy feet and paws along wet, windswept roads.
Cleaning on the go
Cleaning wipes
Don't let your cleaning efforts go to waste by being prepared for any cleaning jobs while out on the road.
The Armor All Carpet & Seat Wipes are great as they can be used throughout the interior to quickly clean up any dirt or mud stains. They'll easily store in the glove compartment and can be sealed, prepared and ready for the next emergency cleaning job.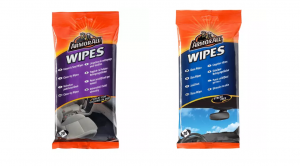 For the windows, use the Armor All Glass Wipes. They'll get your windows sparkling and streak-free, for a pristine look.
---
During the colder months, you can't avoid the exterior of your car getting dirty, but with these tips the interior will remain squeaky clean. In need of more cleaning products? Head over to Halfords.com where you'll find everything from power washers to car shampoo and wax.
If you want to keep your car clean this winter, you want Halfords.