Whether you're popping to your local shop for that last-minute food run or taking a longer drive to see the family on Christmas Day, you want to be safe in the knowledge that your car will get you where you need to be this winter. And here at Halfords, we've got everything you need to make that a reality.
Car checks and maintenance 
The last thing you want is to turn the key and hear the engine splutter and die. Or feel a tyre go out beneath you on a snowy road. So, let's start by looking after your car this Christmas.
Car checks
Our car checks are designed to help you stay safe on the road throughout the winter season by checking essential car components like tyres, batteries and wiper blades. We've got three main options to choose from, all of which can be booked online at a time and location that suits you:
Free 5-Point Car Check: Safe, contactless and completely free. An experienced technician will review your car's headlights and brake lights, the condition of your wiper blades, the health of your battery, the condition of your windscreen and your MOT due date.
10-Point Car Check: Safe and contactless, our 10-point check is for drivers who are looking for a more thorough assessment. A technician will check the areas covered in the 5-point check, as well as your car's tyre tread depth, tyre inflation level (and top it up), oil level, screen wash level (and top it up), and AdBlue and coolant levels. Book online today and have peace of mind that your vehicle is in tip-top condition this winter.
30-Point Car Safety Inspection: Safe, contactless and just £29.99. This is our ultimate car check, which covers all of the main components of your car. It's the ideal choice if your car hasn't had a service for a while and your MOT isn't due.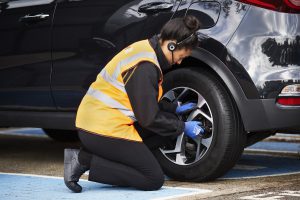 MOT and service
When your MOT is due in the next few months, bundling it with a service can be a great idea. It'll not only save you time but also money – up to £39 when you join the Halfords Motoring Club for free, depending on which service option you choose. Think of all the mince pies and mulled wine that'll buy (you're welcome).
Again, we've got three options for you here depending on the level of service you're after:
Simply book online or drop into your local Halfords garage to set up an appointment and get your car prepared for Christmas.
Mobile experts
If you'd prefer the comfort of an at-home visit or can't get to one of our garages, that's okay – our mobile experts are here to help. Fully bookable online, our mobile services include tyre fitting, battery replacement and diagnostic checks, engine oil and fluid replacement, windscreen chip repair and more.
The whole process is safe and contactless, and fittings are available 7 days a week between 8am and 8pm, at home or at work. It's convenient, cost-effective and hassle-free.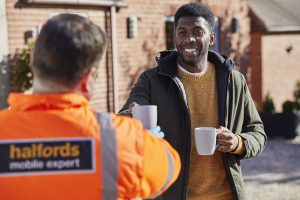 Halfords Motoring Club
If you liked the sound of our car checks, your MOT is on the horizon or you need a hand from our Halfords Mobile Experts, then why not join the Halfords Motoring Club? Become a member and you'll get a range of amazing benefits and discounts that are designed to keep you moving, keep you safe and keep you saving.
It's free to join and you'll receive money off your MOT, a free car health check and a welcome voucher that can be spent on any Halfords product or service.
Or choose our Premium membership for a small monthly fee (or a one-off payment) to unlock exclusive member pricing on all motoring products and services online and across our stores, garages and Halfords Mobile Experts, as well as a variety of other benefits that will help you to keep moving for less.
With so much to enjoy, this is too good an opportunity to miss!
Join the Halfords Motoring Club today at www.halfords.com/motoring-club.
All-season tyres
Keep your vehicle running smoothly all year round, whatever the weather, with our wide range of all-season tyres. We offer same-day fitting at our garages, or with our Halfords Mobile Expert service, we can come to you! Book an appointment online today.
Breakdown cover
Have the confidence to travel this winter with Halfords Breakdown Cover. From as little as 87p per week, you can be assured that our team is on hand to help you whatever happens. With five levels of cover for your car, van, or motorbike, you can choose a plan suited to your motoring needs.
Packing list
Now that we've sorted the car, it's time to sort its contents. There are a number of essentials we reckon you should have to hand during a winter journey for convenience and, most importantly, for safety.
Breakdown and safety essentials
These are the items we'll never leave home without. The AA Breakdown & Emergency Kit contains all the important stuff you need if you break down while out and about, including a hazard warning triangle, booster cables, a foot pump and a weatherproof torch.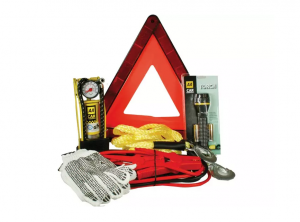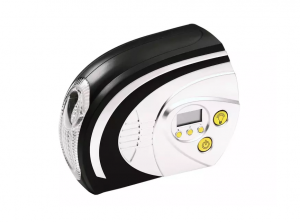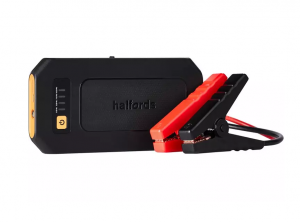 Add in the Halfords Rapid Digital Inflator for flat tyres and Halfords Advanced Lithium Jump Starter for flat batteries and you've given yourself the best chance to be able to get to the nearest garage rather than having to wait in the cold for your breakdown service to come to your rescue.
Tech essentials
Okay, so you might not need these so much if you're just popping to the local shop, but we reckon they're essentials for longer drives. The Nextbase 320XR+ Front and Rear Dash Cam Bundle not only gives you a high-quality dash cam with a whole host of features, but also an SD card, carry case and polarising filter to reduce windscreen glare. We'll even fit it for you for a small fee – just choose the option during the checkout process.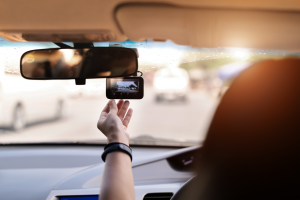 Then there's the Garmin Drive 52 EU Sat Nav, which will help you to get you where you want to be through darkness, rain, sleet, or snow. It's simple to use and gives you everything you need to be able to stay focused on the road while travelling from A to B as quickly and smoothly as possible.
Winter weather essentials
We love the Halfords 5-Piece Winter Kit for being both simple and comprehensive at the same time. For just £10, you get de-icer, screen wash, a 2-in-1 pre-icer and de-icer, an ice scraper and a de-mister pad. Stick it in your car and we promise you won't regret it (particularly when you're faced with a snow- or ice-covered car).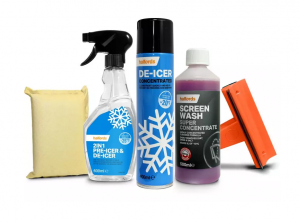 You can go a step further to protect yourself from the winter weather with some car mats, seat protectors and boot protectors. The last one is particularly useful if you've got a soggy doggy joining you on your journey, or you've got the fun job of hauling a Christmas tree back home.
Storage essentials
Finally, storage. If you've squeezed your family into the car and you're going to be spending a few days away over Christmas, then you'll need somewhere to store all your stuff during the drive (and Christmas presents. Okay, mostly Christmas presents).
Roof boxes are a great choice as they give you free space outside of the car that you can fill to your heart's content. There are loads of different roof boxes available, so it should be easy to find one that suits your needs – and we can lend a hand when it comes to the fitting for a small fee.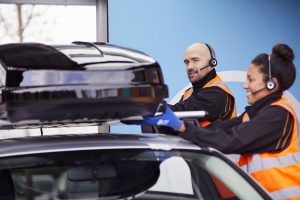 ---
Good luck on your journeys and stay safe out there! And remember, if you want to keep moving this winter, you want Halfords.