Decided to ditch your old commute and start cycling to work by bike? Great decision!
Commuting by bike will boost your fitness and is a great way to refresh your mind before and after work. However, if you're new to a cycling commute, there are a few common mistakes you'll want to avoid.
Stranded by a puncture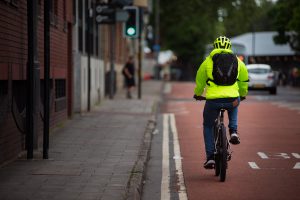 This one applies to any type of bike ride. Always carry spare inner tubes and the must-have tools. This includes a hand pump, multi tool and tyre levers.
Even on a short commute, punctures or mechanicals can happen. And you don't want to trudge into work late having walked half the distance.
Of course, you also need to know how to use the tools. So, practise using them at home first.
Not planning ahead
The hardest part of commuting by bike is committing to it. Some mornings you'll lack the motivation, but once you're riding, you'll love it.
Which is why you should prepare everything the night before. Pack your bags and lay out all your clothes. If you haven't prepared it's easy to back out in the morning and hop in the car. When everything's is laid out ready, it'll give you added motivation.
Forgetting your shoes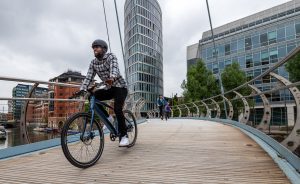 And you won't forget anything. When you're rushing around in the morning, it's a recipe for disaster. It's easy to forget something, cue some frustration when you open your bag at work only to realise you've forgotten your shoes.
Squashed bananas
Cycling to and from work requires lots of fuelling. So, number one on any packing list should be plenty of food and snacks.
Be careful how you place it in your bag. Plenty of commuters have put a banana at the bottom of their bag only to find a squashed mess. It's always best to place it on top of anything else.
Hugging the kerb
Many beginners think it's safer to ride as close to the kerb as possible. However, if a car gets too close or cuts you up, where can you go?
Luckily, this situation doesn't happen very often and commuting by bike is very safe. However, to increase this safety further, leave a good distance between yourself and the kerb.
Unprepared for winter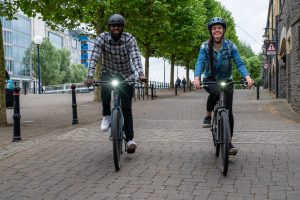 Here in the UK, we're not blessed with amazing weather. So, the chances are you'll get caught in the odd downpour.
Which is fine, as long as you're prepared. This means wearing the correct clothing and winterising your bike. Specifically, a mudguard is a must. Even if you don't care about a wet bottom, other commuters won't appreciate a face full of spray.
A disappearing bike…
Even if your workplace has bike facilities, still use a lock. Bike thieves will take any opportunity and a missing bike is the last thing you want at the end of a day's work.
When choosing a lock, make sure it is Sold Secure rated. This means it's been tested and meets high standards. Check out our guide to Sold Secure ratings here.
Picking the busiest route
It's always tempting to pick the shortest route. However, it'll usually be on busier roads which means more traffic. The great thing about cycling is you can avoid these busier routes and, although it might be slightly further, it'll probably actually be quicker.
Don't just treat the commute as a means of getting from A to B. It's something to enjoy and you can use it to have an adventure by exploring canal paths or off-road tracks.
Are your lights charged?
This one's a common one, especially in winter and autumn. At this time of year, the days are shorter and darker. To stay safe, you need a bright set of lights.
Just as importantly, they need to be charged. Otherwise, you'll get halfway through a commute and the lights will start blinking before slowly fading. Cue some frustration as you're left without lights (it's illegal to ride in the UK at night without a front light, rear light and rear reflector).
---
More and more people are discovering the amazing benefits of commuting by bike. If you want more commuting and cycling advice, head over to our help and advice guides. You can find all the bikes, accessories and clothing you need for a commute over at Halfords.com.
You want to enjoy cycling to work, you want Halfords.