With temperatures plunging and endless rain, cycling in the winter is a daunting prospect.
However, while you might not be able to cruise around in shorts sleeves and sunglasses, you can still get lots of enjoyment out of riding in the colder months.
Check out our following tips and prepare yourself for a winter of cycling!
Pick the right tyres!
With rain comes an increased chance of punctures, as water washes debris onto the roads. Potholes are seemingly everywhere, and roads can be more slippery than usual.
Investing in a set of wider winter tyres with better tread is the best solution to these problems. Not only will they offer better grip, but many are also designed to be more puncture resistant. They will slow you down slightly, but for those not racing, it is a small and worthy price to pay. After all, no one wants to be changing a puncture on the side of the road with cold hands.
Make sure to check what size tyre your bike can accommodate, as a rubbing tyre can cause damage to your frame. Bikes are increasingly offering wider tyre clearances, so you shouldn't have any issues swapping out your old rubber for new winter-ready tyres.
Need more help picking the right tyre? Head over to our tyre advice guide for more advice.
Visibility
For many of us, riding in the winter means riding in the dark – so making yourself visible is important!
Start off with front and rear lights. Consider the brightness (lumens) and water resistance of any lights, as these are the most important factors. If you cycle daily, a light that is USB chargeable is a good option, as you can easily plug it into a computer while at work. You don't want the batteries to die halfway through your commute home!
Here at Halfords, we also believe more is better, so don't limit yourself there. Pick fluorescent clothing, a helmet light, attach a light to your bag, and use plenty of reflectors. Light yourself up like a Christmas tree. You'll certainly stand out, but that's the point, right?
Get more inspiration from our guide to making yourself seen and be enlightened!
Clothing
British weather may not be reliable in the summer, but you can always rely on chilly conditions during the winter! Warm winter clothing is therefore a must.
Keeping warm and dry is the name of the game, so pile on the layers. Base layers are a great place to start and will provide that added insulation. You'll want to pair them with a jersey and a windproof and waterproof jacket.
Your legs may be doing all the work, but they'll also get cold. You can prevent numb legs by wearing bib tights.
Then, complete the look with a thick pair of gloves – you don't want to be grasping for the brakes with numb hands.
Bike servicing
Winter is demanding on your bike. Dirt and grit gets everywhere, no matter how hard you try to prevent it!
It's important to regularly clean and inspect your bike for signs of wear. If you look after your bike, it will look after you. Keep on top of maintenance and cleaning and you'll catch any problems before your ride. Not sure what to look for? Follow our advice video on how to service your bike.
If you don't fancy doing it yourself, why not give it to us instead? We offer a range of bike servicing and repairs. We also offer a free bike health assessment before any service or repair, so we can make sure we give your bike the most suitable service.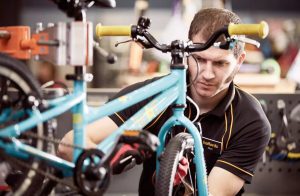 Stay hydrated and keep eating!
It's easy to forget when you're speeding along in chilly temperatures that you still need to drink regularly or replenish your energy levels with food.
Despite the apparent absence of thirst, it's important to replenish the salt and fluids that you will inevitably lose on your ride. You can become dehydrated whatever the weather! Also try adding electrolyte supplements to your drinks, which provide an extra energy boost.
Eating is equally as important. Cycling can feel less draining when not getting baked by the sun, but your energy levels are still burning away. Take plenty of food with you and continue to eat at regular intervals. For that added energy boost, you can also try energy bars and gels.
---
Remember, the less energy you have, the colder you will feel!
So, there you have it – a complete guide to cycling in the winter. Dress right, ride carefully, and take care of your bike and brush those winter cobwebs away. And if you're looking for some cycling route inspiration for the winter months, try our discovery hub which has route suggestions for all difficulties.
You can get everything you need to tackle a winter of cycling by visiting Halfords.com.