For many commuters, when autumn arrives, it's time to pack their bike away for its yearly hibernation and start using public transport or a car to get to work.
But don't be so hasty! While the days may be shorter and colder, commuting by bike in autumn is still lots of fun – you just need to be prepared. Here are five tips to help you prepare for cycling commutes this autumn and winter.
Prepare your bike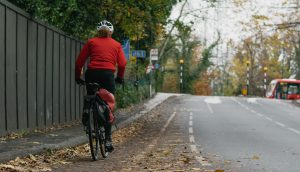 After months of warmer weather (OK, maybe only a few weeks this year!), your bike will have clocked up lots of miles. So, it's time to check it over.
Make sure the brakes are working properly, all parts move smoothly and there is no damage. Don't forget to give it a clean too! For that added peace of mind, why not let one of our experts check it for you? You can explore our range of cycling services here.
Once you're happy your bike is in a safe condition, there are a few upgrades you might want to consider. For a start, mudguards will be a welcome addition. Not only will they protect you from spray, but anyone riding behind you will benefit too.
New tyres can also be a great upgrade. During autumn and winter, rain washes more debris onto the road so there's a greater chance of puncturing. Which is why it's worth investing in tyres with added puncture protection like the Schwalbe Marathon Plus Reflex Tyre 700x28c. The Schwalbe Marathons are the go-to choice for many commuters thanks to their revolutionary puncture protection system that's even drawing pin proof!
Layer up
When it comes to clothing, it's important to find what works best for you. While most people worry they'll be too cold, you'll probably find you'll overheat from all the layers you've piled on. Remember, as soon as you start cycling your body will warm up, so consider this before heading out.
It's best to choose waterproof clothing because, as we all know, it rains a lot in autumn and winter. So, check out our range of waterproof jackets and trousers. The Ridge Unisex Waterproof Jacket is the ideal choice for commuters as it's fully waterproof and benefits from reflective detailing to help make you more visible.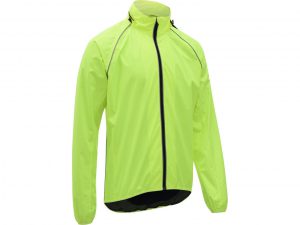 And never leave your house without a pair of gloves! There's nothing worse than grasping for brake levers with numb hands. Again, look for gloves that will protect you from autumn conditions like the Boardman Windproof Gloves. Wherever possible, carry a spare pair with you too, just in case.
At the other end of your body, protect your feet too. Soggy feet are a recipe for a miserable ride, so invest in some overshoes to keep them warm and protected from any rain.
Stay visible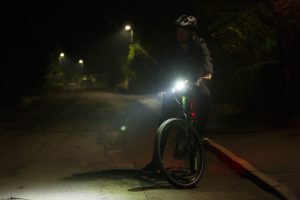 Over the long summer months, it's easy to forget about lights. But before you know it, the days will draw in and you'll find yourself commuting in darker mornings and evening. So, make sure you illuminate you and your bike with lots of lights. Here are a few of our top picks:
Halfords 1000 Lumen Front Light – This is our recommended light for riding in darker conditions. With a 1000 lumen maximum output, it'll help illuminate the darkest nights and it benefits from an intelligent power bar that tells you exactly how much power you have left for the mode you're in. Then, when the battery's running low, it automatically switches to flash mode to help get you home safely.
Garmin Varia Rearview Radar RTL515 – The Varia isn't just an amazing bike light, it's a safety device too. When paired with a Garmin computer or a compatible smartphone, it alerts you of any vehicles approaching from behind from as far as 140 metres.
Halfords 100 Lumen Rear Laser Light – Thanks to an ultra-high 100-lumen output, this light will ensure you're visible to motorists day and night. It benefits from USB charging and a massive four-hour run time in day flash mode making this the ideal rear light for commuters. And if you want to be extra visible, why not use both this light and the Garmin Varia at the same time?
Be prepared
The last thing you want on your way to work is a mechanical issue. However, if you're prepared, you can quickly get yourself back on the move.
By far the most common issue to occur for commuters is a puncture. Even with puncture-resistant tyres, they can still happen. Which is why you need to carry spare inner tubes and a pump. Easily stored in a backpack, the Halfords Dual Action Bike Pump is a great option that's compatible with both Presta and Schrader valves. You can also carry a puncture repair kit although we'd save repairing the inner tube until you get home – if it's cold, you want to get back on the move as quickly as possible.
Other maintenance essentials include tyre levers and a multi tool.
Don't be too strict
For the stricter cyclists among use, quitting is not an option! It doesn't matter whether it's raining or the temperature is finger-numbingly low, they'll head out on their bike.
For the rest of us, the decision is often made after opening the curtains in the morning and assessing the conditions. And if you find yourself struggling to muster the enthusiasm for a cycling commute, give it a miss on that day. Let's face it, riding in wet and windy weather often isn't enjoyable anyway, and you won't have any fun.
You'll then be fresh and motivated for your cycling commute on the next day that has favourable riding conditions.
---
Just because the weather's colder and the days are shorter, that doesn't mean you can't commute to work by bike. Follow these tips and you can still enjoy a cycling commute this autumn.
Need a little extra motivation? Discover the benefits of commuting by bike.
You can find everything you need ready for your commute over at Halfords.com.