Electric bikes are more popular than ever – and for good reason! Packed with powerful motors, they're do-it-all machines that provide a boost while you exercise, commute, or simply get around. E-bikes are an environmentally friendly transport choice for everyone.
Electric bikes are zero-emission vehicles, which means every time you pedal, you're being kinder to the planet. As more and more cities introduce clean air zones, there's never been a better time to invest in an e-bike.
Environmental impact
If your journey to work involves a lot of idling in heavy traffic, then you'll naturally be emitting more pollution. So, if the commute is grinding you down, an electric bike could be the solution.
E-bikes are making two-wheeled travel a serious option for commuters who want a safe and sustainable alternative to their cars. In addition, with no fuel or congestion charges to pay, riding an e-bike is likely better for your wallet.
Electric bikes vs motor vehicles
But just how eco-friendly are e-bikes compared to cars?
Scientists estimate that replacing short car journeys with e-bike trips could reduce total car emissions by 24.4 million tonnes of CO2 every year in England. Per person, that's a massive saving of 0.58 tonnes of CO2 every year and even more for those living in rural areas.
The researchers considered the manufacturing lifecycle estimates and fuel pipe emissions for both cars and e-bikes. They found that cars contribute 93gm of carbon to the environment for every km, while in contrast, e-bikes contribute just 22gm of carbon.
So, for the average 6-mile commute, a car would emit almost a kilogramme of carbon, while an e-bike would release just 220gm, nearly 80% less!
Zero emissions
Electric bikes are zero-emission vehicles – which means they emit no polluting by-products. They're almost silent too, so there's no noise pollution either.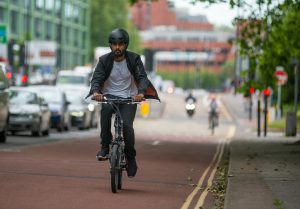 And with the government's aim to reduce all greenhouse gas emissions to net zero by 2050, eco-friendly modes of transport like electric bikes are undoubtedly the future!
Production
But what about the pollution caused during the production of a bicycle?
The European Cyclist's Federation (ECF) conducted a study into this, calculating the total carbon footprint of various modes of transport. Their study included the production of a bike and detailed aspects such as the C02 released in food production, as cyclists consume more due to exercising.
They found that, even with these factors, cycling only releases roughly 21 grams of C02e per passenger kilometre travelled, compared with 271 grams of C02e per passenger kilometre in a car.
So, whichever way you look at it, a bike is a fantastic way to reduce your carbon footprint!
Less congestion
Let's face it; no one likes being stuck in a traffic jam, though it can be unavoidable at rush hour in a big city. But on an e-bike, you can easily slip through traffic, making your commute quicker.
The more people on bikes, the fewer people in cars, so you're also contributing to an overall reduction in congestion on the roads.
Commuting by e-bike
Travelling to work just once a week on an e-bike can positively impact the planet. Electric bikes need to be charged, but the energy required to power a bike battery is minimal – particularly when compared to the power required for a motorcycle or a car.
And with more and more of the UK's energy being produced from sustainable sources, e-bikes are an environmental win-win.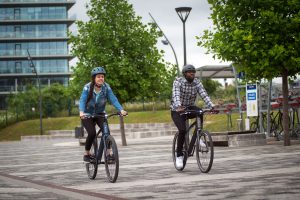 Your electric bike is designed to be used for years and can be serviced, maintained, and repaired by our trained mechanics – even the battery can be replaced. Once your bike has come to the end of its life, every part can be reused and recycled.
Want to find out how much of a difference cycling could make to your commute? Head over to our Cyculator tool to find out how much money you could save by switching to an e-bike.
Did you know you could also get a new bike at a discounted rate through the Cycle2Work scheme? Cycle2Work is a government initiative that offers the most cost-effective way to get new cycling equipment. The scheme is run through participating employers, meaning you do not have to pay tax or national insurance on these products – saving you up to 47%! This reduced cost is then deducted from your payslip over 12 or 18 months.
Discover more about the Cycle2Work scheme and how to sign up by visiting halfords.com.
Best electric bikes
Ready to make the eco-friendly transition to an e-bike? Great, all that's left to do is find the perfect bike!
Choosing an electric bike has never been easier. There are so many different types, sizes, battery ranges, and motors on offer, so there's sure to be the perfect option for your needs. To help you find your ideal bike, we've pulled together a handy Electric Bike Buyer's Guide.
At Halfords, we stock a wide range of e-bikes from top brands, including Carrera, Raleigh, Boardman, and Voodoo. So, whether you want an electric road bike, an electric hybrid bike, or an electric folding bike, you'll find the perfect option at Halfords.com.
To give you a taste of what's on offer, here are just a few of our favourites:
Top-rated electric bike: Carrera Subway Men's Electric Hybrid Bike
Carrera is one of the UK's most loved bike brands, and for a good reason! Carrera bikes are packed with great technology, all at an amazing price point, and their e-bikes are no different.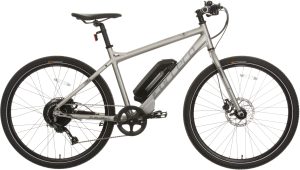 Our top-rated e-bike, the Carrera Subway is a favourite among buyers who love its long range. On a single charge, the Subway will propel you up to 40 miles, with its sturdy 317Wh battery reaching a top speed of 15.5mph. It's a hybrid bike, which means it's ideal for commuting, with rugged Tektro disc brakes and high-performance Shimano Altus gears rounding off this superb package.
Best-selling electric bike: Carrera Vengeance E Men's Electric Mountain Bike
Our best-selling e-bike is the Carrera Vengeance, a monster of a mountain bike.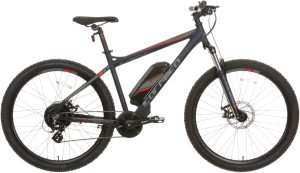 Loved by the bike press and riders alike, the Vengeance provides up to 40 miles of power and can be recharged in around four hours. A Suntour XCT coil suspension and 27.5" Kenda tyres will soak up the bumps, Tektro disc brakes will provide the stopping power, and the 8-speed SRAM gears will keep you moving forward faster.
Commuting crusader: Boardman HYB 8.9E Hybrid Electric Bike
The HYB 8.9E offers a more upright geometry and a flat handlebar, allowing for a more upright riding position and a clearer view of the road ahead. It's the perfect partner for leisure rides and commutes, and the reliable 1×10 Microshift drivetrain gives a wide spread of gears which makes inclines a breeze.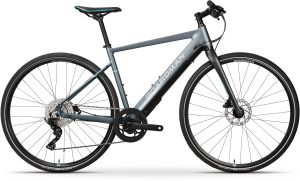 Powerful and controlled Tektro hydraulic disc brakes take care of stopping even in rough conditions. Completing the HYB 8.9E are the durable and grippy Schwalbe Citizen tyres with added puncture protection to keep you moving.
Electric Bike Servicing
If you want to help the environment, you'll need to keep your e-bike in tip-top condition so you can ride it as much as possible – and that includes regular servicing.
You can achieve lots at home with some time and standard tools, but sometimes, you'll need an expert opinion – so come to Halfords.
It doesn't matter whether you've bought your bike from Halfords or not; we offer a range of electric bike servicing packages. We have three different service grades to tackle the technical and master the mechanical aspects of your bike.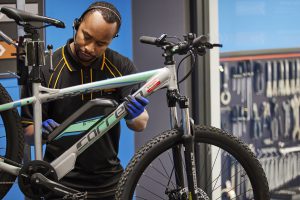 The best place to start is by booking a free bike health check. A fully qualified mechanic will perform a 32-point inspection on your bike and advise you of any issues that need to be taken care of. If any problems are found, you can then rely on our range of bike services to get you back on two wheels in no time.
Is an electric bike right for you?
For most people, an electric bike is a genuine alternative to a car. They're eco-friendly and convenient to use, and the added boost will help you overcome any fitness concerns you might have – meaning there's no need to worry about any pesky hills or the distance.
Still need a little convincing? Head over to our electric bike advice articles to learn more and find the perfect electric bike for your needs.
---
So, e-bikes are a great environmental alternative to driving, whether you're substituting it for the daily commute, or for casual riding. To find out more, visit our dedicated Electrification Hub. To explore our full range of e-bikes, just head over to Halfords.com, or pop not your local store where one of our experts will be happy to help.