Garages are really versatile spaces that have evolved from just somewhere to store your car to full-on workshops. Here at Halfords, we think there are 10 garage essentials that everyone needs to have – check them out below.
1. Workbench
Top of our list of garage must-haves is a good workbench. Whether you're fixing a car part, working on your latest DIY masterpiece or simply doing a bit of tool cleaning, a workbench gives you a sturdy – and versatile – working space.
Our Halfords Advanced 72in Workbench with Rubber Wood Top offers an adjustable workbench that's ideal for various working environments.
A 25mm rubber wood top sits above a tough, industrial frame, providing you with a generous working area. The height of the workbench can be adjusted to between 812nn and 1,117mm, and there are also adjustable feet to handle any uneven floors.
Last but by no means least, the workbench comes complete with an integrated UK power strip on one side and a peg board on the other, to accommodate all of your tools.
2. Shelving
Despite our best efforts, most of us probably have a garage full of boxes, tins, large tools, garden implements and more. The easiest way to store these bulky items is by installing some shelving.
The Halfords Boltless Shelving Unit 265kg is a great option. Heavy duty and simple to put together, the unit has five levels and can support up to 265kg. It can be assembled as a full height freestanding unit, or as a half-height workbench with shelves underneath.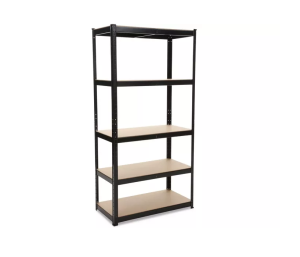 It's also been designed to work seamlessly with other products in the Halfords Advanced-branded shelving range, allowing you to create your own modular garage storage solution. Get your hands on some of these and you'll have everything stored away in no time.
3. Trolley jack and axle stands
If you like to get your hand's dirty by fixing up your car, then you probably spend a lot of time underneath your vehicle – and that's where a good trolley jack becomes essential. Check your vehicle's weight, and the required entry and lifting height, before choosing the right one for you. And once it's up, use a pair of axle stands to keep you safe while you're putting in the hard work.
The Halfords Advanced 4 Tonne Magic Quick-Lift Jack Stands is a smart choice. The patented quick-start system, where the axle stand lifts automatically to reach your car, makes car maintenance and minor repairs much more convenient.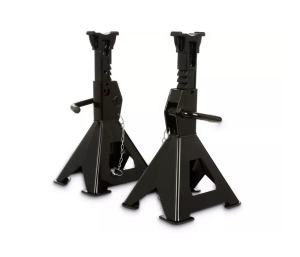 Extra-large feet provide improved stability, while the welded design offers maximum strength and durability. For added peace of mind, the axle stands come with a 3-year warranty so that you can be confident in the longevity of your purchase.
4. Garage matting
Garage mats bring a whole host of benefits including protecting the garage floor, helping to control dust and dirt, and making the surface more comfortable to work on. Our Halfords Black Floor Mat Set includes six 600 x 600mm interlocking matts that you can use to cover as much space as you need. They're also easy to clean and water resistant, which is ideal for any garage.

5. Tool cabinet or tool chest
Every garage has tools, and whether it's screwdrivers and spanners, or more specialist equipment, you'll want to be able to find them when you need them. All of our Halfords tool cabinets and chests come with multiple drawers and are lockable, so you'll not only be keeping your hand tools and power tools tidy, but safe and secure too!
If you find yourself in need of some new tools for your new Halfords tool cabinet, then look no further than the Halfords Advanced modular tray sets. These tray sets include a wide range of tools for a variety of automotive work, in a modular format that will fit perfectly inside your cabinet.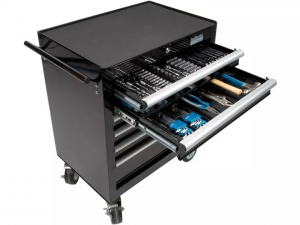 6. Socket set
A socket set is a key starting point for most automotive work, and they come in pretty handy for general DIY jobs too.
If you're just starting out, and only looking to complete an oil change or change your spark plugs, then check out the Halfords range of socket sets. They come with metric and AF sockets to suit a wide variety of automotive jobs.
Or if you're going to be working on a more substantial project, then take a look at our Halfords Advanced socket set range instead. With upgraded specifications such as our 100 tooth ratchets and surface drive plus spanners, as well as a wide range of automotive tools like breaker bars and wheel nut sockets, these socket sets are suitable for a wide variety of car-related jobs.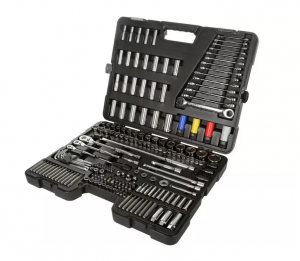 7. Screwdrivers
Used for everything from electrical work to putting together furniture, no garage should be without a screwdriver set.
Our Halfords Advanced range of screwdrivers come in various shapes and sizes, have grippy and comfortable, handles, and have magnetic tips that make it easier to retrieve hard-to-reach screws.

8. Torque wrench
A torque wrench is a vital tool when you're working on a vehicle, as it ensures that screws and bolts are as tight as they should be… and no more!
Torque wrenches allow you to measure the amount of pressure being put through a fastener, to check that it matches the recommended specification. This is really important for safety when working on a vehicle, so no garage should be without one.
Our Halfords Advanced torque wrenches come in four sizes for different ranges of torque. They're made in the UK by one of the world's leading manufacturers, with proven accuracy across the range of each wrench, and come with the Halfords Advanced Lifetime Guarantee (on production of a valid calibration certificate) for added confidence.

9. Inspection lighting
Many of our garages in the UK can be a bit dim, especially if we need to shut the doors to keep out the inevitable rain. An inspection light or inspection lamp can come in really useful here, especially if you're working with small parts or tiny fittings and want to avoid squinting.
We've got a wide range of Ring work lights and inspection lights that can be kept in your storage cabinet so they're handy when you need them.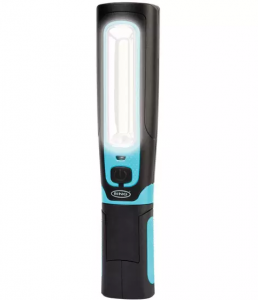 10. Extension lead
You'll need power for all kinds of garage and driveway activities, such as using power tools, pressure washers and even battery charging. With that in mind, check out our range of extension leads.
The SMJ 15m 13A Reel 4 Socket Pro Cable Reel is great for indoor use. Made from tough, impact-resistant plastic, the reel uses a dual drum design that makes it easy to wind the cable in and keep your garage tidy.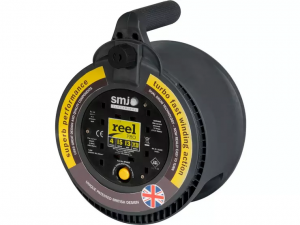 Top tip – for extra safety, add an RCD adaptor to protect against the risk of electric shock. It instantly cuts the power if you accidentally cut through a cable, for example.
Introducing the Halfords Motoring Club
Don't miss out! Join the Halfords Motoring Club today to access a range of amazing benefits and discounts that are designed to keep you moving, keep you safe and keep you saving.
It's free to join and you'll receive money off your MOT, a free car health check and a welcome voucher that can be spent on any Halfords product or service.
Or choose our Premium membership for a small monthly fee (or a one-off payment) to unlock exclusive member pricing on all motoring products and services online and across our stores, garages and Halfords Mobile Experts, as well as a variety of other benefits that will help you to keep moving for less.
With so much to enjoy, this is too good an opportunity to miss!
Join the Halfords Motoring Club today at www.halfords.com/motoring-club.
---
And that concludes our list of the top 10 products you need in your garage! There are lots of other items to consider, of course, so make sure to visit Halfords.com to check out our full range of garage essentials.