Do you do most of your riding in the mornings and evenings? Then making sure that you pick the right bike lights and setting them up correctly is really important – especially in the darker winter months.
Having the right lighting setup can make riding in dark or low-light conditions much safer and give you the peace of mind to get out there and keep racking up the miles when the sun goes down! Here are some top tips to help you achieve this:
1. Look ahead
Are you going to be riding in areas without streetlights? If so, you'll need something powerful enough to light the road or track ahead. Look for a light that exceeds 500 lumens, but also has a good beam pattern that will let you see to the sides of the road – without blinding oncoming drivers!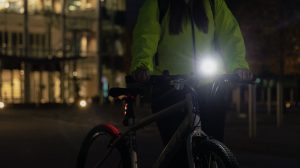 On the other hand, if you're sticking to a heavily lit road, then you probably won't need your bike lights to have any more than 50-200 lumens. The new range of Halfords front lights has got every level of lumens covered, so you can be safely seen in whatever conditions you ride in.
To learn more about the recommended number of lumens for bike lights in different settings, check out our useful advice article.
2. Make sure you're seen
When it comes to finding the right lights to make sure that you're seen, you'll need a red rear light and a white one on the front of your bike.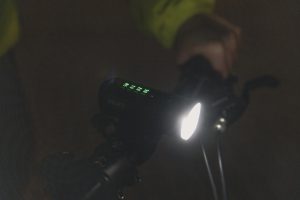 A good idea is to have a constant light and a flashing one (one of each type at the front and rear) to help catch the eye and make sure everyone else on the road knows where you are.
3. Consider the time
There's nothing worse than being out in the dark and having your batteries run out. If you're not prepared, it can either mean a taxi ride or a very long walk home.
Before you set off, check that your lights have enough battery life to at least last your journey (more is better – you never know when you might have to stop for a puncture or diversion).
As a backup, carry some extra small lights, just in case. They don't take up much room and can really get you out of a pinch.
4. Go the extra mile
Once you've got your front and rear lights sorted, think about other ways you can be seen. How about from the side? Use some reflective tape, tyres with reflective sidewalls or lights that shine to the side to help out here.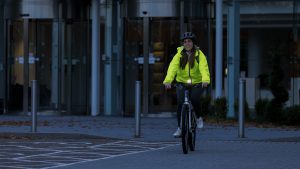 Hi-vis clothing can also make a difference when it comes to being seen out on the road! We've got a great range at Halfords, including jackets, gloves, vests and bag covers, so make sure to check them out.
5. Think wider
If you're planning on going off-road, there are a few other challenges. You'll probably need more light with a wider spread at the front, to light the trail ahead and any obstacles.
Lots of riders also attach a light to their helmets, so that they can still see if they're looking in a different direction than where the handlebars are pointing!
---
So what are you waiting for? Get ready for darker mornings and evenings with our range of lights and reflective accessories!