The changing seasons can be a strange month for cycling. One weekend you can head out into the scorching sun. The next you open your curtains to torrential rain, as the colder months remind you that they're just around the corner.
While the last summer months offer the final opportunity for fair-weather cycling, it's also the time to start planning for the months ahead.
Here are our top picks for cycling gear that you'll need as you make the transition from summer to autumn riding.
It's time to light up
Making yourself clearly visible is always important when riding a bike. Especially when the days become shorter and gloomy weather reduces visibility.
If you haven't already done so, accessorise your bike with lights. The more the better! Start with a powerful rear light such as the Halfords 100 Lumen Rear Laser Light. Offering 6 lighting modes and 2 laser modes, the device is perfect for autumn riding with a setting for all conditions. USB rechargeable with a strong battery life, it's a great choice for commuters and seasoned cyclists alike.
Having a rear light is the bare minimum, though. You should also have a front light: the Halfords Advanced 1800 Lumens Front Bike Light has 8 lighting modes for adaptable use in any conditions, from well-lit urban areas to pitch-black forests. The wide cut-off beam prevents other road users from being dazzled, making it perfect for commuting, and the IPX5 water resistance rating means that you won't have to worry about getting caught in an autumn downpour.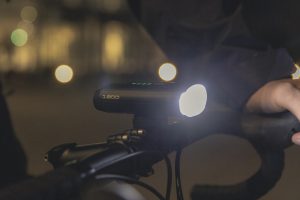 Plus why not use bag, arm and helmet lights too for extra visibility. Fluorescent clothing is also great for catching the attention of motorists. The Ridge Cycle Mitts Fluro are a great example of this, with their reflective detailing aimed at improving safety when out riding. Thanks to the foam padded cushioning and perforated palms, they're also incredibly comfortable, making them great for those last days of summer riding too.
Warm-up
Perhaps the most challenging aspect of autumn cycling is the weather. Wind, rain, freezing temperatures, and even the odd warm day all make an appearance. Getting adaptable clothing is the best way to deal with this.
Like with most things cycling, it's best to go lightweight and adaptable. Arm and leg warmers are always a good option because they can easily be removed and stored in your back pockets. They'll come in handy in the last days of September when riding conditions can vary greatly throughout a single ride.
Good options here include the Boardman Arm Warmers and Boardman Leg Warmers. Easily removable, their fleeced fabric design provides added warmth. Reflective detailing will come in handy on darker autumn days.
Your legs and arms are taken care of but don't forget your hands. Ride in cold weather without gloves and you'll find yourself reaching for your brakes with numb hands, barely able to pull the levers. Windproof and waterproof designs are important, like with the Boardman Windproof Gloves. One problem with gloves is that you can't operate touch screens, but these Boardman gloves are designed with touchscreen-compatible fingertips.
They're great for autumn and September riding and will help you through to next summer.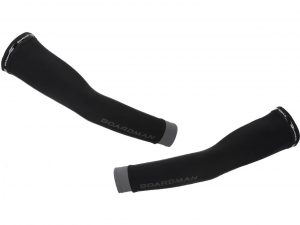 Prevent punctures
When you think of autumn, rainy days probably come to mind. For cyclists, that means more chance of punctures, as the rain washes grit and debris onto roads. That's why many cyclists use winter tyres.
When choosing a winter tyre, the main things to consider are the width and puncture-resistant qualities. You'll also need to factor in how you ride. One of the best options is the Marathon Plus Bike Tyre. Boasting enhanced puncture protection, it still retains its speed thanks to low-rolling resistance.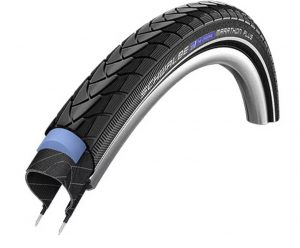 If you're not concerned by speed, one of their wider tyres will offer better assurance in wet conditions. Schwalbe's Marathon Plus Bike Tyres – 700x35c are popular amongst commuters, as their width better absorbs rough surfaces or potholes. The Smartguard rubber compound is notoriously tough, and you're unlikely to experience many punctures with these tyres. As they are quite wide, they won't be compatible with all bikes, so make sure to check your bike's tyre clearance first.
Don't wait until autumn to change tyres over. Even in September, there can be a lot of rain, so why not get your new rubber on early and have an extended period of puncture protection.
Look after your bike and it'll look after you
If there's one thing any keen cyclist will tell you, it's that your bike will need much more maintenance during the autumn and winter months than it usually would. Dirt and grit gets everywhere. If you don't regularly clean your bike, you'll soon be forking out on new parts.
Want to be prepared? Why not use our free bike check to ensure your bike is in tip-top condition ahead of the tough months ahead. The 32-point check will highlight any issues with your bike. If it's in need of repair, we also offer various servicing options, from individual repairs to our full gold service.
With your bike taken care of, you'll need cleaning products to keep it maintained. The Halfords Extreme Bike Cleaner easily removes grit, dirt and oil, meaning it can be used on frames and drivetrains alike. Some parts of your bike will need more scrubbing than others, so enlist the help of the Halfords Gear Cleaning Brush. Its long, tough bristles will reach into every corner, making bike cleaning easy.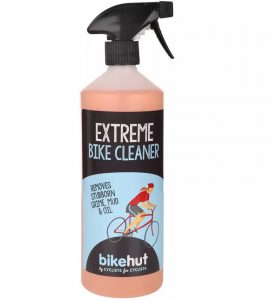 Avoid the splash
Another seasonal pick, mudguards serve an important purpose, keeping you and your fellow riders free from water splash during your rides.
Picking a mudguard is difficult – after all, they're there for practicality instead of looks. Choosing a versatile option such as the Halfords Quick Fit Front Mudguard is a good idea. It's compatible with all wheel sizes and suspension forks with a fork bridge, so you can move the mudguard between different bikes.
It is primarily designed for mountain bikes – so it won't stop you from getting wet – but it will keep debris from flicking up towards your face meaning you can keep your eyes on the way ahead.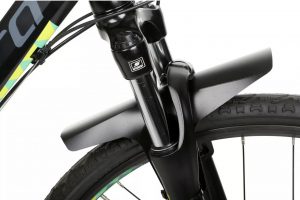 For protection against water as well as grime, the SKS Beavertail Mudguard Set is a great option which fits any wheel size between 26" and 29". A front and rear mudguard set, it's built for durability with robust steel brackets and an optimised dirt protection design. Ideal for mountain bikers and commuters alike.
Turbo train
Let's face it, there are lots of days in autumn when the weather is dreadful and riding outside simply isn't an option. That doesn't mean you have to miss out on training though; turbo trainers are a great way to maintain fitness during bad weather.
Prepare yourself for such scenarios with the Elite Novo Smart Turbo Trainer. Compatible with most apps including Zwift and TrainerRoad, the device is fully interactive and will automatically adjust the resistance as you ride around virtual worlds.
Alternatively, you could opt for a direct-drive trainer such as the Elite Zumo Smart Interactive Turbo Trainer. With a greater power accuracy of +/- 3% and a maximum power limit of 1350 watts, it's designed to excel on those high-intensity training sessions.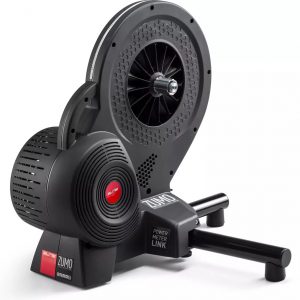 ---
That should leave you prepared and motivated for the months of autumn and winter cycling ahead. Head to our advice guides for more help with everything from tyre sizing to finding the perfect winter bike. You can find plenty more autumn upgrades at Halfords.com.