Whether your daily commute takes place during the dark or you're just hopping on your bike for a leisurely ride, having the right cycling equipment is essential.
To help you stay safe on your winter rides, we've pulled together a few top tips and a selection of the best bike lights available so you can maximise your safety in the dark.
Make sure you can see ahead
It may sound glaringly obvious, but one of the easiest ways to detect whether you're visible to those around you is to check if you can see the road ahead.
For instance, if you're struggling to see more than a metre in front of you, then the chances are a car might not notice you until the very last minute. You'll also have very little time to react to any obstacles in the road, like potholes or any debris.
Which is why you need a powerful front light, and the Halfords Advanced 1600 Lumen Front Bike Light is the perfect option. With a choice of eight modes and a maximum output of 1600 lumens (you can learn more about lumens here), it'll safely light up even the darkest country lanes.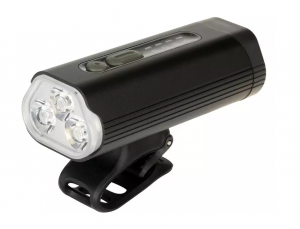 Be seen from behind
The same principle applies to your rear bike lights as well. The majority of rear-end collisions happen because motorists don't see cyclists in time. The solution is to make sure you're kitted out with the best possible rear light.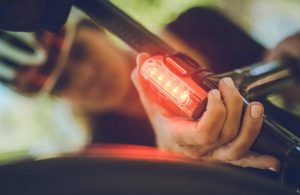 Ideally, you want a bike light that flashes to draw attention to your presence like the Lezyne Strip Drive Pro 300 Rear Light. Benefitting from an optimised wide angle optic lens which provides 270-degrees of visibility, it has 11 different output modes with a maximum output of 500 lumens.
If you want to enhance your safety further, the Garmin Varia Rearview Radar RTL515 comes equipped with a vehicle warning system. When paired with compatible cycling computers or a smartphone, it detects and warns you of any vehicles approaching from behind from as far as 140 metres away. So, you can keep your eyes on the road ahead while knowing what's approaching from behind.
Use your head
Here at Halfords, we think the more lights the better – after all, it's all about being seen. That's why you should also consider adding a light to your helmet, or investing in a helmet with one built in.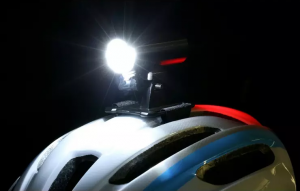 For example, the Halfords Helmet Light can easily be attached to a helmet or a bike's handlebars. Having a light on your helmet can increase your visibility of the road as it's lighting down from a higher angle. It also makes vehicles more aware of you, especially at roundabouts or junctions as the light will shine whichever direction you are looking.
We also have a selection of bike helmets with inbuilt rear lights that you can pair with the Halfords Helmet Light to enhance your visibility in both directions.
Maximise your visibility with clothing
Wearing hi-vis clothing can also make a difference when it comes to being seen out on the road.
Ideal clothing for winter riding will combine reflective detailing with waterproof material (it rains a lot, not that you'll need reminding!). A great example, the Ridge Unisex Waterproof Jacket uses bright colours and reflective detailing to improve visibility and help keep you safe. It's also prepared for a variety of weather conditions thanks to its lightweight water-resistant fabric. Another great option, the Boardman Mens Waterproof Jacket uses reflective fabric around the shoulders and sleeves to increase visibility. Also waterproof and wind-proof, the jacket will keep you warm and comfortable throughout your rides.
Why not make your legs visible too? The Halfords Reflective Bicycle Trousers Clips are the perfect accessory for winter as they're not only reflective, but they also protect loose fitting legwear from grime and dirt.
---
Follow these tips and you'll maximise your visibility while riding this winter. Of course, the darker nights aren't the only thing you need to prepare for, and we've pulled together a comprehensive guide to riding in the winter here.
And don't forget to head over to Halfords.com to discover all the products and services you need to safely navigate the winter months.
You want to stay safe while riding this winter, you want Halfords.