The long summer days have faded into the rear-view mirror and autumn is upon us. For many, that means packing their bike away for a bit of cold-weather hibernation – but don't be so hasty!
Despite the cooler weather, autumn is one of the best times of the year to ride your bike. Cycle lanes are often emptier, your route will be more picturesque thanks to autumn's vibrant colours, and the cooler weather makes a refreshing change to summer's humid days.
So, fancy continuing your rides into autumn? Here's a full guide covering everything you need ready for autumn bike rides.
Why is riding in autumn awesome?
We've already touched on it slightly, but we can't emphasise it enough – cycling in autumn is amazing! There will be some of you out there raising a questioning eyebrow, so before we look at how to prepare for autumn riding, let's take a second to appreciate some amazing benefits of riding in autumn.
It's beautiful – Autumn is full of majestic colours as the leaves change from green to gold. When you cycle regularly, you'll notice subtle changes as the colours slowly evolve on a daily basis.
Quieter routes – We can't understand it ourselves (have we mentioned cycling in autumn is amazing?), but routes and cycle lanes are usually quieter.
Keep exercising – There's lots of advice out there indicating that we need to exercise for at least 30 minutes a day. It can be hard to motivate yourself on colder days, but cycling is a really easy way to keep up the exercise, especially if you incorporate it into your daily commute.
Riding in new conditions is fun – As long as you're prepared with the right safety equipment, riding in rain or in darker conditions can be lots of fun and a completely new experience.
That's just a few benefits, but we could have included more. Now let's look at how you can prepare for your autumn bike rides.
Autumn cycling clothing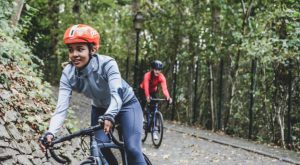 Where else could we start? Choosing the right clothing can be the difference between an epic ride and a soaked-to-the-bone nightmare you'd rather forget. Luckily, choosing the right clothing for autumn couldn't be easier, and we've pulled together some of our top tips and picks.
Autumn cycling clothing – what to look for?
Prepare for the conditions – There's no denying it, if you ride in autumn, you're going to encounter wetter and generally colder conditions, which is why choosing the right clothing is so important. Try to stick to waterproof and windproof options.
Lightweight – OK, autumn is colder, but it's not bone-chillingly cold. In fact, you'll probably find you warm up very quickly while riding and may actually end up too warm. Most riders tend to overdress and overheat as opposed to getting too cold. That's where lightweight clothing comes in handy as you can easily remove layers as you warm up and store them away.
Stay visible – And don't forget, your clothing can also help make you more visible to motorists. Many clothing options benefit from reflective detailing that will reflect light.
What should you wear? – Our top picks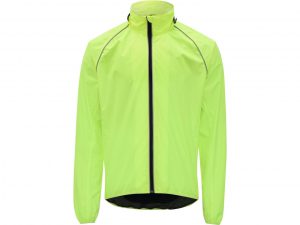 Ridge Unisex Waterproof Jacket – Fluorescent Yellow: Waterproof? Check. Lightweight? Check. Fluorescent? Check. This one ticks off everything you need in autumn clothing and it's perfect whether you're commuting or enjoying a leisurely ride.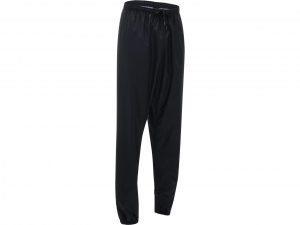 Ridge Men's Waterproof Packable Cycling Trousers: When riding in autumn, you need to be able to easily adapt to the conditions. With these waterproof trousers, you'll have no problem. Benefitting from a compact carry pack, they can easily be stored while riding and put into action as soon as rain falls.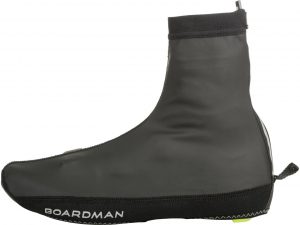 Boardman Unisex overshoes: Providing protection from the elements, these have a thermal brushed lining that creates an insulating layer to help keep your feet warm.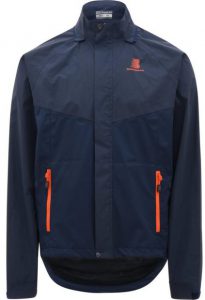 Boardman Men's Waterproof Jacket: Whether for leisure, fitness or commuting, the Boardman Men's Waterproof Jacket is ideal for autumn riding. Breathable, water and windproof, this jacket will keep you comfortable and dry for up to 2 hours of riding.
Bike lights
During autumn the days get shorter and, before you know it, your daily commute will be carried out in the dark. Even if you manage to head out for a ride in the middle of the day, you can often still expect gloomy conditions. Which is why bike lights are so important.
Whether you're heading to work or enjoying a leisurely Sunday ride, you should always use bike lights whenever riding in autumn. They'll not only make you visible to motorists, but to other bike riders and pedestrians if you're heading off road. There are a few things you should consider…
Be safe, be seen: top bike light tips
Front and back lights – As a minimum, you need a rear and front light. Most riders will attach these somewhere on their handlebars and to their seat post, although some lights are designed for other parts of a bike.
Look out for lumens – 'What are lumens?', we hear you ask. Lumens are a way of measuring how bright a light is. So, the more lumens, the more visible you'll be. Most bike lights will have a lumen rating, and this is what you should look out for. You can learn more about lumens here.
No limit – There's no limit to the number of lights you can use, so you don't need to stick to just a front and rear light. Some riders add ones to their backpack or to their helmet, and there are even helmets with inbuilt lights. The more lights you have, the more visible you'll be.
The best bike lights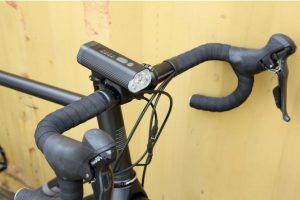 Halfords Advanced 1600 Lumen Front Bike Light – A standard single car headlight is 1200 lumens, so, with a whopping 1600 lumens, this light is packing some serious power. Not only will it light up the darkest tracks and roads, it's also a power bank that can be used to charge devices on the move.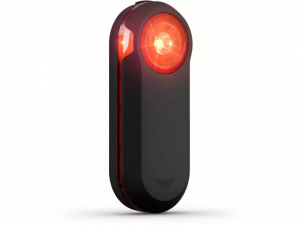 Garmin Varia Rearview Radar RTL515 – The Varia is more than a rear light – it's a safety device. Pair it with a compatible cycling computer or smartphone and it'll provide warnings when vehicles are approaching from behind from up to 140 metres!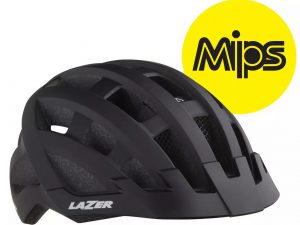 Lazer Compact DLX MIPS Helmet – Remember, the more lights you have, the more visible you'll be. That's why we think the Lazer Compact is a great choice. It has an inbuilt rear LED light and on top of that it's simply a great helmet that benefits from MIPS technology (you can learn more about MIPS here).
Autumn bicycle maintenance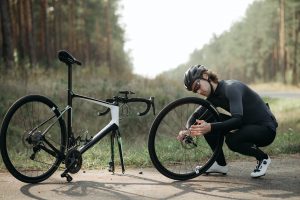 Take care of your bike and it'll take care of you! OK, it's an old-age cliché but it's 100% true. If you want to have a smooth cycling experience, your bike needs to be in tip-top condition. Of course, this isn't exclusive to riding in autumn, but suffering a mechanical on a warm summer day is a different prospect to a chillier autumn afternoon. Don't worry as there are lots of things you can do to prevent any mechanical mishaps.
Bike maintenance tips
Has summer taken its toll? – Most of us will clock lots of miles during the warmer months, so you should fully check your bike over before heading into autumn. If you don't know what to look for or would rather let a professional take care of it, why not book one of our bike services?
Keep it clean – We know the last thing you want to do after a bike ride is clean your bike, but it'll help maintain and prolong key parts such as your chain and cassette.
Always be prepared – Even if your bike is in perfect condition, mechanical issues can still occur out on the road, so always be prepared. As a minimum, you'll need tyre levers, a pump, spare inner tubes and a multi-tool. The last thing you want is to be left stranded on a cold or wet day because you forget to carry tools with you.
Essential bike maintenance kit
Muc-Off 8-in-1 Bike Cleaning Kit – Restoring your bike to its full, shiny glory is easy with this kit. Containing everything needed to give your steed a thorough clean, it's a must-have for autumn.
Bikehut 21 Function Multi Tool – We've already mentioned how important it is to be prepared, but really, make sure you're prepared! That means always carrying a multi-tool with you like this dependable option from Bikehut.
Bikehut 30-Piece Bike Tool Kit – While it's important to have tools with you out on the road, it's a good idea to have a more comprehensive set at home – like this handy 30-piece tool kit.
---
Follow this guide and you'll have an amazing autumn cycling experience.
And don't forget, you'll find everything you need ready for your autumn rides over at Halfords.com.
For more cycling advice, head over to our help and advice guides.
You want the ultimate autumn cycling experience, you want Halfords!