The right gear can transform an average ride into a great one and help to keep you in the saddle. From helmets and tech to pumps and locks, at Halfords, we've got everything you need for next-level cycling, whether you're hitting the trails or the morning commute.
So, we're breaking down the best bike accessories to keep you and your bike safe, track your stats, and have fun in the saddle.
Lazer Coyote MIPS Helmet
A high-quality helmet is an accessory that shouldn't be underrated. So, keep your head safe with the Lazer Coyote MIPS Helmet, which combines style with high performance. The Turnfit Plus system ensures an excellent fit and great adjustability, while the deep rear coverage gives you increased protection.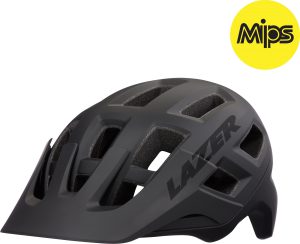 The Lazer Coyote also includes the Multi-directional Impact Protection System (MIPS). This unique system separates the shell and liner of the helmet with a low friction layer, which allows the two to move independently of each other. In the event of a crash, the low friction layer moves to greater absorb the impact reducing the rotational forces on the head.
This sophisticated design, combined with the open-front design to fit goggles or eyewear and an integrated visor to block sun, rain, and mud, gives you a highly protective helmet perfect for taking on the trails.
Halfords Magnetless Cadence Sensor
If you're keen to up your cycling performance, then a cadence sensor is a handy tool to have. This Halfords Magnetless Cadence Sensor attaches to your crank arm without the need for wires or a mount and weighs just 50g, so you won't feel any strain from using it.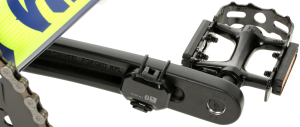 The sensor measures your revolutions per minute, or RPM, so you can improve your cycling efficiency, and can be connected to your GPS computer or smartphone so that you can clearly see your cadence reading mid-ride. With a water resistance rating of IP68 and a battery life of up to 6 months when riding 1 hour a day, this is an important piece of kit for dedicated cyclists to have in their arsenal.
Cateye EL135/LD155 Bike Light Set
Ensuring you and your bike are safely lit is essential on early morning and night-time rides. To kit out both your front and rear lighting in one step, the Cateye EL135/LD155 Bike Light Set is perfect.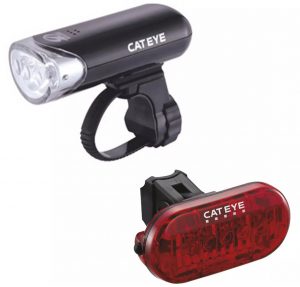 The Cateye EL135 Front Light uses 3 LEDs which produce an extra-wide beam so you can better see your surroundings. You can choose between three lighting modes depending on your needs, and the batteries will last up to a huge 320 hours in flashing mode. Easy to attach and weighing just 77g, this front light is a great addition to your bike.
As for the rear, this new LED taillight is equipped with 5 powerful red LEDs to provide 360-degree visibility, so you can be sure that other road users will see you. Once again you can choose between 3 use modes, and the simple tool-free bracket makes fitting the light quick and easy.
Camelback Podium Water Bottle

When you've only got a finite supply of water on a ride, you want to make every drop count. That's why a high-quality water bottle like the Camelback Podium is a must-have. This bottle has been designed to fit in a variety of bottle cages and includes Trutaste technology to ensure that all you taste when you drink is water.
The clever self-sealing cap maximises the water flow rate while eliminating annoying spills. It also disassembles for easy cleaning, making it a breeze to use your bottle for daily journeys.
Halfords Explorer Backpack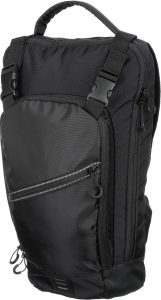 If you're looking for a backpack to wear while you're riding, to carry your day-to-day items or your other cycling accessories, then look no further than the Halfords Explorer Backpack. This 10 Litre backpack consists of one main compartment, two zipped compartments and a helmet-carrying segment so you can find everything you need easily.
It's lightweight and has strategically placed mesh padding to enhance airflow, keeping you cool and comfortable on the move. Even better, it's also compatible with a hydration bladder so you keep on top of your fluids easily. Complete with reflective detailing for lower visibility riding, this backpack is the perfect companion for days out on two wheels.
Halfords Dual Action Bike Pump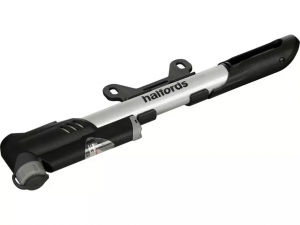 If you lose tyre pressure on the go, a portable hand pump can be a lifesaver. Easy to use and lightweight to carry, the Halfords Dual Action Bike Pump is the perfect tool to top up your tyres.
This compact mini pump can inflate a tyre up to 85 psi and maximises efficiency by inflating on both the inward and outward pumping motion – that way, you can conserve energy for the rest of your ride. The valve auto adjusts to fit both Schrader and Presta valves, so you don't need to worry about manual adjustment. To save bag space, you can attach it straight to your bike with the included bike fitting bracket, so you've always got it with you.
Halfords Advanced Track Pump

While you'll want a handheld pump to handle any accidents while you're out, it's also useful to have a larger track pump at home. That way, you can inflate your tyres more accurately in less time.
The Halfords Advanced Track Pump can inflate up to 160 psi and has switchable valve heads to suit your bike. The easy-to-read pressure gauge and flexible hose make this the perfect choice for leisure, mountain, and road biking.
Halfords Advanced 23cm D-Lock
We know that your bike is precious to you, and when you've invested in a quality model, you'll want to make sure it's safe.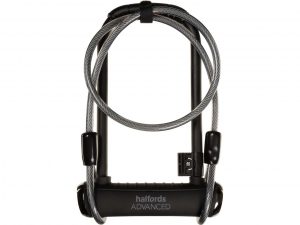 The Halfords Advanced 23cm D-Lock is Diamond Sold Secure approved, with a 10/10 security rating to protect your bike. The hardened steel casing protects against drill attacks, while the anti-pick locking mechanisms and ultra-hardened steel shackle fight against picking, prying, jacking and cutting attacks.
A bike lock is primarily a deterrent, to deter anyone from attempting to steal your bike. If an opportunistic thief does try to take it, a higher quality lock should delay their attempt enough that they give up in search of an easier target.
Halfords Advanced 185cm Combination Lock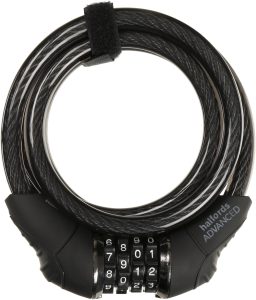 Another popular option when it comes to bike locks is the Halfords Advanced Combination Lock. The 185cm cable is comprised of heavy-duty steel to keep your bike secure, and covered with vinyl to ensure it doesn't scratch the paintwork.
You can reset the 4-digit code to set it to something memorable, and it also comes with a lifetime warranty against manufacturers' faults, so you can be confident that you'll have a fully functioning lock when you need it.
---
So, those are our picks for the very best bike accessories. To explore the full range, head over to Halfords.com, or pop into your nearest store where one of our colleagues will be more than happy to help.
You want easy, safe cycling, you want Halfords.