No matter how long the journey, car rides with kids can be a struggle. Thankfully, here at Halfords, we have plenty of kids' travel accessories to help keep your adventures on track.
From backseat organisers to sun shades, plenty of ways to keep your little ones comfortable and content while you're on the road, and we're talking you through our favourites.
Car sun shade
A warm summer's drive is sure to be a hit with the kids, but bright sunlight and high temperatures can quickly ruin the road trip. So, to keep your little ones cool, a sunshade is the perfect solution. Just attach them inside the rear windows to filter out the majority of the bright sunshine and reflect any excessive heat.
You can also pick up a windscreen sun shade to keep the sun at bay while you're out and about, so you can return to a lovely cool car.

Backseat organiser
With tablets, toys, snacks, and more, the backseat can quickly descend into chaos during a long drive. A backseat organiser helps to keep everything within arm's reach, fitting easily over the back of the front seat to give your little ones access to everything they need.
This Halfords Multi-Function Back Seat Organiser has handy pockets for holding drinks, snacks, games, and more, and can even double as a play tray too!
Baby on board sign
One of our baby travel essentials, a baby on board sign lets everyone know that you've got little passengers – not just other road users, but first responders too. In the event of an accident, a baby on board sticker lets emergency workers know that there's a child in the vehicle, so it's a really important piece of child safety gear to have.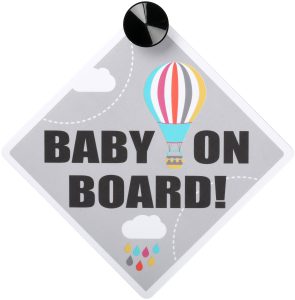 Car toys
When i-spy and singalongs aren't cutting it, a children's car toy might just be the solution. Bright, engaging, and full of fun, these interactive toys are sure to keep even the grouchiest little ones happy all journey long.
The Taf Toys range all fit quickly to the front headrest to dangle in front of your little one for fuss-free fun, offering them plenty of exciting and attention-grabbing activities. They can even have fun pretending to drive the car with the Taf Toys Koala Car Wheel Toy.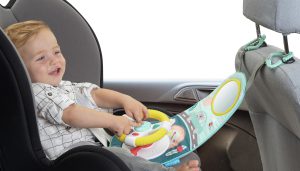 Backseat baby mirror
Perfect for keeping an eye on younger children during a journey, a backseat mirror gives you a full view of the backseat to make sure that everything's okay. The Halfords Backseat Baby Mirror attaches to any headrest without blocking your rear view, and can be adjusted and rotated a full 360° so you can get the perfect angle.
Plus, the foam padding on the back panel protects your headrest and leaves it undamaged, so you're free to remove the mirror when your baby's older and you no longer need it.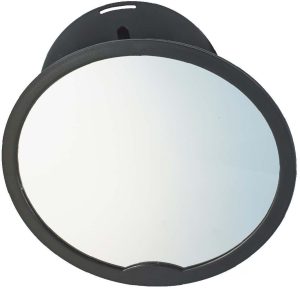 Car seat & stroller cleaner
Family road trips can quickly get messy, especially with mid-journey drinks and snacks! To keep your child's car seat grime-free and ready for your adventures, the Mother & Baby Car Seat & Stroller Cleaner is ideal.
It's 100% natural, hypoallergenic, and safe on skin, so it's suitable for even the most sensitive of little ones. Plus, it kills 99.9995% of bacteria, without that sticky 'just-cleaned' residue! It's perfect for both car seats and strollers, so you can remove stains, grease, and grime with one product to keep your child's seats safe and fresh.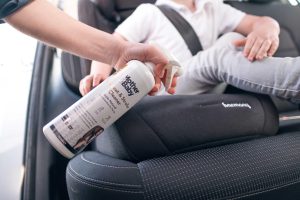 Backseat kick mat
Long car rides can leave little ones feeling restless, but that doesn't mean you have to sacrifice the condition of your front seats! A backseat kick mat gives young children something to push their feet against to expel some energy, without damaging your upholstery.
The Halfords Backseat Kick Mat slings easily over the front seat for your child to use, and it's easy to wipe clean after muddy shoes have given it their worst! Even better, it has a handy storage pocket to keep any road-trip games and entertainment safely stored.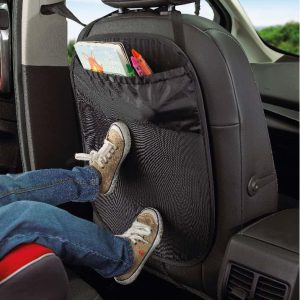 ---
And those are our picks for the best kids' car accessories, to help keep your little ones safe, happy, and entertained. Happy driving!
You'll find a host of other travel accessories over at Halfords.com, to keep your journeys on track. If you need any help or advice, just pop into your local Halfords store, where one of our experts will be happy to help.