Electric scooters continue to become more and more popular as a convenient and fun way to get around. Every year electric scooters improve, delivering more for your money. You can ride faster, for longer, and look better while doing it!
If you're looking to invest in your first electric scooter, or are planning an upgrade to the latest model, here is our selection of the best electric scooters currently available.
Finding the best electric scooter
Online, offline and even in supermarkets, you can buy electric scooters everywhere at the moment. But who can you trust?
At Halfords, we've been selling e-scooters from the start. Our range is extensive, with something to suit every customer's needs and budget. Our clear and simple website makes finding the right e-scooter simple.
When you buy an electric scooter from Halfords, you don't just get access to the latest models, you also get the peace of mind you're buying from a brand you can trust.
Every scooter we sell has been tried and tested to ensure it performs in the real world. We only sell electric scooters from globally recognised brands that use quality components. As a trusted reseller, every scooter we sell comes with a manufacturer's warranty. You can add extra protection to your investment with our exclusive E-ScooterCare package.
How to compare e-scooters
Buying an electric scooter is a big investment, and you should do your research before pulling the trigger. A great place to start is with our Electric Scooters Buyer's Guide, which is full of useful advice on all aspects of e-scootering.
When comparing scooters, the primary considerations are range, speed, and cost. You should also look at the maximum weight limit and ensure it's safe to ride.
Comparing e-scooters online couldn't be easier. Be sure to check out the specifications of each scooter on the product pages as this will give you all the information you need to make your decision. Now for our pick of the best electric scooters…
Our top pick: Carrera impel is-2 2.0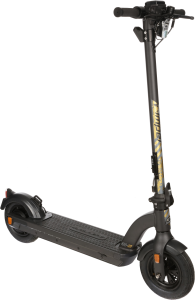 New for 2022, the Carrera impel is-2 2.0 offers the complete package of convenience, comfort, and power.
Every aspect is carefully designed, from the comfort-boosting, anti-puncture 10" pneumatic tyres to the quick-folding mechanism which allows you to fold the scooter down in seconds. It even has an IPX5 waterproof rating, so it's prepared for British weather.
The powerful battery has an impressive range of up to 22 miles and there are 4 different levels of assistance plus a walking assist mode. So, you'll always have the power you need.
Completed with a multi-functional LED display, there's a lot to like about the Carrera impel is-2 2.0 Electric Scooter.
Ultimate comfort: Carrera impel is-1 2.0
Back in 2021, Carrera released their first e-scooter, the Carrera impel is-1. It was a big hit and got lots of 5-star reviews from our customers (check them out here).
For 2022, Carrera has given the is-1 an update in the form of the Carrera impel is-1 2.0. Keeping much of the design which made the is-1 so great, the is-1 2.0 comes with a few key upgrades.
Starting with the new 8.5", anti-puncture, pneumatic tyres. Giving that added peace of mind, you won't need to worry about a deflating end to your ride.
On top of this, the is-1 2.0 comes with cruise control. Simplifying the ride, it means you spend less time holding the accelerator and can cruise at a convenient speed.
They're great upgrades to an already impressive package which includes an IPX5 waterproof rating, and we're confident it's going to be incredibly popular.
Power package: Indi EX-2 Electric Scooter
The EX-2 is top of Indi's range of e-scooters – and it comes with a whopping 350W motor. Optimised with superior hill-climbing ability, it'll easily conquer gradients up to 15% (which would leave most e-scooters struggling).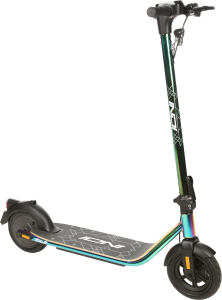 It isn't all about power though and comes with pneumatic tyres which create a smooth ride. Safety is also at the forefront of the design with a powerful braking system providing dependable braking power. Add to this a flashing brake light, front and rear lights plus reflectors, and you've got an impressive safety package! And like every e-scooter on this list, it's rain and puddle-proof thanks to an IPX5 waterproof rating.
If that wasn't enough, the e-scooter is available in two cool colourways, black or neo chrome.
Lightweight choice: Indi EX-1 Electric Scooter
The lightest of the options, the EX-1's design is centred on practicality. Tipping the scales at only 13kg, it's compact and can easily be folded down in seconds. Adding to this practicality, it has a recharge time of only 3 hours!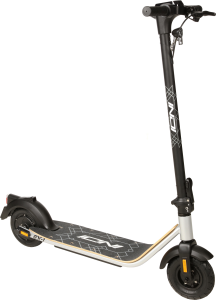 This doesn't come at the cost of performance, with a 250W motor providing speeds of up to 15.5mph and a considerable maximum range of 15 miles. There's a choice of 3 riding modes plus a walking mode, and you can select the level easily using the multi-functional LED display. And (you guessed it!), it has an IPX5 waterproof rating too – perfect for riding in the UK.
Long-distance riding: Xiaomi Mi Pro 2
If you don't want recharging to get in the way of a day of fun, then a larger range might be high on your list. The Xiaomi Mi Pro 2 can give you a huge range of 28 miles on a single charge, so you won't have to worry about stopping mid-ride.
When you do need to stop, the dual braking system has got you covered, with an electric brake on the front wheel and a large disc brake on the rear to shorten your braking distance. The 300w motor provides solid hill climbing ability, and the 8.5" pneumatic tyres are sure to keep the journey comfortable.
Flat-free: Segway Ninebot E45E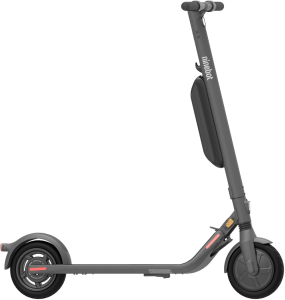 The Segway Ninebot is sure to keep you on two wheels, with its maintenance-free 9" tyres. These dual-density tyres are filled with foam to make sure you never get a puncture, so you can ride with confidence.
You can ride for longer too, with a powerful 10.2ah battery providing a maximum range of 28 miles from a single charge.
With a cruise control mode, 3-speed settings, and good hill climbing ability, the Ninebot is the perfect way to get about.
Why should I buy from Halfords?
Each of the scooters featured in our round-up comes complete and ready to go. Halfords is an official dealer for leading brands such as Xiaomi and all scooters we sell come with a manufacturer's guarantee and free lifetime safety checks.
Buying online can be a risk, but not with Halfords. We offer a price match promise against official UK retailers to ensure you always get the best deal at the right price. At Halfords, we've got you covered! 
---
With such a range of e-scooters, there is the perfect option for everyone. You can also visit Halfords.com to find a range of e-scooter accessories and services.
Legal warning:
It's currently illegal to ride a privately owned e-scooter on a public road, pavement, cycle lane or bridleway. Privately owned e-scooters can only be ridden on private land with the permission of the landowner.
Customers should be aware that if they use a private e-scooter illegally, they could face a fine and penalty points on their licence, and the e-scooter could be impounded.