Ready to start tackling that growing list of problems around the house and with your car?
If you're just starting out in the world of home or vehicle maintenance, you'll be in need of a tool kit. It's an efficient and cost-effective way to purchase a variety of tools to help you complete the specific task in hand, and to cover things you might want to take on in the future.
Picking the correct tool kit for your needs is important and, whichever kit you choose, you are likely to want to add to your tool collection in the future. After all, as you gain confidence giving things a go, you'll be looking to tackle bigger tasks or maybe even the odd project. At that point you'll be in need of specialised tools, which often aren't included in starter sets, so don't worry about trying to find a set that covers every possible eventuality at this stage.
To start things off, we suggest you begin by thinking about why you're looking for a tool kit, and the types of jobs you want to do. With that in mind, here are our top recommendations:
For "just in case" when you're out on the road…
Are you looking for a set that will get you out of trouble when you're out in the car or on the bike? If that's the case, we suggest taking a look at the Halfords Essentials 52 Piece Tool Kit.
With a range of pliers and sockets, you will be well equipped to fix any car or bike mechanical issues. The set can just as easily be kept on a shelf in the garage ready for any light maintenance work at home.
Alternatively, why not try the Halfords Motorist's tool kit, which still contains pliers and the most common sockets, but has a wider variety of general tools and consumables to help out when you need it most. It even comes in a handy pouch to store neatly in the boot.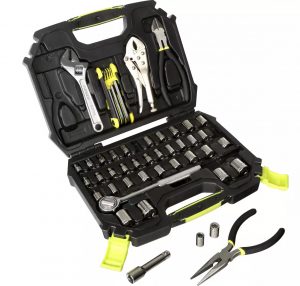 For general jobs around the home…
If you've got a DIY list as long as your arm, and it includes everything from fixing bikes to toys, the Halfords Essentials 95 Piece Tool Kit is worth considering. An impressive variety of tools includes a socket set, screwdrivers, hex keys and even a pair of scissors.
It's a great option for beginners, as the set comes in a handy storage bag, making it easy to add to your tool collection in the future, while keeping everything neat and tidy.
Unsure what each tool in the set is used for? Head over to our tool buying guides for help.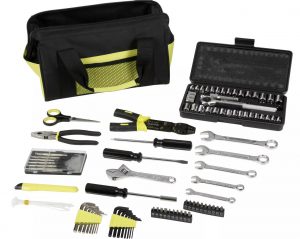 For hiding out in the garage…
Sometimes it's great to sneak into the garage and enjoy some peace and quiet.
With the Halfords Essentials Home and Garage Tool Kit you'll be able to hide away for hours. It contains a selection of essential spanners and sockets for making minor mechanical repairs, plus a wider range of other tools such as a claw hammer, screwdrivers, and a tape measure. Perfect for when you need to fix everything else from the lawnmower to the shelving!
Looking to also tackle vehicle maintenance and mechanical work? With a wider range of durable chrome alloy sockets and spanners plus an improved 72 tooth ratchet for more precise work, the Halfords Garage Tool Kit is a reliable all-round choice.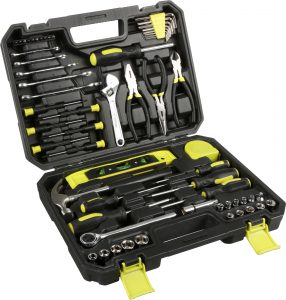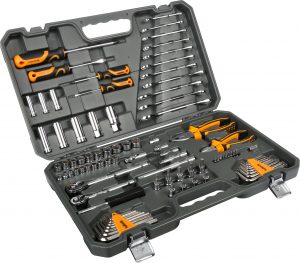 For maintaining and fixing vehicles…
If you're wanting to try your hand at some light vehicle maintenance, look no further than a socket set. Generally used for tightening or loosening a wide variety of fastening types, socket sets are used for vehicle maintenance because they usually include the right tool sizes to tackle the most common nut and bolt sizes on cars, motorcycles and other vehicles.
Most socket sets are available in 1/4", 3/8" or 1/2" drive, and the size you choose will largely be dependent on the task that you're looking to complete. Don't worry, we'll take you through the uses now!
1/2" drive is the largest size, commonly needed for most passenger vehicles. Because of the larger size, it can generally withstand more pressure, or torque. Therefore, it is the size you'll need for jobs such as removing wheels or battery clamps. But many sets – such as the Halfords 1/2" Socket Set – also include smaller size sockets and spark plug sockets so that you can complete many other tasks as well.
3/8" drive is arguably the most versatile size and can complete a wider range of home maintenance tasks. Versatile, this size is useful for when carrying out jobs like changing light bulbs, air filters or removing interior trims.
1/4" drive is the smallest common size and is mostly used for smaller jobs or precision work. You might commonly need them when dismantling or repairing individual parts, or when working in a tighter space. The Halfords 1/4" Socket Set also includes some other fasteners for when working on non-bolt style fixings such as hex or cross point.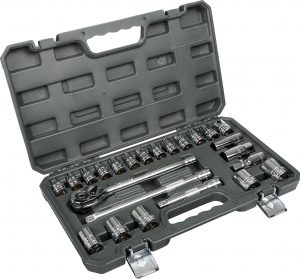 Alternatively, if you don't have a specific job in mind, but are looking for a set that will enable you to just "give it a go", then try the Halfords 1/4" and 3/8" Socket Set. Containing a wide variety of sockets from 4mm to 19mm in both 1/4" and 3/8" drive, the set will be enough to cover the most common jobs that you might want to start with. You can then add to your socket set as you begin taking on bigger jobs.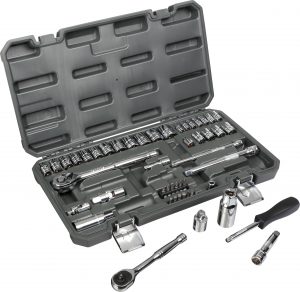 ---
That concludes our guide to finding the perfect beginners tool kit, meaning that long list of odd jobs will be a thing of the past! Here at Halfords, we have tools for all of your needs, and you can find our full range here.