Cleaning the car can be a fun family activity, with everyone encouraged to grab a sponge and get involved. As parents up and down the land are looking for new ways to entertain their kids, why not make their play more productive, and get them to help you restore that flawless finish to your car? Extra pocket money is optional (but highly encouraged!).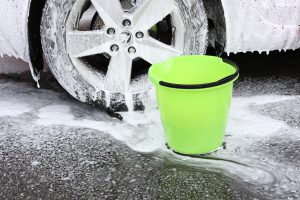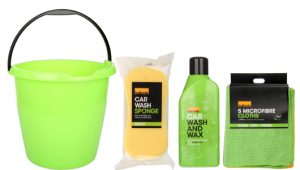 All you need is a bucket, sponge, cloths and some car shampoo – hopefully you can dig these out of your garage. If not, Halfords can help. You can get everything you need to wash your pride and joy for just £5 from Halfords – that's less than the cost of most high-street car washes. You'll need to provide hot water and some elbow grease, while we'll supply the rest.
Here are our five tips to make car cleaning as a family a whole lot of fun!
Time to shine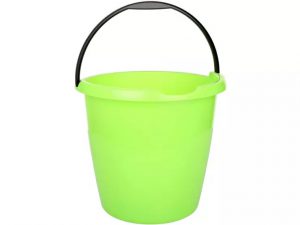 Like an F1 pit crew, it's time to get busy and see just how quickly you can clean your car. Most commercial car washes take between 5–10 minutes, so that's your starting point.
The Halfords 10 Litre Bucket should carry enough water to clean most cars. Don't be tempted to use a household detergent as these harsh chemicals could damage your car's finish. Instead, use a special car cleaner like the Halfords Car Wash and Wax.
Start the timer, and off you go!
Front to back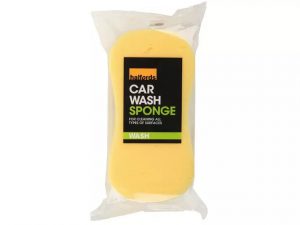 Set the adults against the kids and see who is the quicker cleaner. Adults start at the front, kids at the back. At some point, you'll meet in the middle. It could get messy!
A car sponge, like the Halfords Car Wash Sponge, will be tough on dirt and grime, but soft on your motor's finish. It's flexible enough to glide over the contours of your vehicle and get into those small gaps. They're suitable to use on glass, bodywork and wheels – including alloys, and are just £1 each.
Time to shine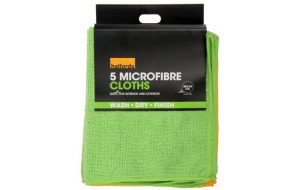 Nobody said getting the perfect finish was easy – you've got to work for that showroom shine. Our Halfords Microfibre Cloths can be used inside and out, to perfect your paintwork and bring back some elegance to your interior. You'll find five colourful cloths that are engineered to provide an expert finish whether they're used to clean, dry or polish.
Make polishing fun by setting a timer and see how fast you can buff your car. Work as a team and you'll be much quicker! Record your best times somewhere and see if you can smash your personal best.
Channel your inner Karate Kid and take you cleaning to the next level by applying a specialist car wax and polish. Using a microfibre cloth, apply your wax in long strokes. Set your kids a challenge to see who can get their part of the car the cleanest. Remember: wax on, wax off.
Car as a classroom
The key to making cleaning fun is to get creative. While cleaning the car, explain to your children how the various parts and systems work. Teach them about the importance of crucial components like the battery, ignition and spark plugs. Show them how to oil doors to remove squeaks, measure tyre pressures and check lubricant levels to keep things working smoothly.
Open up the bonnet and use your car as a classroom, describing what the various parts of your car are and what they do while cleaning each area as you go. Sit your child in the driver's seat and explain to them what all the various knobs, switches and levers do. There are hours of fun to be had and some important life lessons too.
Treasure hunt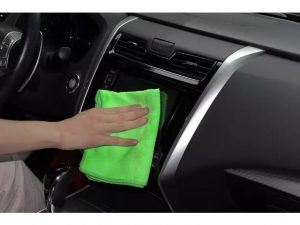 Your car should look as good inside as outside. Set you kids a challenge and get them to dig for buried (or, more like, lost) treasure inside your car! If they find any golden nuggets, they can keep them.
They'll need to pile up everything outside the car to ensure that nothing gets lost or goes missing (like your precious locking wheel nut, 12v adaptor or mobile phone cable). Once everything is out of the car, you can get to work with a vacuum cleaner and your microfibre cloths. A paintbrush or toothbrush can be effective at getting into tight spaces like air vents. Use your imagination to fire theirs.
By following our tips and involving your family, not only will you have a better-looking car but you'll have made the process fun too. Our bucket bundle includes everything you need to restore your car's basic brilliance. Whatever car you drive and whatever state it's in, Halfords can help bring back its shine with a few smiles along the way.